R. Kelly Update: Singer's Living Area in Chicago Recording Studio Closed Following Judge's Orders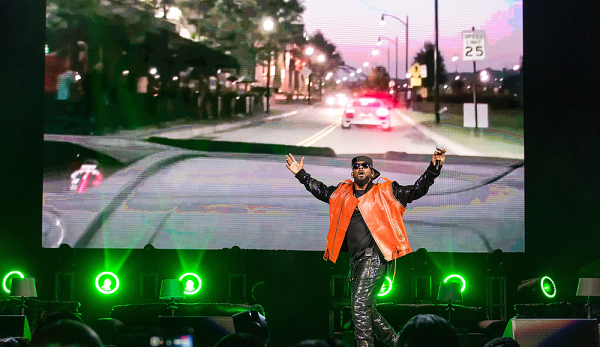 R. Kelly was ordered to close down a portion of his Chicago recording studio after city inspectors found a number of building code violations within the property on Tuesday, Chicago Tribune reported the following day.
In addition to using the second level of the warehouse as a residence, the infrastructure illegally housed a steam room as well as a sauna. A judge ruled it was clearly evident people were using the space to live although the building is zoned for commercial use only.
Prosecutors released photos obtained during a search of the property—which was ordered by Judged Patrice Ball-Reed more than a week ago—that indicated people were indeed living within the space, including images of bathroom toiletries that had been used, piles of clothes on the floor, mattresses and bathrobes hanging on hooks, Chicago Tribune reported. There were also photos of a wet bar, pool tables and other items in what appeared to be a lounge space.
Under the judge's orders, Kelly will only be able to operate within the building during regular business hours while his second-floor living area must be shut down indefinitely.
"It looks like people are living there, and that's not good," Ball-Reed said of the photos. "It's a recording studio. It shouldn't be a party place."
Kelly was hit with 67 code violations in total.
Ball-Reed approved the Department of Building's to search the property after an anonymous caller tipped the city off that there were people living in the studio. An inspector later went to view the property but was unable to get inside of the building.
The violations come following Lifetime's premiere of Surviving R. Kelly, a docuseries which detailed Kelly's longstanding history of alleged sexual, physical and mental abuse of women. The special included accounts of women who claimed to have experienced Kelly's abuse, as well as family members of women believed to be held by Kelly against their free will in his properties in Georgia and Illinois.
In a separate lawsuit regarding the same building, Kelly was ordered to pay the building's owner, Midwest Commercial Funding LLC, nearly $167,000 in back payments for unpaid rent in January.
R. Kelly Update: Singer's Living Area in Chicago Recording Studio Closed Following Judge's Orders | Culture