R. Kelly Girlfriends Captured in Video Fight; Joycelyn Savage Released From Jail
R. Kelly's girlfriend Joycelyn Savage was released from jail Thursday after a fight with the musician's other live-in girlfriend, Azriel Clary. A charge of misdemeanor domestic battery causing bodily harm was filed against Savage, and she's expected to return to court on February 6, according to The Atlanta Journal-Constitution.
Both women resided in Kelly's Trump Tower condo Chicago at the time of the physical encounter. They've long supported the disgraced musician, who is behind bars and awaiting trial on a handful of charges, including child pornography, sexual exploitation and kidnapping, according to the Journal-Constitution. Kelly has denied all the charges against him.
The fight seemingly began because Clary's support of Kelly has ended.
Tensions between the two women escalated on Wednesday in a video that showed the women in a verbal altercation. The video, posted by TMZ, follows Clary as she packs her belongings in Kelly's residence.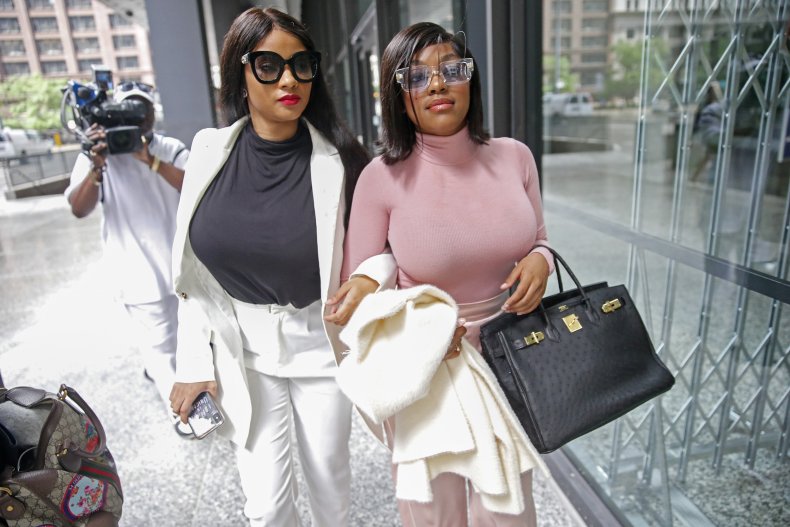 Clary was live on Instagram when the fight occurred. Much of the live video captures only the women's voices, as the phone was thrown to the ground when the fight turned physical.
During the fight, Clary is heard accusing Savage, 24, of having sex with her as a minor—something Kelly has also been accused of. Clary said she would file charges against Savage for both assault and having sex with a minor.
After Savage left the fight, Clary admitted she no longer supports or believes in Kelly. She also said she and Savage have been lying to protect Kelly.
"Rob has been lying to all of y'all," she said, referring to Kelly, whose real name is Robert Kelly. "And that's the sad part about it. That is the sad f****** part about it. He been lying to all y'all a*******. And he has people like me lying for him."
Clary also commented on the two-part Lifetime documentary Surviving R. Kelly, which most recently aired January 4. The series examines Kelly's former relationships and details the musician's alleged abuses of women. "That's why we never watched the documentary," she said. "That is exactly why. So [Kelly] got on Gayle King, as stupid as can f****** be."
She turned the conversation back to Savage. "Call a f****** attorney. I want this b**** in jail with her f****** man."
Clary, now 22, started dating Kelly when she was only 17. Her mother, Alice Clary, confirmed to People that Clary has moved home.
"The battle is won because she's still here, she's still alive, she's still breathing, and though she lost a few years of her life, she's still here to tell her story," Alice Clary explained. "Because I chose not to keep her secluded in her life, she's here now and we're able to say the victory is won because she finally came to her senses and she's back home with her family."
The mother also responded to Clary's explosive video. "People don't understand she's hurt," Alice said. "This man lied to her for years, and she was doing what she thought a good girlfriend would do because that's what she thought she was."
As for Savage, it appears her support of Kelly still stands. A Patreon account claiming to be Savage's surfaced in December and had blog posts admitting to abuse by Kelly. The page was promoted by an Instagram account also claiming to be Savage's.
She's denied the posts are by her, though. "Please do not believe what you see and hear on social media. That is not my Instagram," Savage said in a video sent to TMZ in December. "Someone is impersonating me. I just want everyone to know we still support him and we would never betray him."