Latest R. Kelly Indictment Alleges Singer Made Sex Tape With 12-Year-Old, Exposed Minors to STD
Disgraced musician R. Kelly already has a list of sexual assault allegations, and a new unsealed court document claims some of his infamous sex tapes were made with a 12- or 13-year-old girl. In addition to the alleged child sexual abuse, R. Kelly was also accused of exposing another victim to an unnamed sexually transmitted disease (STD) without her knowledge.
The musician was arrested on 13 sex charges, including claims that he's been paying off his victims and their families, Thursday night in Chicago. At the time of his arrest, he was out on bail from another round of sex-related charges.
The new information surfaced when Chicago and New York documents on R. Kelly's charges were unsealed. In the Chicago indictment, which was officially unsealed on Friday, there is information that alleges Kelly paid off the underage girl and her family to keep quiet. Kelly allegedly booked the entire family on an international vacation to keep them out of the country, and out of the formal investigation, when he was indicted for child pornography charges in 2002, reported the Associated Press.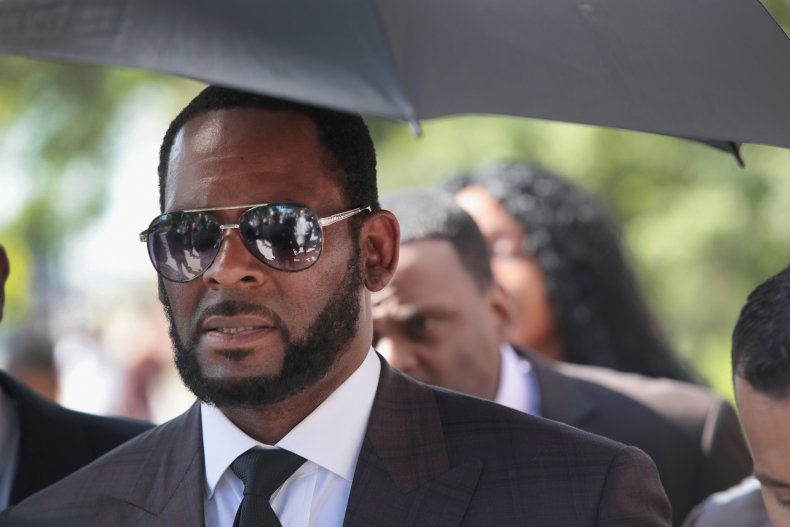 Since then, Kelly has been paying the girl off, from cash payments to buying her an SUV, the documents claim. The indictment also alleges Kelly knew the girl was 12 years of age at the time and even clarified her age with an older girl, who was 19 at the time. He allegedly asked the girl to reveal if the 12-year-old was closer to age 15, because he wanted a younger girl, according to Page Six.
A New York indictment that was also unsealed this week details the STD claims. Kelly allegedly exposed numerous underage girls to an unnamed STD, putting their health at risk while engaging in illegal sexual contact.
These claims go hand-in-hand with longstanding allegations regarding Kelly's sexual misconduct against underage women. Numerous women have come forward to claim he made sex tapes with them, as well as solicited nude and explicit photos from young girls.
Kelly has been in hot water for sexual misconduct charges since the start of the year. He addressed all charges in a volatile March interview with Gayle King on CBS This Morning. In it, he denied all claims. "Quit playing. I didn't do this stuff! This is not me! I'm fighting for my f***ing life," he said at one point in the interview.
He also directly addressed rumors, which are mentioned in the Chicago unsealed indictment, that he was keeping "sex slaves" under strict rules in his home, which prohibited them from using the bathroom or eating without his permission. "Use your common sense," he told King and viewers. "Forget the blogs, forget how you feel about me. Hate me if you want to. Love me if you want. But just use your common sense. How stupid would it be for me, with my crazy past and what I've been through—oh, right now, I just think I need to be a monster, and hold girls against their will, chain them up in my basement, and don't let them eat, and don't let them out."