R. Kelly Indictment Update: Singer's $100,000 Bond Posted By Woman Who Lives In Suburban Chicago
R&B singer R. Kelly was released from jail on Monday after an unknown woman posted $100,000 bail for him.
According to the Chicago Tribune, a 47-year-old Romeoville, Illinois woman listed herself as "a friend" of the singer on the bond slip. The $100,000 is 10 percent of the initial $1 million bail set on Monday for Kelly by a judge.
After his release, the singer was spotted at a popular McDonald's in downtown Chicago.
A large, black van that transported Kelly from the jail was seen parked at the fast food chain, the Associated Press reported. The stop came after Kelly left Cook County Jail without speaking to the media.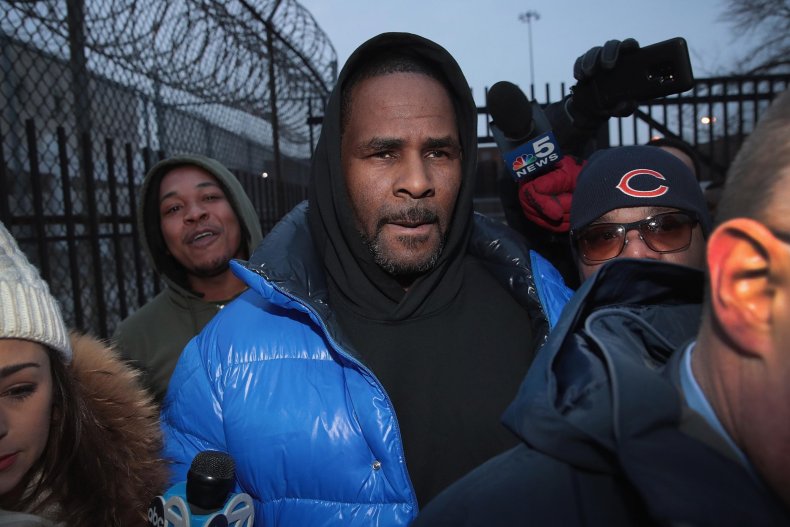 Kelly did not immediately exit the vehicle during the visit. The particular McDonald's was known as Chicago's Rock 'n' Roll McDonald's before it was remodeled and it got rid of its music theme, according to the AP.
Kelly turned himself in to Chicago Police on Friday after he was indicted on charges accusing him of sexually abusing four women, including three who were minors at the time. His lawyer, Steve Greenberg, pleaded not guilty on his behalf to all 10 counts of aggravated sexual abuse.
Attorney Michael Avenatti, who is representing one of the alleged victims, said that additional witnesses and footage of the alleged abuse proved Kelly "deserves to be locked up for the rest of his life," CNN reported.
"Each of these witnesses describes a decades long system of abuse by Mr. Kelly of underage girls," Avenatti said. The attorney said that a second video allegedly portraying Kelly in the sexual assault of a 14-year-old girl was turned over to prosecutors.
"The video tape depicts Mr. Kelly engaged in an illegal sexual assault of a 14-year-old girl. It is approximately 55 minutes in length," Avenatti said. "It leaves no question as to Mr. Kelly's guilt on the tape."
Kelly was previously tried and acquitted of child pornography charges in 2008. The singer vehemently denies the latest allegations.