R. Kelly Juror Replaced in Sex Abuse Trial After Courtroom Panic Attack
A juror serving in R. Kelly's second sex abuse trial in Chicago was replaced on Monday after suffering a panic attack during closing arguments.
The juror, described as a white woman who works for a public library, was excused by the judge at around 3:30 p.m., hours after prosecutors and defense attorneys had started their closing arguments, per NBC News.
"I've been advised she said she can't go on one minute more," U.S. District Judge Harry Leinenweber told the court, before replacing the woman, Juror 44, with Juror 83, described in reports as a white man.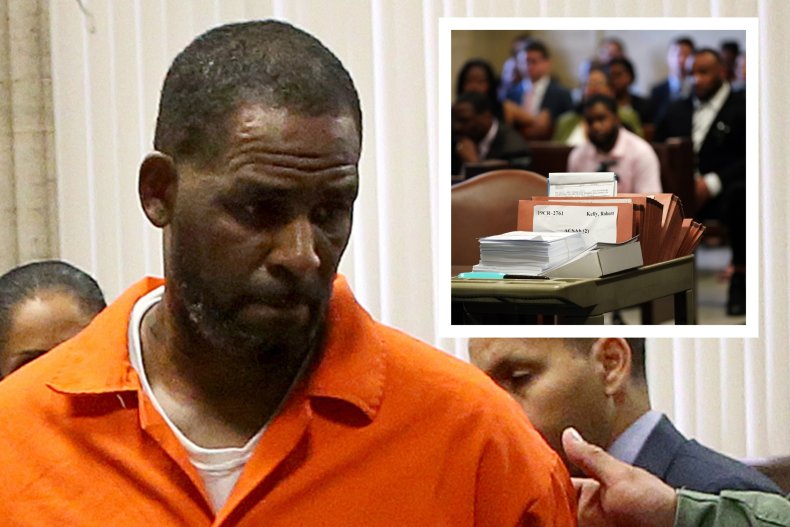 Chicago Tribune reporter Jason Meisner tweeted on Monday that the outgoing juror "said during jury selection she'd seen headlines about Kelly's allegations but had not seen [the documentary] Surviving R. Kelly."
"Leinenweber says the juror reported that she doesn't think 'she can go on one minute more' and that waiting overnight would not help," added Meisner. "She'd be replaced by an alternate, Juror No. 83, a male white, 60ish."
Assistant U.S. Attorney Elizabeth Pozolo on Monday accused Kelly of committing "horrible crimes against children," before leaning on the help of his business partners to cover up actions that he knew to be "completely damning," per NBC News.
Kelly, full name Robert Sylvester Kelly, is standing trial alongside his former business manager, Derrel McDavid, and associate, Milton "June" Brown.
McDavid and Brown have been accused of conspiring to bribe and intimidate witnesses in a bid to conceal evidence pertaining to a 2008 criminal trial on child pornography charges in Cook County, Illinois.
In June, Kelly was given a 30-year prison sentence in New York after being found guilty on nine counts of sex-trafficking and federal racketeering. Attorneys for Kelly, who has denied all wrongdoing, have announced plans to appeal the ruling.
Kelly is currently in the concluding stages of a second federal trial, charged with child pornography, sexual exploitation of children and conspiracy to defraud the U.S. As with his previous charges, Kelly denies all of the allegations.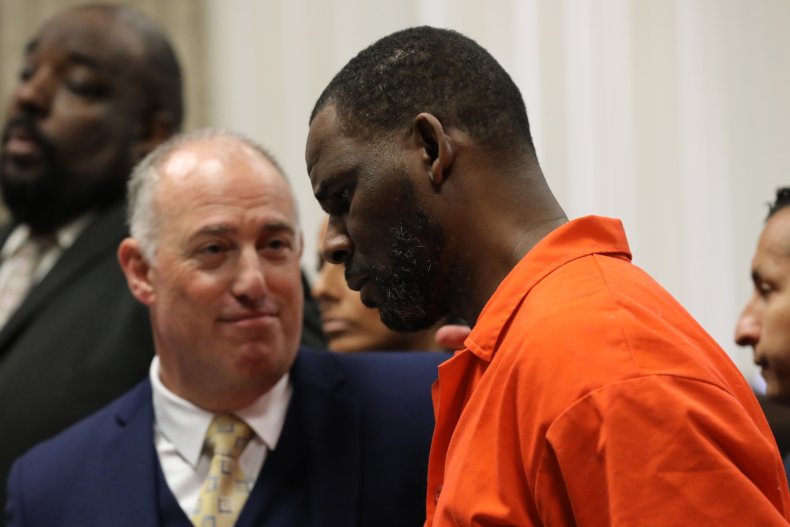 In August, Kelly's fiancée Joycelyn Savage, 26, said that she was five months pregnant and expecting a girl with the 55-year-old musician—despite his lawyer, Jennifer Bonjean, previously denying a claim recently made in a book that the two are having a baby together.
Responding, a "very excited" Savage has shared a sonogram with Entertainment Tonight, and explained that Kelly's lawyer "didn't know that prior to him going to jail, Robert and I were doing IVF because at the time I was told I couldn't have a baby."
Kelly was previously incarcerated at a Brooklyn prison but was moved to a Chicago detention center on July 12 ahead of the trial starting.
According to the Federal Bureau of Prisons inmate database, Kelly is currently an inmate at the Chicago Metropolitan Correctional Center.