R. Kelly Lawyers Withdraw Ahead of Upcoming August Trial
Lawyers for singer R. Kelly have asked a judge for permission to withdraw from his federal racketeering case about two months before the case was set to go to trial.
Kelly's trial is set to begin in New York City on August 9. The singer, who has been in custody since his July 2019 arrest, is accused of recruiting women and underage girls for "illegal sexual activity."
In a letter to District Judge Ann M. Donnelly dated June 8, Kelly's lawyer Steve Greenberg said that he and co-counsel Mike Leonard would no longer be able to "properly represent" Kelly "under the current circumstances."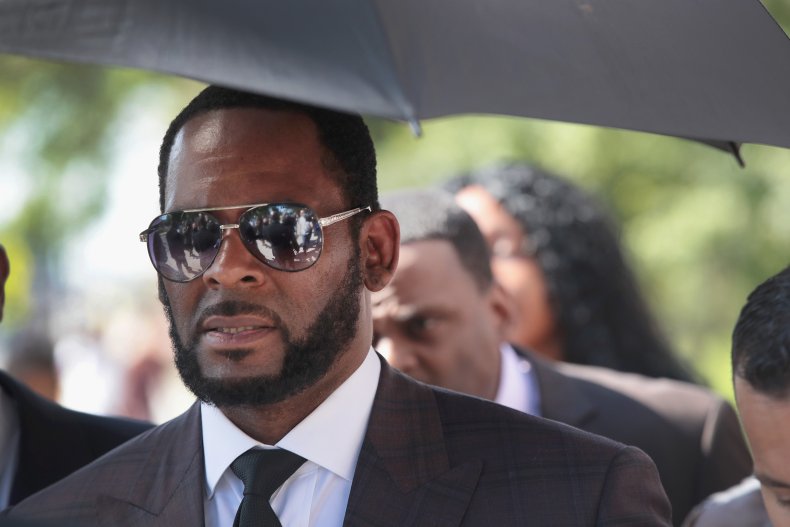 "On behalf of myself and Mr. Leonard, we respectfully request leave to withdraw our appearances as counsel of record in this matter," wrote Greenberg. "While we realize that this request comes close to trial—and although we are ready to proceed to trial as scheduled in August—our reasons for withdrawal are significant and it is impossible, in our belief, for us to continue to properly represent Mr. Kelly under the current circumstances. If the court deems it necessary, we are willing to serve as effective stand-by counsel."
"The government was advised of our position and reasons in a phone call," Greenberg added. "We are requesting that the Court set our request for a hearing."
In a statement to Newsweek, Greenberg explained that the withdrawal was due to a dispute with other lawyers on the legal team that he believes are unqualified to represent Kelly.
"We refused to try a case with lawyers who don't have the appropriate level of experience and skill because that is not in the client's best interest," Greenberg said. "It is a shame that lawyers can't suppress their own egos or self interest and do or act in the client's best interest."
Greenberg and Leonard's dispute is with attorneys Thomas Farinella and Nicole Blank Becker, who were said to have demanded expanded roles in Kelly's New York trial, according to The Chicago Tribune.
Farinella and Becker disputed Greenberg's assertion that the withdrawal was voluntary, telling Newsweek on Monday night that "Mr. Kelly terminated both lawyers prior to filing their motion."
Although a photo taken in March 2019 has resurfaced amid false claims that Kelly was released from prison, the singer remains behind bars in Chicago. Kelly will stand trial in Illinois in a separate case on child pornography and obstruction of justice charges later this year. He is expected to be extradited to New York for the racketeering trial.