R. Kelly Investigation: Police Interrupt Singer's Birthday Party After Receiving False Tip on Warrant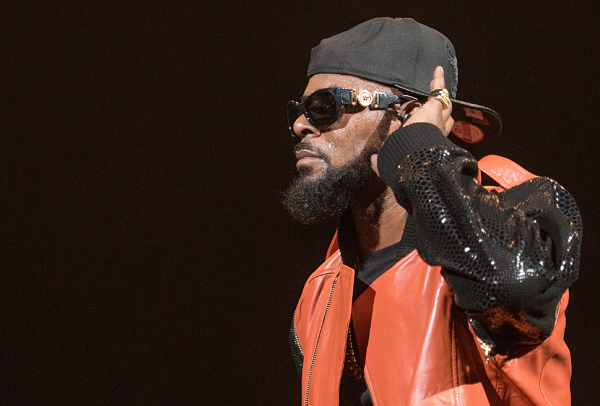 R. Kelly was celebrating his birthday at a club in Chicago when police unexpectedly arrived to question the singer. Kelly turned 52 on Tuesday but celebrated his new age at Chicago's V75 nightclub late Wednesday night. Authorities arrived at the nightclub after receiving a false tip about a warrant out for Kelly's arrest, according to People magazine.
A representative for the Chicago Police Department told the publication officers "made contact" with Kelly around 1 a.m. on Thursday morning after receiving a call regarding "a person wanted." The spokesperson wouldn't confirm the exact location authorities arrived at, telling People police visited the 100 block of west 75th street. TMZ, who was first to break the story on Thursday, reported the location as the popular nightclub.
After running Kelly's name through their system, police determined there was no arrest warrant for the R&B singer and then left the scene.
Fans at the site shared videos of Kelly at the club belting out his 1993 hit song "Bump n' Grind" and later seemed to acknowledge the police incident, telling the crowd, "Y'all mother**kers don't know it's my mother**kin' birthday and I don't give a f**k what's going on tonight."
Kelly's birthday shenanigans come in the midst of perhaps the most controversial time for the award-winning singer after Lifetime's alarming docuseries, Surviving R. Kelly, revealed Kelly's onslaught of physical, mental and sexual abuse of young women and girls over the course of his nearly three-decade career.
The six-part, three-night docuseries included interviews from former members of Kelly's inner-circle, relatives, music industry veterans as well as women who claimed to have experienced Kelly's wrath first-hand.
Kelly has long disputed claims of abusing women and having sexual relations with underage girls. He's also categorically denied allegations of holding women against their free will at his properties in Chicago and Georgia.
Despite his denial, the docuseries directly resulted in Georgia's Fulton County District Attorney's Office launching an investigation into the singer, whose birth name is Robert Sylvester Kelly. Various witnesses in the docuseries, including the family of Joycelyn Savage—one of the women Kelly's allegedly holding against her will—confirmed authorities contacted them in light of Lifetime's special.
Meanwhile, an arrest warrant was actually issued for Kelly's former manager, James Mason, who allegedly threatened to kill Savage's family last year.