R. Kelly's Alleged Victims: A Timeline of Sexual Misconduct Allegations Against the R&B Singer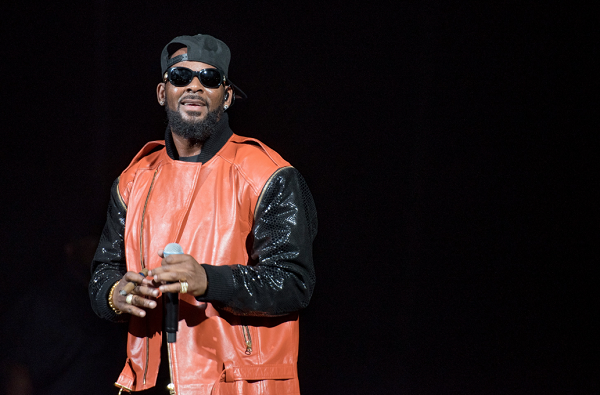 R. Kelly is one of the most successful R&B and hip-hop artists of all time, with more than $35 million in album sales and six number one records on Billboard's Hot 200 chart. But a dark shadow has hung over his career: The many rumors and accusations of sexual, physical and psychological abuse and manipulation that women in Kelly's company have allegedly suffered.
Just three months after music journalist Jim DeRogatis wrote a scathing report published by Buzzfeed alleging the Love Letter singer of operating a sex cult and holding young women captive in Chicago and Atlanta-based homes, Rolling Stone has published yet another account of the singer's alleged sexual misconduct against his ex-girlfriend and former Dallas radio host Kitti Jones.
Jones, who was in a relationship with the father-of-three for two years, told Rolling Stone she was slapped and kicked during her time with Kelly, was starved of food and allegedly was forced to perform lewd sexual acts with Kelly's other girlfriends.
"Ninety-nine percent of the time, I didn't want to do it and I would tell him I didn't want to do it," Jones said. "It was the most horrible thing. People look at it and go, 'Oh, you're grown.' No. You have to actually be there to know exactly what it felt like for a person to overpower you and make you feel like there's nothing for you outside of him."
Jones left her home in Dallas to live with Kelly in November 2011, and the relationship started out sweetly. But as time went on, she found herself under a strict set of rules—i.e. referring to Kelly only as "Daddy" and asking his permission for basic human functions like eating, using the bathroom, showering, etc. "You can't say no because you're going to get punished," Jones said. "You just become numb to what's happening. It's so traumatic the things that he makes you do to other people and to him."
Jones' alarming admissions aren't unfamiliar. Kelly has been accused of abuse and questionable behavior since 1994:
1994: At 27, and riding the success of his second studio album, 12 Play, Kelly weds up-and-coming singer Aaliyah, who he had worked with on her debut album Age Ain't Nothing but a Number. Aaliyah was just 15 at the time, but the marriage certificate falsely stated her age as 18. The marriage was annulled the same year, and both vowed to never speak about the relationship.
1996: Kelly is sued by a woman named Tiffany Hawkins, who claimed that Kelly "engaged in inappropriate sexual conduct with (her), included but not limited to engaging in group sexual intercourse with her) and other minors." The lawsuit said Hawkins was 15 at the time of her encounters with Kelly, who was then 24. Although Kelly countersued Hawkins, claiming that she was spreading "false allegations," the singer settled his accuser's initial lawsuit for an undisclosed amount.
2000: After receiving an anonymous tip, DeRogatis—who worked for The Sun-Times in Chicago at the time—confirmed the Chicago police sex crimes unit was investigating Kelly regarding two separate sexual misconduct allegations. However, the police weren't able to find witnesses who would come forward, and the investigation, as well as DeRogatis' report, got canned.
2001: DeRogatis is sent another anonymous tip in the form of a video depicting Kelly having sex with an apparently underage girl. The tape is passed along to police, but authorities were unable to identify the age or the identity of the female in the video.
2001: Tracy Sampson, a former Epic intern, sues Kelly for $50,000, alleging sexual harassment and assault. Sampson claimed that Kelly coerced her, at 17, into receiving oral sex from another female against her will. The case settled for an undisclosed amount.
2002: Kelly is sued by a woman named Patrice Jones who claims he got her pregnant when she was 16, then forced her to abort the baby. Weeks later, another woman named Montina Woods sues Kelly for allegedly taping them having sex without her consent. Both lawsuits are settled for an unknown amount. Another sex tape of Kelly allegedly having intercourse with a minor surfaces and the singer is later indicted on 21 child pornography charges in Illinois.
2003: Police in Florida discover a camera belonging to Kelly that they say contained images of him having sex with an underage girl, causing the state to pin another 12 counts of child pornography on the singer.
2005: While on trial for child pornography charges in Illinois, it is alleged that the girl who appeared in the 2002 sex tape was just 14 at the time of the encounter.
2008: After three years and a number of trial delays, Kelly wins the case after a jury of nine men and three women find him not guilty.
2017: Kelly is sued by a Mississippi sheriff, who claimed the singer engaged in an affair with his wife.
2017: DeRogatis's Buzzfeed article is published, claiming Kelly was holding six women against their will in his properties in Chicago and the Atlanta suburbs. The report alleges that Kelly dictated every aspect of their lives, including "what they eat, how they dress, when they bathe, when they sleep and how they engage in sexual encounters." Kelly has denied the accusations.