R. Kelly's Sisters Say Racism Influenced 30-Year Sentence for Sex Abuse
R. Kelly's sisters have said that racism played a role in their brother being sentenced to 30 years in prison, after he was found guilty of sexually abusing women, girls and boys for decades.
Kelly, 55, was on June 29 handed the lengthy prison sentence in New York City, several months after he was convicted in 2021 of sex trafficking and racketeering.
Musician Kelly sexually abused fans in a "systematic scheme that went on for decades," according to the Associated Press.
However, in interview with U.K. TV show Good Morning Britain, which aired on Wednesday, Kelly's three sisters spoke out in the convicted sex offender's defense, insisting that he's the true victim.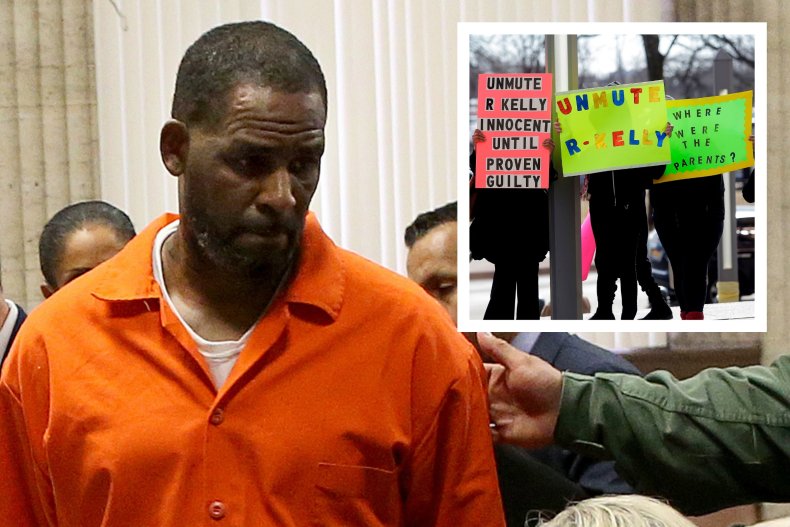 GMB North America correspondent Noel Phillips prefaced the interview by stating that Kelly had been sending letters from his prison cell, saying that his 30-year sentence was because of the color of his skin.
Reiterating this point, Cassandra Kelly said: "African Americans have always been treated unfairly. And so I think that has a lot to do with [R. Kelly's sentence], as well as other factors."
When asked whether the sisters truly believe that their brother had not been with underage girls, Lisa Kelly responded: "I can say he may have been with younger women, but as far as underage girls, no—and I stress underage girls. Who has seen that? I believe a lot of the alleged victims are bitter."
Phillips then followed up by asking if Lisa Kelly could "acknowledge the victims," prompting her to respond: "I'm not going to acknowledge something I don't have proof of."
"He is not a monster, he is not a pedophile," Lisa Kelly said of her brother, whose full name is Robert Sylvester Kelly. "The only victim I've seen that's been stolen from, lied on, is Robert."
"How can you sit here and say R. Kelly was the victim?" Phillips asked.
"I just told you," Lisa Kelly said in response. "I don't care about what a lot of people [say], I can only go by what I see, what I know, what I've experienced."
Asked whether R. Kelly has reacted emotionally or expressed regret in the aftermath, Cassandra Kelly replied: "He'll be like, forgive them."
However, R. Kelly's victims have said they don't want his forgiveness, telling Phillips it should be the other way around.
In a statement read out by Phillips during the GMB broadcast on Wednesday, one of the victims said: "R. Kelly's sisters should be supporting us women of color for bravely speaking out. He deserves to spend the rest of his life in jail."
Kitti Jones, one of R. Kelly's victims who testified in his recent case, said that he should never be released from prison.
"A lot of people have been waiting for this, not just the survivors, but families of survivors."
R. Kelly's legal team has expressed their intent to appeal his recent sentencing. He was also put on suicide watch following the sentencing which his legal team argued was "unnecessary, punitive and cruel."
On July 13, Kelly was moved from New York to Chicago where he will face four counts of the production of child pornography, five counts of child sex trafficking, three counts of receipt of child pornography and one count of conspiracy to defraud the United States.