R. Kelly Trial Likely to Be Delayed Again Over Pandemic Concerns
R. Kelly's day in court may be coming a bit later than originally planned.
Trial for the 53-year-old R&B singer, who is facing multiple counts of aggravated criminal sexual abuse and child pornography among several other charges, was scheduled to begin on October 13. However, U.S. District Judge Harry Leinenweber, who is presiding over Kelly's trial in Chicago, announced he intended to further delay the trial, citing the coronavirus pandemic as one of the main causes of postponement, Chicago Sun-Sentinel reporter Jon Seidel reported in a string of tweets on Tuesday.
"U.S. District Judge Harry Leinenweber says prosecutors have laid out several reasons why, during the pandemic, it would be difficult to put Kelly on trial," Seidel tweeted, adding. "Leinenweber also says the Dirksen Federal Courthouse does not have a courtroom that could hold a three-person trial right now."
Seidel continued: "Kelly attorney Steve Greenberg is again asking for Kelly's release. 'He should not have to sit in jail because the government has witness problems.'"
The federal judge intends to revisit setting a new trial date in October but reportedly told Greenberg that he would "welcome to file a motion seeking Kelly's release."
Newsweek has reached out to Kelly's representatives for comment.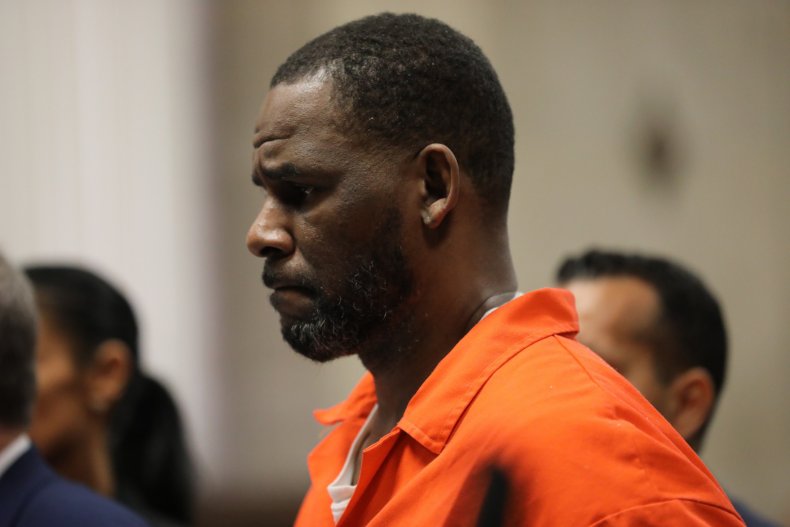 Accusations of Kelly's alleged sexual exploits with minors have swirled around the singer for decades, starting with his short-lived marriage to the late singer Aaliyah in 1994, who was 15 at the time of their relationship while Kelly was 27. Kelly also previously faced child pornography charges in 2008 after he was accused of filming a sex tape with a 14-year-old girl. However, he was acquitted.
Then in February 2019, Kelly, whose real name is Robert Sylvester Kelly, was indicted on 10 counts of aggravated criminal sexual abuse in Chicago for misconduct involving four women, three of whom were underage at the time of their encounters with the award-winning singer, which took place between 1998 to 2010. Three more counts were later added to the indictment for similar charges.
Kelly was arrested by authorities in Chicago in July 2019 and has remained behind bars since. A trial date was initially set for April 13 but was moved to October after prosecutors requested more time to sort through evidence they obtained following execution of a search warrant on Kelly's Illinois property.
The disgraced songwriter is also facing a separate five-count indictment in US District Court in New York on charges of sexual exploitation of a child, kidnapping, forced labor and violations of the Mann Act involving the coercion and transportation of women and girls in interstate commerce to engage in illegal sexual activity. The accusation of crimes listed in Kelly's New York indictment range from 1999 to 2018.
Kelly pleaded not guilty and denied all accusations against him.