Wendy Williams Says She's 'Sick' of #MeToo Movement While Discussing R. Kelly's Marriage to Aaliyah
Talk show host Wendy Williams caught some heat on social media after saying she was "sick" of the #MeToo movement on The Wendy Williams Show Thursday. The controversial comments came as she discussed R. Kelly potentially being removed from the music industry due to the #MuteRKelly campaign.
"The #MeToo movement hasn't affected R. Kelly, because R. Kelly, he wasn't a #MeToo," Williams continued. "Aaliyah voluntarily married him when she was 15 years old. And her parents voluntarily let her do it, when she was 15 years old. And that little girl that I saw from my own eyeballs that he urinated on and he had his way with, was there at his house, she let it go down."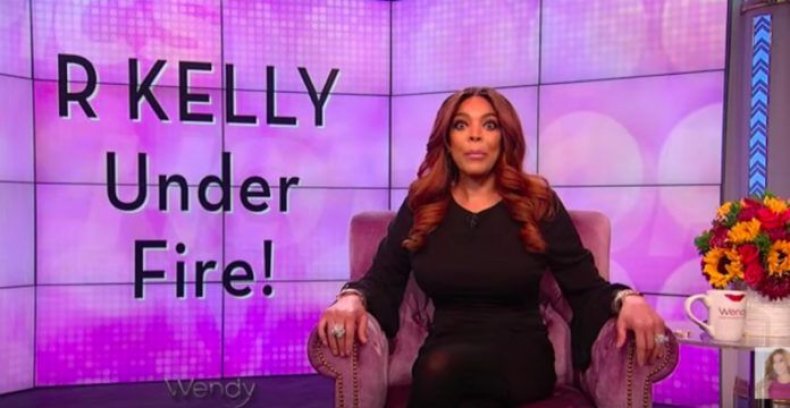 As Williams noted, R. Kelly secretly married Aaliyah when she was 15 on August 31, 1994. He was 27 at the time, though some reports claimed the singer was actually 28. According to the marriage certificate, Aaliyah lied about her age, saying she was 18. The marriage was annulled six months later after her parents found out about the clandestine relationship.
As far as Williams was concerned, the parents of R. Kelly's alleged victims were at fault.
"The multiple allegations of R. Kelly holding women in his own home, where are their parents?" she asked. "This is a whole different thing, it has nothing to do with #MeToo," she said. "R. Kelly is just a very very sick man."
The host asked the audience if they still listened to the singer's music. When one person said the "old" R. Kelly, she said the "old" R. Kelly was the one who was allegedly victimizing underage girls.
"The old R. Kelly was the one in the studio with the young girls," she said. "The old R. Kelly is a pig… 'I don't see nothing wrong with a little bump and grind'... on a 15-year-old girl?"
Toward the end of the segment, Williams emphasized her distaste for the #MeToo movement, which started in October after bombshell exposés about disgraced movie mogul Harvey Weinstein were published by The New York Times and The New Yorker. Since then, dozens of women accused Weinstein of sexual assault, misconduct or rape.
"I'm sick of this #MeToo movement," Williams said Thursday. "I love that people are speaking up for the first time and speaking out and everything, but now…I look at all men like you're a #MeToo, all of them, all of them, which is not fair."
Williams found little support on social media, with many saying her comments were "disgusting" and that she was victim blaming.