A rabbi who is the father of 12 is recovering after being stabbed multiple times outside of a Jewish school in Boston on Thursday afternoon.
Police were called to Shaloh House on Chestnut Hill Avenue around 1 p.m. after Rabbi Shlomo Noginski was attacked outside the school. Police said they found Noginski with multiple stab wounds and rushed him to the Boston Medical Center with non-life-threatening injuries. He was released overnight.
Witnesses say the suspect pulled out a gun on the rabbi and tried to force him into the car. When Noginski tried to flee, the suspect stabbed him repeatedly.
"The attacker came to him and pointed a gun at him, and said, 'Open your car.' [Noginski] gave him the key and said, 'Here's the key'. And he said 'No, you open the car," Shaloh House's Executive Director Dan Rodkin told WBZ-TV.
Rodkin said Noginski was stabbed eight times.
Police have arrested 24-year-old Khaled Awad in connection to the attack. He is set to be arraigned in Brighton District Court on Friday. Awad was charged with assault and battery by means of a dangerous weapon and assault and battery on a police officer.
Boston police are still investigating the motive behind the attack.
"This remains an active and ongoing investigation," police said Thursday. "Anyone with information is urged to contact District D-14 Detectives at 617-343-4256."
Speaking with Lubavitch.com from his hospital bed, Noginski said, "I am grateful to the Boston Police Department for their rapid response, and relieved that the perpetrator is in custody. I am looking forward to returning to my work as soon as possible."
The school was put under lockdown following the stabbing. Staff and children were at the Shaloh House for a summer camp program but no one else was hurt. Rodkin said the school would increase security for the remainder of the summer.
"A Jewish saying says, 'A little bit of light pushes away a lot of darkness. Good has much more power than evil,'" Rodkin told the local outlet about the stabbing.
Police said they would also step up patrols at nearby synagogues and Jewish sites.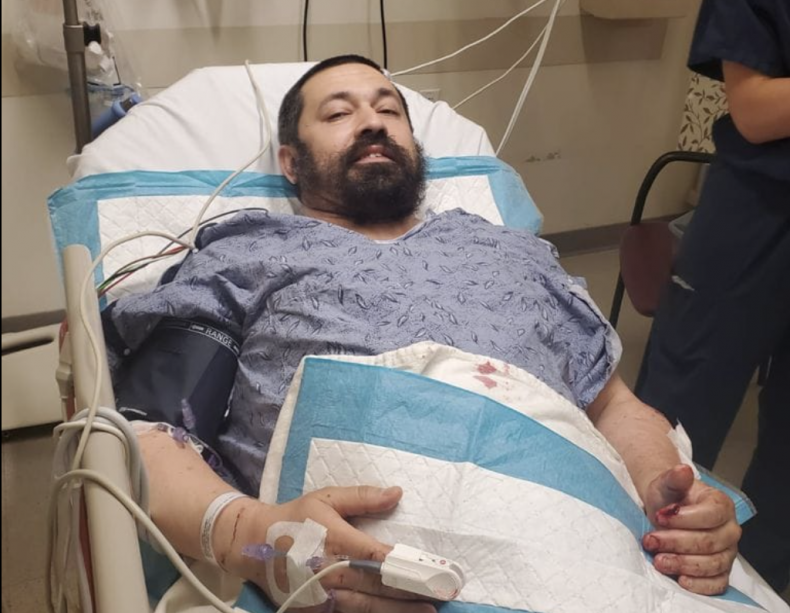 While authorities have not classified the incident as a hate crime, local Congresswoman Ayanna Pressley tweeted, "While we await further details & pray for his recovery, let me say plainly that all of our neighbors deserve to live free from fear. Antisemitism is a clear and persistent threat to our communities."
The New England regional director of the Anti-Defamation League, Robert Trestan, has also called for transparency in the investigation.
"As this investigation unfolds, we call for full transparency so that the community gets answers as to why a rabbi was stabbed outside of his house of worship," Trestan wrote in a statement.
He said the attack "sent a shockwave of fear and anxiety throughout the community" where many Jewish children attend nearby summer camps and many Jewish people live.
Newsweek reached out to the Boston Police Department for comment but did not hear back before publication.