A Rabid Cow at a Texas Rodeo May Have Infected Attendees, Officials Warn
Attendees at a San Antonio rodeo may have been exposed to a rabid cow, the Texas Department of State Health Services has warned.
The affected cow—a black Brangus heifer—was exhibited at the San Antonio Stock Show and Rodeo between February 11-14, 2020, when the animal was capable of spreading the virus.
The Department says the cow was only outside the barn when it was being shown and when it was being loaded or unloaded for transport.
According to the U.S. Centers for Disease Control and Prevention, rabies is a "fatal but preventable" disease caused by the rabies virus and spread through direct contact with the saliva of an infected animal. It is usually transmitted by bite.
Petting an animal with rabies or coming into contact with the blood, urine or feces of a rabid animal is not associated with infection risk, CDC states.
In the U.S., bats are the most likely source of rabies and were responsible for almost a third of all animal cases in 2017. Racoons (28.6 percent), skunks (21.1 percent) and foxes (7 percent) are the next most likely culprits. Worldwide, dogs are the most frequent carriers of the rabies virus.
The first symptoms are flu-like—fatigue, weakness, fever and headache. The area around the point of infection may experience prickling, itching or general feelings of discomfort.
As the disease progresses, patients may feel anxious, confused, agitated and other forms of cerebral dysfunction. This may develop into delirium, hallucinations, insomnia and other abnormal behavior. One of the most infamous symptoms of rabies is a fear of water (hydrophobia).
The time between infection and symptoms (the incubation period) can last weeks or months, depending on how far the point of exposure is to the brain as well as the type of rabies and the level of existing immunity.
According to the CDC, the condition is usually fatal if clinical symptoms appear. Fewer than 20 people are known to have survived clinical rabies. Fortunately, cases are rare and have been declining. Since the early 1900s the number of people dying from rabies each year fell from 100 or more to one or two.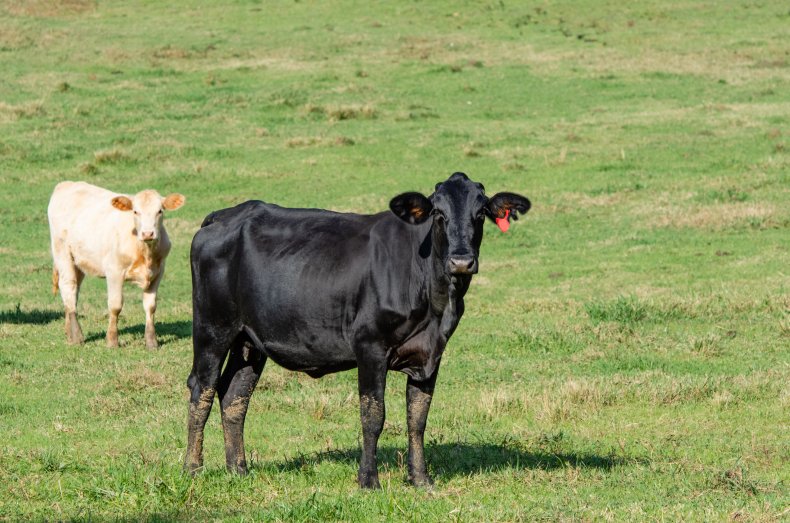 Officials have already been in touch with those who were caring for the cow and other animals that were being kept nearby, but say Bexar County residents who visited the cattle barn between 11 and 14 February and have any concerns can speak to staff with the San Antonio Metropolitan Health District at 210-207-8876.
Guests from outside Bexar County can get in contact with the Zoonosis Control Branch responsible for their region.
Correction 3/5/20, 5.20 a.m. ET: This article was updated to correct information on rabies transmission vectors.