Raccoon 'Riding' Alligator Photographed in Florida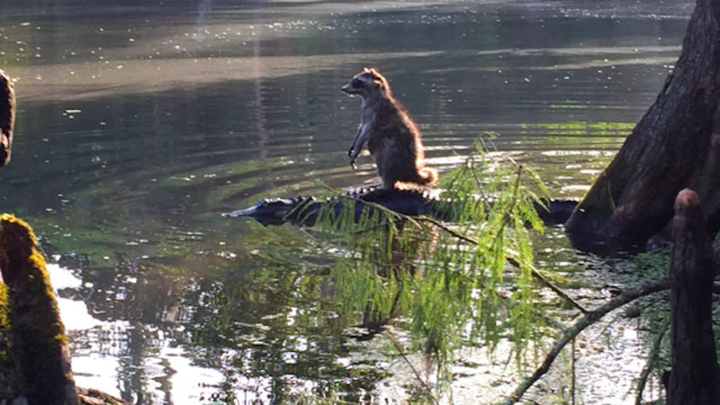 Alligators and raccoons cause a lot of problems for each other. On the one hand, alligators eat a lot of the mammals. One study on the diet of alligators in Georgia found that 60 percent of the reptiles' feces contained raccoon hair. But these mammals get some revenge: A full 80 percent of young alligators fall victim to birds and raccoons, according to the Smithsonian National Zoo. And a significant number of alligator nests are also destroyed by raccoons, who eat the animals' eggs.
This weekend, a family visiting Florida's Ocala National Forest captured a moment when the two animals came face-to-face in the wild for a brief moment. Richard Jones, who resides in northeast Florida, told local ABC affiliate WFTV that his son walked into some palm fronds close to the Ocklawaha river when he must have startled a raccoon, which stepped right on top of an alligator.
"I snapped a lucky picture right when the gator slipped into the water and before the raccoon jumped off and scurried away," Jones told the station. "Without the context you'd think the raccoon was hitching a ride across the river. Definitely the photo of a lifetime."