Sochi's Already a Mess, for Journalists at Least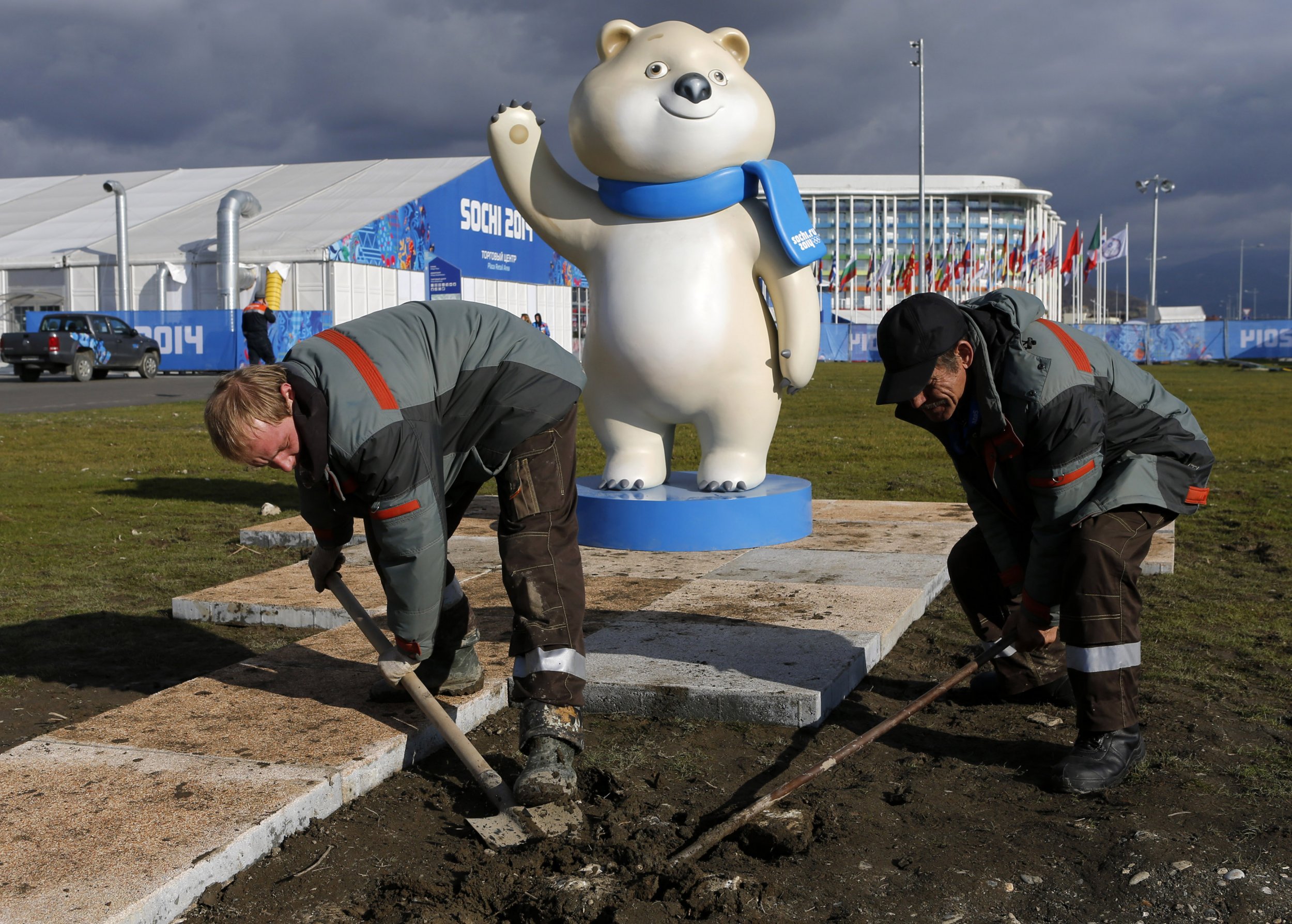 Will Sochi be ready for the Winter Olympics by the time of the opening ceremony on Friday?
Tweets from reporters newly arrived in Sochi illustrate a haphazard, darkly funny debacle.
Stacy St. Clair, of the Chicago Tribune, found golden-brown water in her Sochi hotel when she turned on the tap.
Mark MacKinnon, a senior correspondent for the Globe and Mail, found no lobby in his hotel.
Vocativ came across a letter to Sochi volunteers explaining that due to a pillow shortage, their pillows will be transferred to Olympic athletes.
ATTENTION, DEAR COLLEAGUES!

Due to an extreme shortage of pillows for athletes who unexpectedly arrived to Olympic Village in the mountains, there will be a transfer of pillows from all apartments to the storehouse on 2 February 2014. Please be understanding. We have to help the athletes out of this bind.
Shaun Walker, the Guardian's Moscow correspondent, found his hotel's elevator broken and the stairwell firedoor locked.
National Post sports columnist Bruce Arthur found a stairway that sounds like something out of a Dr. Seuss book.
In the Ekaterininsky Kvartal hotel, the elevator is broken and the stairway is unlit, with stairs of varying and unpredictable heights.
Harry Reekie, CNN sports producer, arrived in Sochi to find that only one of the 11 rooms he said CNN booked "five months ago" was ready. Sochi 2014 Organizing Committee President Dmitry Chernyshenko initially suggested Reekie needed to just "turn back and to look at the mountains ;)" but later Chernyshenko Tweeted that media hotels are opened and "undergoing final testing."
Detroit Free Press sportswriter Jo-Ann Barnas found hazards in the sidewalks.
Photographer Joerg Reuter's saga of searching for an acceptable hotel room was full of misadventure.
"The outdoor area and floors/staircase/elevator inside were still under construction and completely dirty," Reuter wrote, adding that the room he was shown "had no light in the main room, the water out of the tap was yellow/brown, the air conditioning, TV, kitchenware were all not working ... Beside this the room was totally dirty and everywhere covered with dust."

The next room was worse.

"In some rooms you actually saw that there are still the construction workers sleeping and living," he wrote.

Seeing the dog walk out of the third room he was shown was a step too far.

"When I came out of the elevator, there was the dog. I said, 'Right, that's it,'" Reuter told The Associated Press.
According to a New York Times reporter in Sochi, the Olympic landmarks are still under construction and the scene is a "peculiar mix of grandiosity and bungling," where a lit-up Christmas tree still adorns a hotel lobby, and an employee shrugs and offers "It's Russia!" as an explanation.
"There are unfinished hotels, half-finished stores and a mall where the only shop that is open and thriving is a Cinnabon," the reporter writes.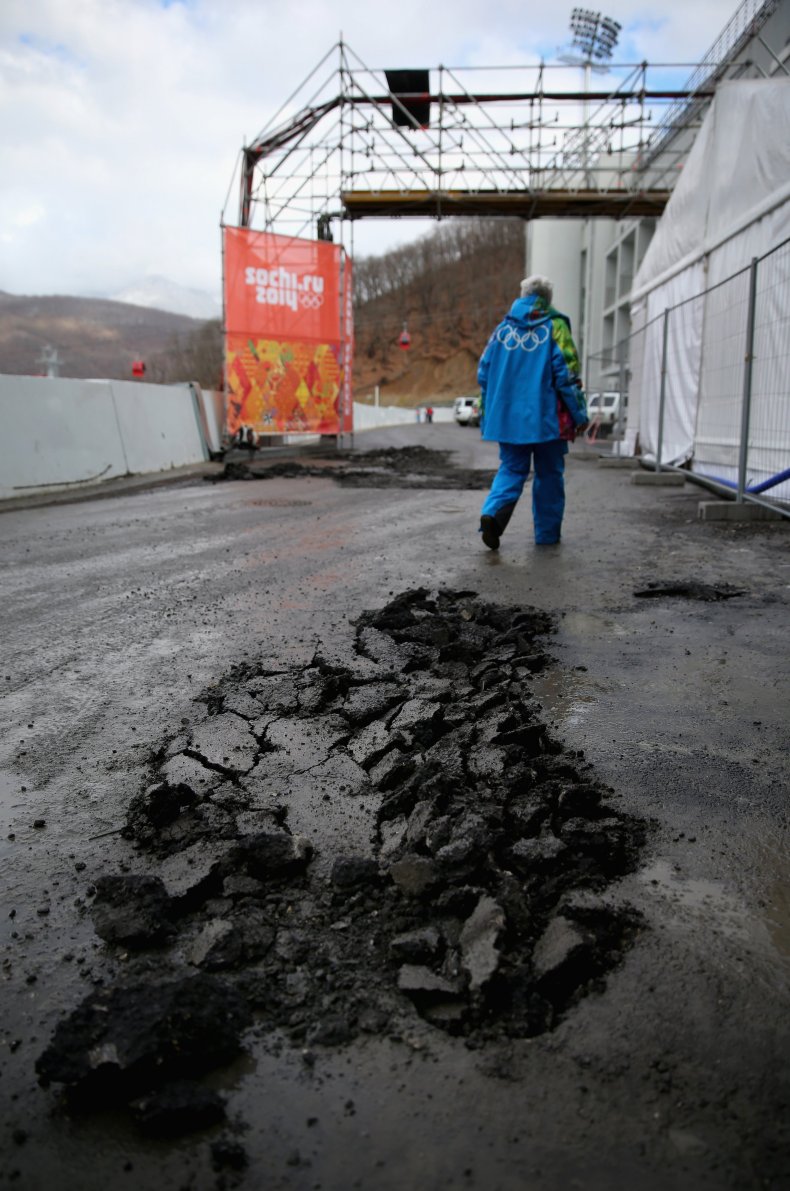 The Sochi Games are the most expensive Olympics ever staged. Government watchdog Alexey Navalny pegs their total cost at $46 billion (and others project up to $5 billion more). That surpasses even the $43 billion spent on the 2008 summer Games in Beijing, a far larger production that itself broke the Olympic spending record.
The Sochi Games have been plagued from the start. There are accusations of embezzlement on a massive scale. Now, just days before the first athletes start competing, it is clear the facilities are not finished.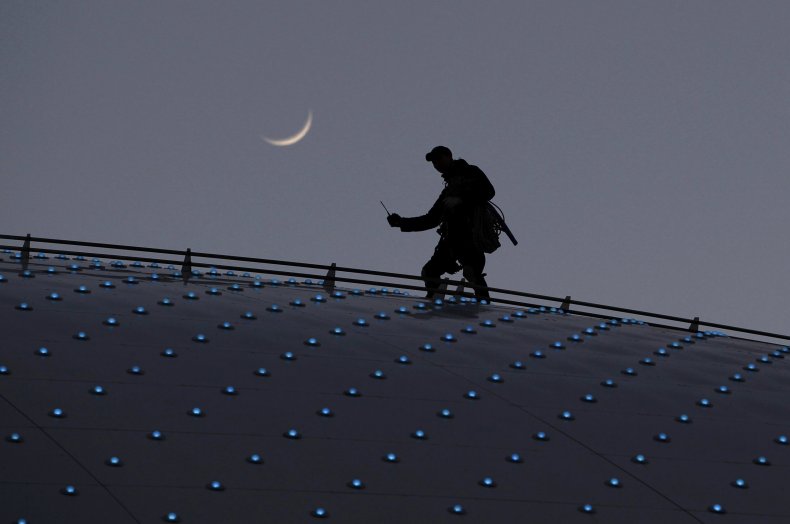 The Times reporter lists the glitches. He inadvertently pulled off the handles of two doors in the poorly finished Bolshoy Ice Dome. A man walked into his hotel room at three in the morning, because he has been assigned the same room. The bus ride to the main media center offers little more than a vista of "a lot of dirt fields, dotted with newly planted trees, kept upright with twine."
Some errors are comic. A BBC reporter posted an image of a double toilet--two toilet bowls in one stall--at the Olympic Biathlon Center. After that image went viral, the bowls were quickly replaced by three free-standing cabinets. Later, a second double toilet bowl was discovered by an Associated Press reporter in the Olympic media center. A photo of a (possibly third?) pair of double toilets in action recently surfaced.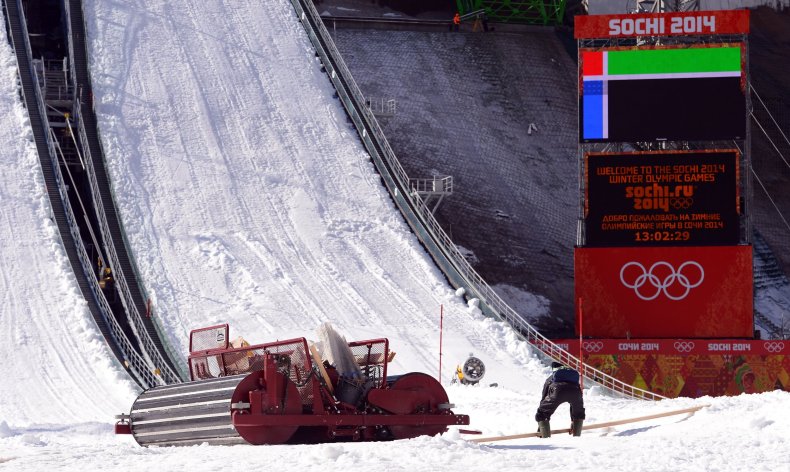 A series of photos taken January 23 show Sochi strewn with trash, huge piles of construction debris a mile from the Olympic park, and a half-finished hotel with metal studs bristling vertically out of its concrete walls.
With the opening ceremonies just two days away, the world waits to see whether the Russian organizers can fix their glitches in time.