Why Are Black People Still Paid Less Than Their White Counterparts?
The ethnicity pay gap is reportedly costing the economy billions and is shrouded in mystery. And with some people of color earning as little as 60 percent of their white counterparts, campaigners believe now is the best time to redress the balance as the economy recovers from the COVID-19 shutdown.
The difference in pay between white people and people of color - the ethnicity pay gap - is complicated.
The Confederation of British Industry (CBI) says a failure to tackle the ethnicity pay gap is costing the British economy as much as £24 billion ($31 billion) a year and those organizations with the most ethnically and culturally diverse executive teams are 33 percent more likely to outperform their peers on profitability.*
The complicated thing is quantifying and defining the broad range of people of color. In the U.K., while those from the Bangladeshi ethnic group had a median pay 20.2 percent less than White British employees, those with Chinese, Indian and Mixed or Multiple ethnicities all had a higher median hourly pay than White British employees, according to the Office for National Statistics.*
It becomes even more complicated when gender still plays such a key part. In the U.S., according to the National Women's Law Center, Black women who work full-time earn just $0.61 for every dollar made by white men. The Economic Policy Institute, a think-tank based in Washington, says that even when controlling for age, gender, education and region, black workers are paid 14.9 percent less than white workers.
In the U.K., regardless of gender, employees from Black African, Caribbean or Black British, other, and white other ethnic groups on average earned 5 to 10 percent less than their white British counterparts between 2012 and 2018.
Campaigners want the data to be much more public, with more than 130,000 people signing a petition for it to be mandatory for companies with more than 250 employees to publish pay data linked to ethnicity. It is already mandatory for companies to publish pay gaps by gender.
In 2018, former British Prime Minister Theresa May launched a consultation to look into whether mandatory reporting of pay gaps by ethnicity could improve conditions for those from ethnic minority backgrounds, saying that minorities often "feel like they are hitting a brick wall" at work, mandatory reporting is yet to come into force.
The reason "why" some people of color are paid less than their white counterparts is very difficult to pin down - a combination of socioeconomic, cultural and societal reasons - but the data is still incomplete. So why has it become a mandatory requirement for companies to publish gender pay gaps but not an ethnicity one?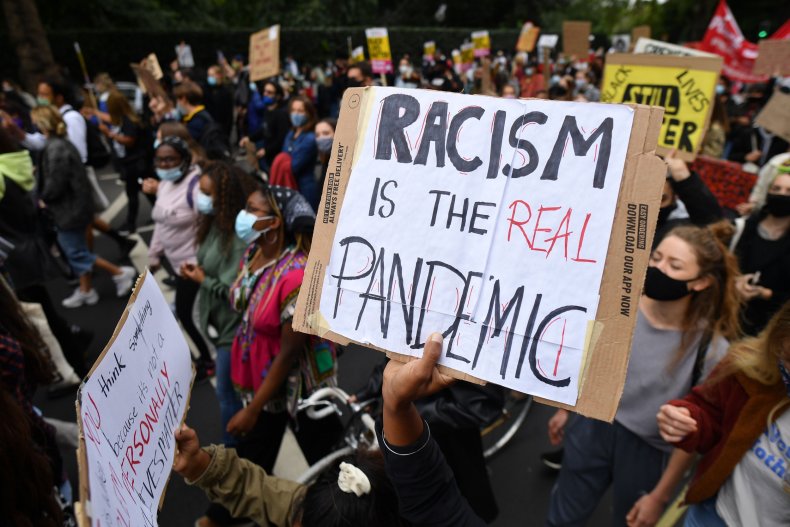 "It's really just about the political will to move it along the priority list," Sandra Kerr, race equality director at U.K. outreach charity Business in the Community, tells Newsweek. "What we have seen in the pandemic is that when they want to, they can change laws like in weeks, so they can't use complexity and difficulty as excuses."
For Kerr, the pandemic has acted like an X-ray, exposing the inequalities that we have been willing to tolerate for too long, inequalities that have meant that difference between life and death for some. A review of the impact of COVID-19 on ethnic minorities by Public Health England (PHE) found that people from ethnic minority backgrounds are at higher risk of dying from the virus.
"If ever there was a time for this it's now, there's no reason to wait," says Kerr. "COVID-19 has spotlighted so many disparities, long term ones that have existed that are linked to occupation and people's pay and livelihoods and what the impact of that can have if it's not tackled, and increasing the transparency of pay can only help to improve some of those outcomes for people who are from the most disadvantaged communities and backgrounds."
Kerr says it's in the interests of the U.K. to tackle its ethnicity pay gap, which she says costs the economy billions. The government-commissioned McGregor-Smith review into issues affecting BAME employees in the workplace said that a failure to fully utilize BAME talent and hampered productivity and cost the economy £24 billion ($31 billion) or 1.3 percent of GDP. This increase is because, the review said, a "diversity of people brings diversity of skills and experience, which in turn can deliver richer creativity, better problem solving and greater flexibility to environmental changes."
Out of those who disclosed their identity, 11 percent of board directors at FTSE 100 companies are from BAME backgrounds, with one-third of FTSE 100 companies still not having a single BAME director. According to population data, 13.8 percent of the U.K. population is from a BAME background.*
In 2017, the British government published its Race in the Workplace report, which set out a range of actions for businesses and government to help improve employment and career prospects for BAME employees.
"If the [economic] recovery is inclusive, it's going to be better for all of us," Kerr said. "We know on its own that ethnicity pay gap reporting is not a silver bullet, it can't fix everything on its own but it does get the conversation going."
In the U.S., a study by the Alliance for Board Diversity (ABD) showed that minorities occupied 16 percent of board seats in the Fortune 500 and 19.5 percent in the Fortune 100. Around 36.6 percent of people in the U.S. are people of color. The goal for the ABD is to have minorities make up 40 percent of board seats so Fortune 500 corporate boards can have fair representation.
Diversity quotas are illegal under UK and EU law and are also considered unconstitutional by the U.S. Supreme Court. What then would she suggest as a practical solution?
"One of the first things I'm actively encouraging is targets," Kerr said. "[This means] having targets to ensure that you're going to track progress, actively ensuring that leaders are responsible when they look at the opportunities, ensuring that they are fairly distributed.
"We are big advocates of mentoring but also what I'm calling sponsorship, actively making sure and tracking access to group work, projects, strict assignments all of the things you need on your portfolio to help you progress, so more of an evidence-based approach, as opposed to saying we're committed and nothing."
Naeema Choudry, a partner at law firm Eversheds, says that ethnicity pay gap reporting is more complex than gender pay gap reporting which may have why there have been delays.
"When the Equality Act was passed 10 years ago, there was a provision in there to include gender pay reporting and there isn't a provision for ethnicity," Choudry says. "They are going to have put forward slightly different legislation to be able to implement that. This is why a lot of organizations who are committed to diversity and equality are actually starting to report on a voluntary basis and a lot of people are signing up to Business in the Community's race at work charter."
One of the barriers that Choudry says exists is that many companies don't already hold data on ethnicity and there's no agreed consensus on how to uniformly collect the data.
"All employers will have information on gender because they need to for tax and pension purposes, but a lot of employers don't collate data in relation to ethnicity because it's not mandatory," Choudry said. "There is that issue that they don't have the records and then there's also no proper uniformity as to how you record it."
Choudry thinks that collecting the data on a simple white and non-white binary will not prove helpful in providing meaningful data and could prove to be quite divisive.
She recommends that the data could be broken down into the categories used by the ONS when it published ethnicity pay gap data, which divided it into 10 categories.
"Ethnicity pay reporting is less about the pay but it's more about getting employers to start having a conversation about racial equality within the workplace," Choudry said. "The hope is that by starting to report on ethnicity pay, employers will look at their wider policies and procedures... not only to improve the racial diversity but what plans have you got to retain, attract, promote people from a BAME background."
But, as Kerr pointed out, the excuse some companies give of not having ethnicity data so unable to report pay gaps still exists, saying that "it's not really an excuse." But until recording it is mandatory as campaigners want, it is likely that this reason will continue to be given. Campaigners are hoping that enough companies volunteer the information that removes the mystery from the issue and makes it a lot less complicated.
The Department for Business, Energy and Industrial Strategy has been contacted for comment.
*Study methodology and notes