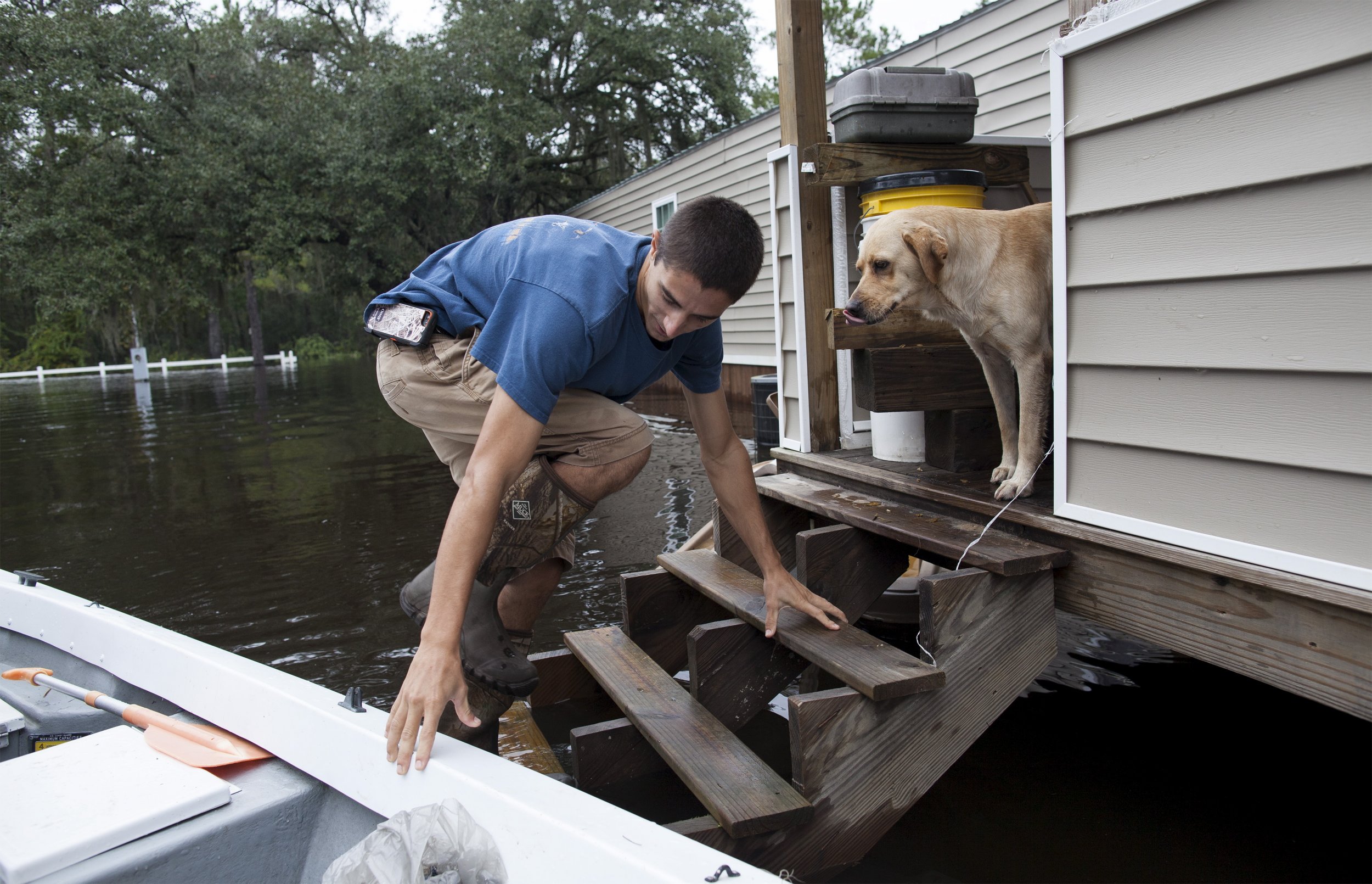 The rain finally stopped in South Carolina on Tuesday but the work is just beginning for animal rescue workers. As the flood waters recede, numerous organizations will work to reunite lost pets with their owners, search flood damaged homes for pets and treat injured animals.
"We've had a few calls each day—people finding strays that have been displaced because of this. We are getting to the point where the water is receding and quite honestly, I think we'll start getting calls now of animals that were not gotten out," Columbia, South Carolina, Animal Control Superintendent Marli Drum tells Newsweek. "As the waters are receding, we'll get into the nitty-gritty with the animals."
At least 14 people have died in the flood waters and primary search and rescue efforts are still focused on finding humans. But for people who have left a home, a missing pet feels like a family member.
Drum estimates her office took in six animals and helped to rescue a dozen more. Most of the calls she has received have been about dogs, though one woman found an abandoned kitten on Tuesday morning. Three dogs were rescued over the weekend from a flooded apartment. Two dogs were rescued from a flooded yard where they had been chained to a post. "Thankfully, the water wasn't high enough for them to drown. Sadly, we came across some people who didn't care," Drum says. The owner of the chained dogs was given a citation for animal cruelty.
The Humane Society of the United States has been working with a shelter in Lee County and is ready to provide assistance to other counties, Wanda Merling, senior manager of disaster response for the Humane Society, tells Newsweek.
"We've moved 22 animals in the past two days. That doesn't seem like a lot but to this particular shelter, this has been a blessing to them," Merling explains. The shelter housed various dogs: "Everything from a mixed-breed chihuahua to a rottweiler mix."
The biggest issue shelters are facing now is safe drinking water. Because the state has a boil water advisory in many areas, getting fresh water to the animals has become increasingly difficult.
Emergency responders are also finding animals around the state. In Irmo, firefighter Nate Mansfield rescued this pup:
The worst is yet to come, Drum and Merling predict. Dead animals may be found as the waters recede. Other animals may be abandoned, if their owner died or if their home was destroyed in the water. Animal organizations will work to find homes for pets left abandoned by the storm.
In Columbia, Drum's office is preparing for the next step by taking donations, such as leashes, collars and litter boxes. "A lot of people will be looking for new places to live. They've lost everything, including everything for their pets, so we are trying to supply them with what they will need," she says.
Some South Carolina animal owners who lost their pets are turning to Facebook to be reunited. The Lost and Found Pets of South Carolina group is posting photographs of animals who were lost or found and their locations, as is Chasing Tails Pet Patrol. At least one pup was reunited with their owner through the groups:
Owner FOUND!!! This can be removedLindsey Gilbert · 10/6/15********************************FOUND (Columbia,...
There are 26 shelters set up around the state and least least four of them offer accommodations for animals, according to the South Carolina Emergency Management Division. The Seven Oaks Park shelter in Irmo takes in pets with vaccines and as of Monday afternoon was housing eight dogs, Lexington Leisure also takes in pets with vaccines, Lower Richard High School in Hopkins takes pets on leashes or in crates, as is the case for St. Andrews Middle School in Columbia.