Race Is On To Save Starving Endangered Whale J50 Who Could Die Any Day Now
Scientists are racing to try to save an endangered killer whale who is emaciated and suspected to have an infection.
The three-year-old female orca known as J50 has been spotted near the coast of Vancouver Island and is said to be near death.
Images by Fisheries and Oceans Canada (DFO) show the whale swimming with her mother off the coast of Port Renfrew but she was also spotted swimming by the Olympic peninsula, near Seattle, in American waters.
"She's still out in that same vicinity which puts her out just beyond the range, the reach of our teams," said Michael Milstein, a spokesman for the U.S. National Oceanic and Atmospheric Association (NOAA), according to Global News Canada.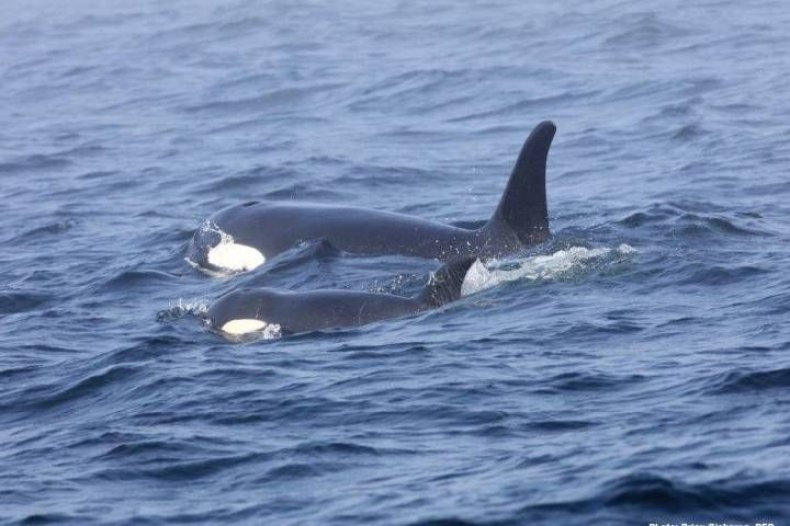 There were concerns that the whale had died because she had not been seen for several days but she was spotted on Wednesday and now the race is on for scientists to try to administer antibiotics.
Paul Cottell, marine mammal coordinator for DFO said the weather was hampering their efforts but it was great that she was still alive.
"There is considerable fog out there, there is a lot of wind where the animals are now."
"We're hoping she's going to be OK. But, obviously, her body condition has been waning in the last couple of weeks. We're hoping she's going to make it," he said according to the Vancouver Sun.
Biologists want to feed the whale, named Scarlet, with medicated live salmon, a tactic which has not been tried before, Live Science reported.
The Native American tribe the Lummi Nation has been practicing techniques for capturing and keeping live salmon to entice the wild orca. Another method under consideration is administering antibiotics via a pole but it is uncertain if scientists can get close enough by boat.
"We are hopeful that there is a chance that we may be able to assist her with medical treatment, that we may be able to get her nourishment and treat her," said Teri Rowles, NAOO director of the marine mammal health and stranding program, according to the Seattle Times.
Having one of the few reproductive-age females in the whale pod J50 in such poor condition is reportedly a bad sign for the struggling population of killer whales that number just 75.
The J-pod also includes J35, or Tahlequah, whose calf died on July 24. The grieving mother carried her dead calf around for 10 days.