Justice Department Official Who Would Oversee Mueller Probe Without Rosenstein Is Stepping Down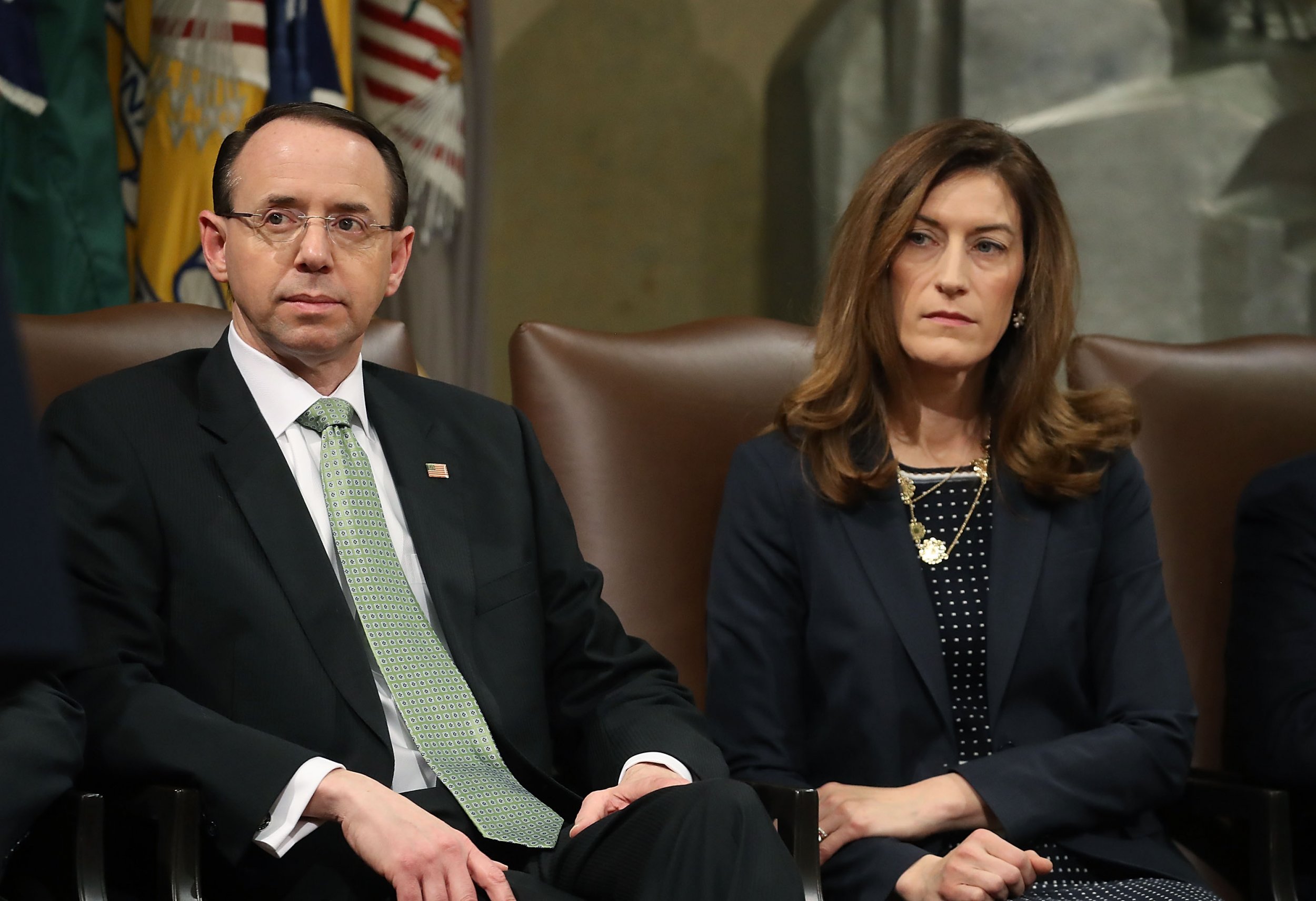 Updated | The third-ranking official in the Department of Justice—who would oversee the investigation into Russian meddling in the 2016 election if Deputy Attorney General Rod Rosenstein was fired, resigns or recuses himself—is stepping down.
Associate Attorney General Rachel Brand, whom President Donald Trump appointed to the position, is leaving in the coming weeks to go to the private sector, the Justice Department announced Friday. The New York Times first reported the news prior to the official announcement.
Related: Andrew McCabe Stepping Down from FBI
"I know the entire Department of Justice will miss her, but we join together in congratulating her on this new opportunity in the private sector," Attorney General Jeff Sessions said in a statement. "She will always remain a part of the Department of Justice family."
Her upcoming departure could potentially change the course of Special Counsel Robert Mueller's investigation into Russian tampering and possible coordination with the Trump campaign. Rosenstein has been overseeing the probe because Sessions, who had worked on the Trump campaign, recused himself. If Trump fired Rosenstein or he quit or recused himself, Brand would have taken his place, according to the Justice Department line of succession.
Following the release last week of House Intelligence Committee memo alleging misconduct by Rosenstein, Trump indicated that he might remove the deputy attorney general. A White House spokesman later said there were no plans to do so.
Jesse Panuccio, who has been the principal deputy associate attorney general under Brand, will likely temporarily take her spot. But because officials in "acting" capacities do not count in the Justice Department order of succession, it's unclear if Panuccio would have the authority to fire Mueller.
Instead, Sessions can designate someone else to step in as the No. 3 official, such as an assistant attorney general or the solicitor general. If he does not or cannot do so, the United States attorneys for the Eastern District of Virginia, the Eastern District of North Carolina and the Northern District of Texas are next in the order of succession, respectively. Because one of those officials is "acting," only Robert Higdon, the U.S. attorney in North Carolina, and Erin Cox, the U.S. attorney in Texas, would be eligible. They are both Trump appointees. If Rosenstein is no longer in his role, that person would likely be tasked with overseeing the Mueller probe.
"I am proud of what we have been able to accomplish over my time here," Brand said in a statement. "I want to thank Attorney General Sessions for his leadership over this Department. I've seen firsthand his commitment to the rule of law and to keeping the American people safe."
This article has been updated to include confirmation from the Department of Justice, details from a department press release and information about Rachel Brand's likely temporary replacement.