Rachel Dolezal Is Protesting H&M Over Racist Hoodies By Selling Her Own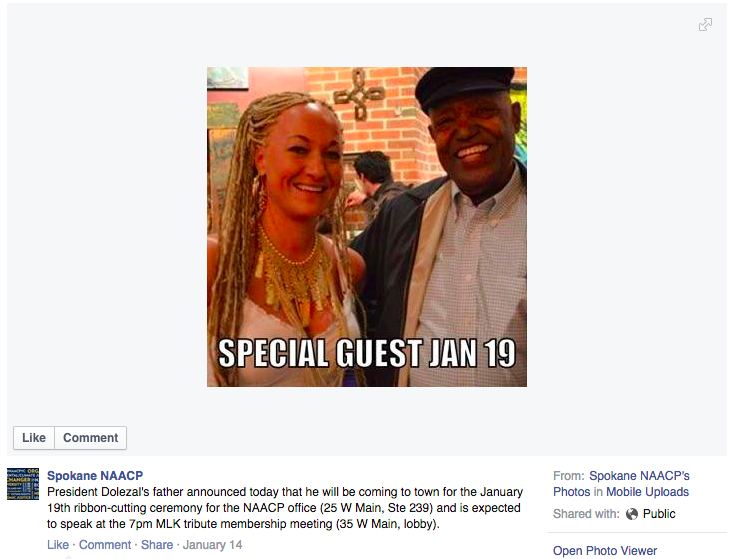 Rachel Dolezal is once again speaking out when she has no skin in the game.
Dolezal, the former head of the Spokane chapter of the NAACP, who was outed by her parents as white, added her voice to the H&M controversy, where a picture of a black child model wearing a "Coolest Monkey in the Jungle" hoodie on the company's U.K. website went viral with many calling the company racist.
Dolezal landed herself in more hot water for trying to sell her own "protest" hoodie, when she replaced "coolest monkey in the jungle" with "coolest prince in the hood."
Dolezal said she came up with the hoodie idea after her son was called a monkey in school.
"Here is my protest hoodie to counter H&M's 'Coolest Monkey in the Jungle' shirt," Dolezal wrote on Instagram in a since-deleted post. "I had to… because my son was called a 'monkey' in second grade, and I remember going to the principal about it. After educating the school officials about the historical context of the slur and demanding they operate under a zero tolerance policy for this type of harassment, the student was suspended. But, due to his parents being 'offended' that he was disciplined for calling my son a racial slur, they pulled him from public school and homeschooled him."
Related: H&M apologizes for promoting "Coolest Monkey in the Jungle" shirt with a black model
Social media users were quick to pounce on Dolezal for her T-shirt idea, claiming it was just as racist.
"Don't you think Hood sounds almost as bad from what I've seen and heard when people talk about the hood they are talking about a bad area maybe something a little cheerful like block or town," one person said on Instagram, according to The Root.
Dolezal later edited her Instagram caption and posted a different protest shirt with the saying "coolest prince on the planet." She later changed the world to planet on the shirts.
"So, I did a first design in response to H&M's 'Coolest Monkey in the Jungle' shirt that said 'Coolest Prince in the Hood,' because it's a hooded sweatshirt/neighborhood, etc," she wrote. "Some people liked it, some didn't like the word 'hood.'
In her new post, Dolezal said the shirts would be printed by a "local woman-of-color-owned" shop.
"I'm doing this for the Cause, so if you don't like it then do your own thing," she said.
H&M issued an apology after receiving backlash over the T-shirts.
"We sincerely apologize for offending people with this image of a printed hooded top," H&M said in a statement. "The image has been removed from all online channels and the product will not be for sale in the United States. We believe in diversity and inclusion in all that we do and will be reviewing all our internal policies accordingly to avoid any future issues."