Who Is Rachel Hundley? Politician 'Slut Shamed' With Burning Man Photos to Drop Out of Race
Sonoma, California Councilwoman Rachel Hundley released a video on YouTube addressing an email she received trying to "slut-shame" her into dropping out of the election with scantily clad photos of her from Burning Man.
Hundley explained that last week, an "anonymous coward" threatened her with the release of a website filled with "scandalous accusations and racy photos" if she continued campaigning. The link, which the sender, "Sonoma Citizen," included in the email was made up of a combination of lies and photos that Hundley said she proudly posted on social media.
"What was especially disturbing in this era of #MeToo was the attempt to slut-shame me for celebrating my body and for my attendance at Burning Man," she said.
Burning Man is an annual art festival that takes place in the Nevada desert. Hundley explained that for several years at the festival she managed a well-known wine bar that's associated with a "consent-focused, sex-positive, themed camp."
In the email, the anonymous sender called her history "highly troubling" and claimed that her behavior is "immoral and unethical." The sender said she didn't "measure up" to the moral and ethical leadership that local children need to be able to admire. Among the photos posted on the now deleted website were pictures of Hundley in her bra and underwear.
Instead of the website attacking her for her political record, Hundley said its purpose was to silence her and scare her enough to drop out of the election. The final line of the email told Hundley that if she continued with her campaign, her candidacy will be "one of full disclosures to all Sonoma."
"For too long it has been seen as okay to control women by dictating what is acceptable for us to wear, say and do," Hundley said. "Strong women have been fighting these double standards and hypocrisy for years."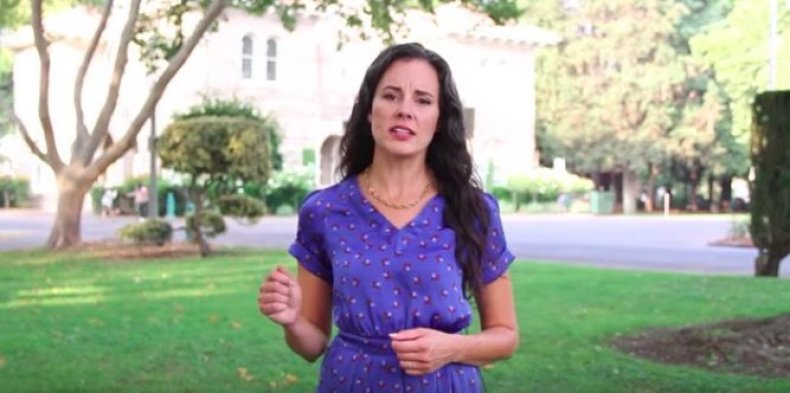 Although she believes the threat was intended to keep her out of the race, Hundley explained that she won't be "shamed" into quitting her campaign by faceless, nameless cowards. Instead of dropping out of the race, Hundley encouraged voters to take a look at her record as mayor of Sonoma, California, and as a councilwoman, as well as her plans for the future. However, being strong and standing up for herself doesn't mean she wasn't affected by the threat.
"This is a volunteer position, it takes a lot of time," she told the San Francisco Chronicle. "The website not only hurt me but hurt my family. I did consider the weight of it. But this is something I enjoy doing and want to do for another four years."
Even after she made the decision to post the video, she was concerned about what would happen given that her advisers and close friends suggested that she just ignore the website and continue campaigning.
She told The Washington Post that she wasn't sure if it would blow up in her face but she is certain she did the right thing and is humbled by the outpouring support she's received. Since the video was posted on August 20 on YouTube, it's been viewed almost 80,000 times.
Hundley grew up in Charleston, South Carolina, but moved to California as an adult. Her campaign website touts plans for affordable housing, improving the area's traffic and moving away from tourism being the main driver of the economy.