Rachel Lindsay Calls Ben Smith 'Desperate' to Be 'The Bachelor' After Tayshia Adams Breakup
Bachelor Nation loves Ben Smith, but not everyone wants to see him on The Bachelor franchise again. Former Bachelorette Rachel Lindsay asked ABC not to give Smith the title of "Bachelor" anytime in the future, and claimed that he's been pining for it.
On a recent episode of her podcast—Bachelor Happy Hour, which Lindsay co-hosts with another former Bachelorette Becca Kufrin—Lindsay said there are similarities between Smith and her own Bachelor franchise ex-boyfriend, Peter Kraus.
"He does just enough to stay by," she explained of Smith. "He reminds me of Peter Kraus. He reminds me of him in the way that, like, he gives you just enough. But if you really break down what he's saying, it doesn't match up. So, it's like, 'I don't believe you. Like, I'm into you. I like you. I feel it, but there's something that I can't explain that's not adding up here.'"
Lindsay's comments come just days after Smith was sent home by Bachelorette Tayshia Adams, after he couldn't tell her that he loved her. But it appears, from Bachelorette trailers, that Smith may re-enter the show to say just that.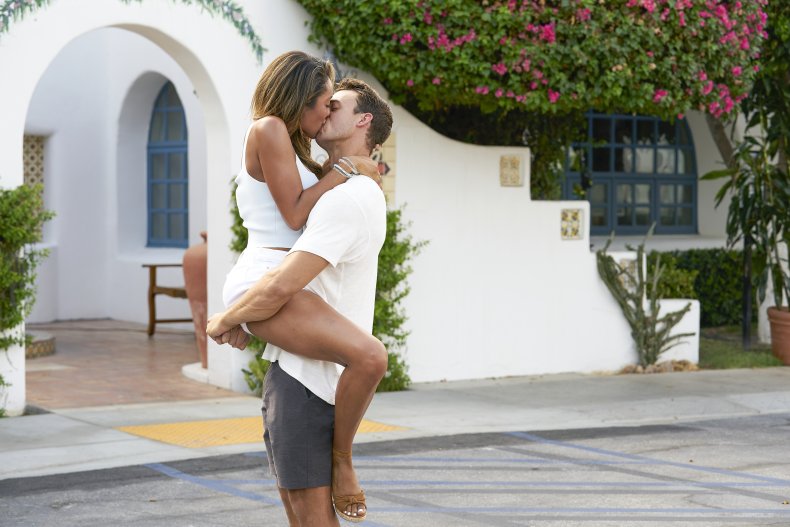 To Lindsay, Smith's potential return is not about Adams, but rather about the potential of his very own series. "Ben 1,000 percent wants to be the Bachelor," Lindsay said on her podcast. "I beg producers, please don't do it. We've been here before, with the person who is so desperate to be the lead. It never works out."
She continued, saying, "When they want it so badly—when they've been planning for it, calculating, made certain moves to get to that point and then you give it to them, it always messes up. There are so many great men from the Clare [Crawley]/Tayshia season. Don't pick him. I don't want to see it."
Lindsay seems to be in the minority, though. Earlier this season, Smith opened up to Adams about having an eating disorder and his former suicide attempts after leaving the military. Smith's honesty about his physical and mental health struggles left viewers loving his bravery and growth into a positive place. He was also commended by viewers for pushing The Bachelorette series to have real conversations about devastating life moments, not just small obstacles that some overcome. Other suitors on Adams' season have also brought up serious topics, such as Black Lives Matter, growing up Black in mostly-white, rich communities and the difficulties of overcoming drug addiction.
Still, there's no chance that Smith will be The Bachelor in 2021. The upcoming season has already been filmed with Matt James as the lead. Though James hasn't been seen on the franchise before, he's friends with Tyler Cameron, which secured him the spot as the first Black Bachelor. His season will air on January 4. Whether Smith is in the running for the 2022 season, though, has yet to be revealed.