Should Rachel Maddow Be Moderating a Democratic 2020 Debate? MSNBC Not Alone in Choosing Partisan Host for Debate
MSNBC announced its lineup of moderators for the Democratic presidential debates on Tuesday, and some were quick to criticize the network for including Rachel Maddow.
Maddow, who hosts the network's nightly The Rachel Maddow Show, has become one of the network's leading hosts, drawing in top ratings on cable news as a staunch critic of Republicans and President Donald Trump. Despite the criticism, Maddow previously co-hosted a Democratic debate back in 2016 with MSNBC host Chuck Todd. Five moderators were announced in total for the upcoming MSNBC Democratic debates, including Savannah Guthrie, Lester Holt, Chuck Todd and José Diaz-Balart in addition to Maddow.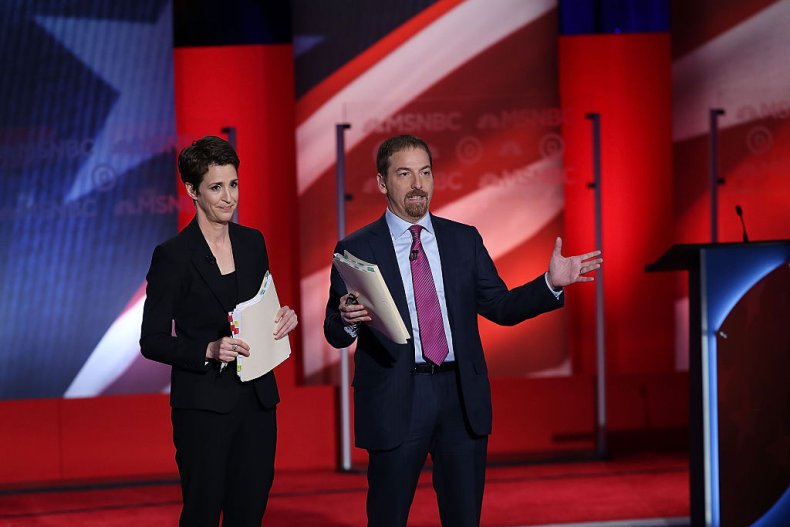 David Rutz, the managing editor of right-wing The Washington Free Beacon news site, wrote that Maddow was "the only clear partisan on the list" saying she delivers "left-wing commentary nightly" on her MSNBC program. He accused her of delving "into conspiracy theories" in her coverage of the Trump-Russia investigation. Rutz also pointed out on Twitter that Maddow had hugged Hillary Clinton and Senator Bernie Sanders after moderating a 2016 Democratic primary debate.
Others on Twitter called the decision to have Maddow moderate a debate a "disaster" and that people should no longer complain about the "partisan leanings" of Fox News. The right-wing Breitbart news site shared the news, dubbing Maddow the "Russia hoax queen" on Twitter.
MSNBC declined to comment when contacted by Newsweek.
But not all conservative voices were critical of the decision. Phillip Klein, the executive editor of the right-wing Washington Examiner, argued that Maddow moderating a debate was actually "a good thing."
"Maddow should use the debate as an opportunity to press the candidates on issues that are of concern to her liberal audience that may not obviously occur to her co-moderators," Klein wrote in an article. "And hopefully the model of having some members of the ideological media moderate primary debates becomes a more common practice," he added.
While MSNBC's decision may have drawn some criticism, close media observers may note that more opinionated cable news hosts have previously moderated debates on other networks. CNN has had the likes of Don Lemon and Chris Cuomo, who are often candid with their opinions and criticism of politicians, host debates in the past.
Although Fox News routinely draws criticism for being biased in favor of Republicans and Trump, it has historically had its more straight-faced news anchors moderate debates. Critics of MSNBC would argue that having Maddow host a debate would be akin to Fox News allowing its overtly partisan hosts Sean Hannity or Laura Ingraham do the same.
Fox News has only had its news anchors moderate its debates and the network confirmed to Newsweek that it would continue to keep its opinion hosts away from the debate stage.
However, Megyn Kelly, who previously worked as an anchor for Fox News, was seen by many as presenting a conservative bias while also having an infamous public clash with Trump prior to his election. She moderated Republican presidential debates in 2016 and went on to work for NBC News after leaving Fox in 2017. Kelly's contract was terminated with NBC in January after she made controversial remarks about blackface costumes.
Journalistic objectivity on cable networks is an issue that has increasingly been discussed and scrutinized publicly. Fox has attracted significant criticism for defending Trump and Republicans, while some of its prominent hosts have openly campaigned for the president and Republicans. But many have also pushed back against the criticism, arguing that MSNBC and CNN are conversely biased in support of Democrats, or against the president.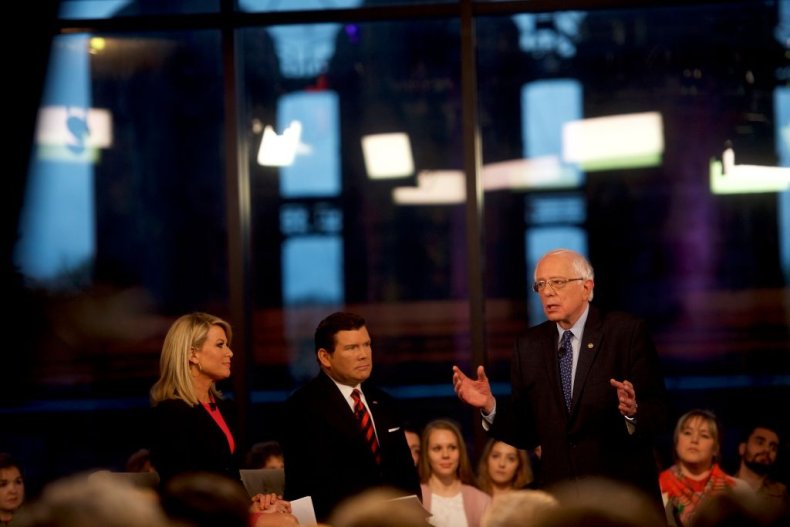 The Democratic National Committee (DNC) has chosen to boycott Fox News by refusing to host any debates with the network, despite it consistently having the largest overall cable audience. While some candidates, such as Senator Elizabeth Warren of Massachusetts, have publicly backed the DNC boycott, refusing to hold town halls with the network, several other leading candidates have disagreed. Senator Bernie Sanders of Vermont, Mayor Pete Buttigieg of South Bend, Indiana, Senator Kirsten Gillibrand of New York and others have already appeared on the network, voicing their desire to reach out to the network's large audience of voters.
Meanwhile, Trump has repeatedly attacked MSNBC and CNN, calling them "fake news" and the "enemy of the people." Although he routinely praises Fox News, and reportedly regularly watches its programming, he has also criticized the network for unfavorable coverage in the past. In March, the president blasted Fox News anchors Shepard Smith, Arthel Neville and Leland Vittert. He also got a Pennsylvania rally to boo the network last month, saying: "They're putting more Democrats on than Republicans ... Something strange is going on at Fox, folks! Something very strange!"
Update (6/11/19): This article originally stated that Fox News declined to comment. In fact, they did not respond to a request for comment.
Update (6/12/19): This article was updated with a response from Fox News.