Rachel Maddow Seizes Her Moment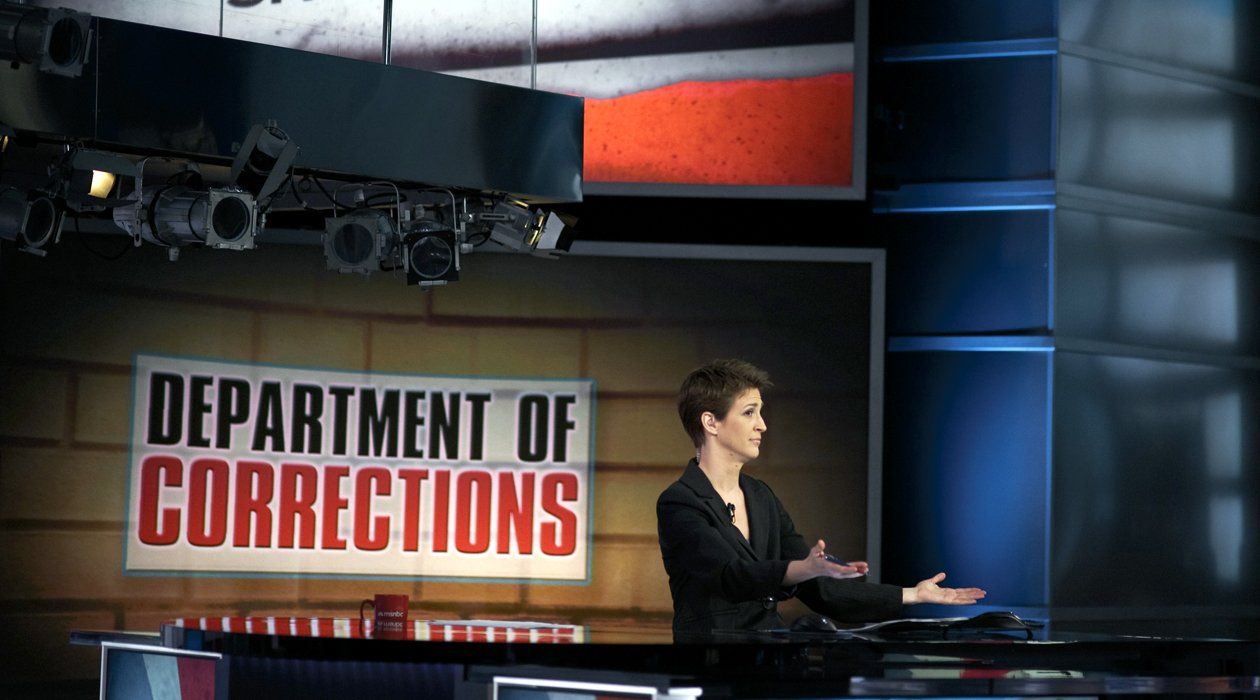 The woman at the whiteboard, in a brown hoodie, white T shirt, and jeans, scribbles away as the debate careens from John Boehner to abortion rights to Silvio Berlusconi's teenage gal pal.
It is part graduate seminar, part stand-up comedy, as Rachel Maddow challenges the 17 mostly female staffers on every suggestion for that night's show. While Maddow strafes such favorite conservative targets as the billionaire Koch brothers ("They're doing a good job of marginalizing all criticism of them as hysterical"), her sharp tongue doesn't spare Democrats. She says that Hillary Clinton, during the Egyptian protests, "pulled a full Baghdad Bob: 'Pay no attention to that burning barricade behind me.'?"
The newsroom falls silent as Maddow uses a marker to render her decision on the six surviving subjects. But no one can decipher her scrawl. "There's usually a direct relationship between the legibility of my penmanship and my level of confidence in the segments," she explains to laughter.
What's unusual here—beyond a host who is, in no particular order, a Rhodes scholar, a former prison activist, a full-throated liberal, a lesbian, and a pickup-truck driver—is the way she interrogates the staff on the tiniest details, down to the amendments in a South Dakota bill that she has already reviewed. And Maddow will need that brainpower as she is thrust into the biggest challenge of her brief broadcasting career. With the abrupt departure of Keith Olbermann, the combative anchor who helped bring her to MSNBC before flaming out, the 37-year-old Maddow has become the new face of a network at an uncertain crossroads.
Women may fill two of the three network anchor chairs, but they are scarce in the boys' club of prime-time cable news. Fox News has Greta Van Susteren; CNN (where I host a weekly program) dropped Kathleen Parker as Eliot Spitzer's cohost last week. And that's it.
Losing a dominant figure like Olbermann once "would have been a fatal blow to MSNBC," says NBC News chief Steve Capus, "but that's no longer the case." He calls Maddow a trailblazer who "doesn't spend her day trying to get everyone to believe what she does." Olbermann, who branded foes the "Worst Persons in the World," constantly clashed with management, which threatened to fire him when he warned he might publicly challenge his suspension for donating money to Democrats.
"She's our biggest show," says MSNBC president Phil Griffin, who describes Maddow as "so friggin' smart…?Very few people can be so honest with a remark, a giggle, a serious look. There's no performance art. That performance is Rachel."
Adding to the pressure is the recent takeover of NBC by Comcast, a famously buttoned-down corporation that could demand changes (though Capus dismissed as "crazy" speculation that Griffin might be squeezed out). Olbermann, now with Al Gore's Current TV, might start sniping at his old network once a nondisparagement agreement expires. But his shadow remains: Olbermann so thoroughly defined MSNBC as the voice of liberal outrage that Maddow, a self-described policy geek, must help forge a new identity. Maddow says she misses Olbermann but dismisses "suspicions" that the channel is toning things down, saying the ugly breakup "really wasn't about the rest of us."
At her best, Maddow debates ideological opponents with civility and persistence, as she did by pressing then–GOP Senate candidate Rand Paul about his criticism of the 1964 Civil Rights Act. (He later said Maddow had "tortured" him and vowed never to return.) But for all her eloquence, she can get so wound up ripping Republicans that she sounds like another smug cable partisan. Baltimore Sun critic David Zurawik has accused Maddow of acting like "a lockstep party member."
Yet Maddow periodically criticizes President Obama—from the left, whacking him over Afghanistan, Gitmo, and torture prosecutions. "I don't think I always fit the caricature of a liberal," she insists.
The San Francisco–area native came out of the closet at 17. After pursuing her doctorate at Oxford, she was working at a coffee joint in Northampton, Mass., when she applied for a morning-zoo gig—on a dare—and a radio career beckoned. After Maddow joined the liberal radio network Air America in 2004, conservative Tucker Carlson tapped her as a contributor for his MSNBC show. "She was completely fun to talk to, doesn't take political differences personally, but more than that, she's fast—really fast," says Carlson, now with Fox.
Nervous executives brought in racks of women's clothing to give Maddow a more feminine look (she often jokes that "I look like a dude"). When Maddow started subbing for Olbermann in 2008, she hired his agent and pushed for a show. Her program averaged 953,000 viewers last year, about 85,000 behind Olbermann. That put her ahead of CNN but well behind Sean Hannity's 2.3 million on Fox News.
"People develop a crush on Rachel, no matter what the gender is," says comedian Lizz Winstead, once her radio cohost. "She is profoundly obsessed with making sure everyone gets a fair shake when they come on, instead of just firing off and having to apologize later."
Unlike the fiery Olbermann, Maddow isn't much of a crusader (rather than denounce the military's "don't ask, don't tell" policy, she interviewed gay soldiers who risked being discharged). And while her scripts sparkle, her 9 p.m. hour sometimes features a predictable parade of Democrats and liberals.
"I find the work very difficult, so I'm frustrated a lot," says Maddow, who spends long hours banging out scripts with the office door closed, her staff knocking only when necessary. "Every day there's a million things that could make it better." An unabashed workaholic, she relishes weekends at the 1865 home in western Massachusetts she shares with her partner, artist Susan Mikula.
The Tucson shootings intensified a debate over the caustic tone of cable news, but Maddow, whose preferred method is sarcastic skewering, hasn't changed. "I think we take care not to be mean," she says.
In the Olbermann tradition, Maddow is increasingly denouncing Fox, saying that Glenn Beck, in monologues about Muslims, has been "running baroque conspiracies that are designed to freak people out about bogeymen coming to get them, conspiracies that are unsupported by the facts." Fox, she charges, has "become a McCarthyite chamber of horrors…You can't really call yourself a news channel if that's what you broadcast." Maddow's repeated attacks have not provoked a response from Fox.
While the host devours information online, stuffing printouts in thick folders, there are missteps. She touted an item on the website ChristWire urging Sarah Palin to speak out on Egypt—unaware that it was a satirical blog with such headlines as ARE FACEBOOK SEX GANGS USING "WIKILEAKS" TO TARGET YOUR TEENS? (Maddow good-naturedly confessed her error on Twitter.)
At the whiteboard on this afternoon, Maddow decides her lead story will be challenging House Speaker John Boehner's math in claiming that Obama has added 200,000 government jobs. It doesn't sound terribly exciting—until, having bolted for the makeup room at 8:46 p.m., she hits the studio with seconds to spare and weaves a nine-minute narrative that this has been "a terrible, horrible, no good, very bad month and a half for John Boehner."
Maddow doesn't wallow in salacious fare—she dismissed the resignation of a New York congressman for sending a woman shirtless photos, saying there was "no actual shtupping" involved—but on this night she delights in a global angle. When Berlusconi, the Italian prime minister, was indicted over his relationship with a 17-year-old nicknamed "Ruby the Heart Stealer," Maddow gleefully reports, he falsely told police she was Hosni Mubarak's niece. Berlusconi has denied any wrongdoing.
Minutes later, Maddow switches back into the T shirt and jeans. "The only thing fake about the show is that you dress up for it," producer Bill Wolff tells her—and by that he means the $19 black blazer, black blouse, and black pants she sports to avoid highlighting her "giant neck."
They talk about her hosting one night in her street clothes, but even Maddow has her limits. "I would look dumb," she announces.