Not everything is black and white. But for the Disney Networks that include ABC and ESPN heading into the NBA Finals, today's news regarding two famous female reporters was all Black and white. A leaked video of Rachel Nichols saying Maria Taylor got placed to a certain position at the network for her skin color sparked more diversity issues.
Nichols, a white NBA sideline reporter who hosts The Jump for ESPN, reportedly said she wasn't hired as Disney's lead for the NBA Finals pre-game show because the network needed a "diversity" hire, being Maria Taylor.
The comments were part of a New York Times article that shows a leaked video of Nichols making the remarks. This comes one day after the Milwaukee Bucks clinched a spot in the NBA Finals to face the Phoenix Suns.
The talk on social media isn't about the Finals, but rather the remarks of Nichols. Most of Twitter backs Taylor while some still back Nichols. It all stems back from a video last July of Nichols saying this about Taylor potentially hosting a prominent NBA pregame show.
"I wish Maria Taylor all the success in the world — she covers football, she covers basketball," Nichols said in a video obtained by the New York Times. "If you need to give her more things to do because you are feeling pressure about your crappy longtime record on diversity — which, by the way, I know personally from the female side of it — like, go for it. Just find it somewhere else. You are not going to find it from me or taking my thing away."
Nichols didn't just bring in the "diversity" of herself being a woman, but said the job in question is "in my contract."
"I just want them to go somewhere else — it's in my contract, by the way; this job is in my contract in writing," Nichols said.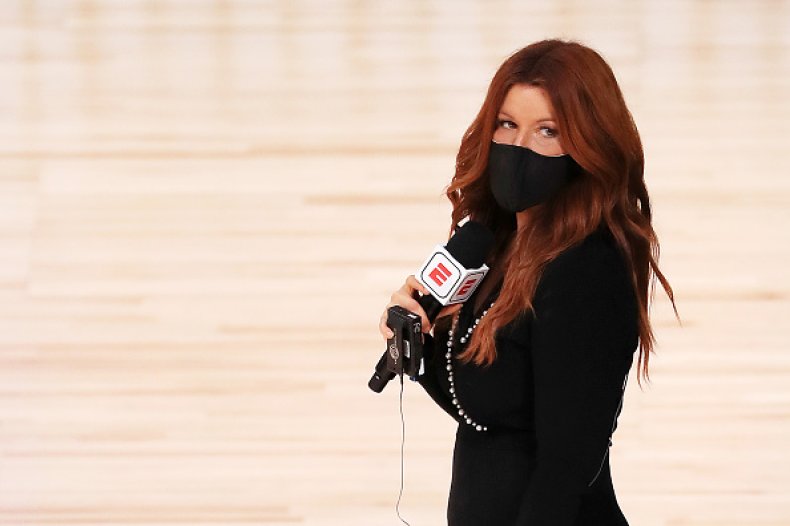 On top of all this, Taylor's contract at ESPN is coming to an end around July 20, and she turned down a $5 million-per-year new contract, according to the New York Post. The timing of both the "leaked" video and Taylor's new contract could be more calculated than coincidental.
Taylor has become the face behind the scenes for ESPN's College GameDay show that's incredibly popular, and she's a sideline reporter for ABC's and ESPN's biggest college football games of the season. She's also been the lead on NBA pregame shows for the Disney networks.
Meanwhile, the spat between Nichols and Taylor that's apparently just getting started has overtaken any hype between the Suns-Bucks series that tips off on Tuesday. The Bucks defeated the up-and-coming Atlanta Hawks in the Eastern Conference Finals, four games to two, while the Suns advance from the Western Conference to give guard Chris Paul his first NBA Finals appearance during his long, illustrious career.
However, what's about to happen on the court could be immensely overshadowed by what's brewing off the court. Nichols said she "outworked" everyone else to get to her position. She dogged on ESPN executives who she claims say one thing but do another.
"Those same people — who are, like, generally white conservative male Trump voters — is part of the reason I've had a hard time at ESPN," Nichols said in the tape. "I basically finally just outworked everyone for so long that they had to recognize it. I don't want to then be a victim of them trying to play catch-up for the same damage that affected me in the first place, you know what I mean. So I'm trying to just be nice."
Nice or not, it could be good theater for the Disney networks as the NBA Finals tip off Tuesday.