Who Is Rachel Uchitel? Woman Tiger Woods Had Affair With Allegedly Signed NDA
Rachel Uchitel, the woman Tiger Woods had an affair with that came to light in 2009, has claimed that days after the affair was revealed, she signed a non-disclosure agreement (NDA) that banned her from speaking about the golfer with anyone, The New York Times reported Monday.
According to The Times, Uchitel alleged she was given $5 million and a promise of $1 million annually for three years to follow in return for her silence. Uchitel told The Times the agreement also prohibited her from revealing that she signed an NDA.
A decade later in 2019, Uchitel agreed to be interviewed about her relationship with the PGA champion in HBO's two-part documentary Tiger, the second part of which aired this January.
"I have stayed quiet about this story, but at this point, I have nothing left to lose. My name hasn't lost the stigma at all. It's always been 'Rachel Uchitel comma Tiger Woods' mistress,'" she said in the documentary.
Who Is Rachel Uchitel?
Uchitel, 46, was born in Anchorage, Alaska. Her grandfather was Maurice Uchitel, a prominent New York City nightclub owner who owned several celebrity haunts in his time, such as El Morocco.
Uchitel was working as a news producer for Bloomberg Television when her then fiancé, James Andrew O'Grady, was killed in the 9/11 terrorist attack. She was pictured in the New York Post just days after the attack, in tears, holding a picture of O'Grady.
O'Grady's dad told the New York Post in December 2009 that the terror attack had changed Uchitel into a person who was barely recognizable to him.
"The last time I saw [Uchitel] was at the burial of my son—she's not the person she appears to be now," he said at the time. "She wasn't trying to be in the papers [back then]. Maybe 9/11 had an impact on her and this is how she's dealing with that."
Uchitel married a high school friend in 2004 but moved to Las Vegas after the marriage lasted about a year. In Las Vegas, she began working as the director of V.I.P. operations at a new club launched by Jason Strauss, an old friend of hers.
Tiger Woods Affair and the Aftermath
According to The Times, Uchitel and Woods met in 2008 through former New York Yankees baseball player Derek Jeter, who was a mutual friend. The pair began their relationship a year later.
Uchitel told The Times: "I knew him [Woods] to be cheating on his wife from the first time I met him, well before we got together." But she believed she had special status in the eyes of Woods, who would fly her around the world to various tournaments and events, The Times reported.
In the latest HBO documentary, Uchitel described the first time she'd met Woods in New York and the first time they had sex in Orlando, Florida. Without going into explicit details, Uchitel explained how the aura around Woods made her feel afterward.
"How am I ever gonna be with a mere mortal ever again? Because so many people put him on such a pedestal, and here he was in my bed, and he was mine, Tiger," she said in the documentary.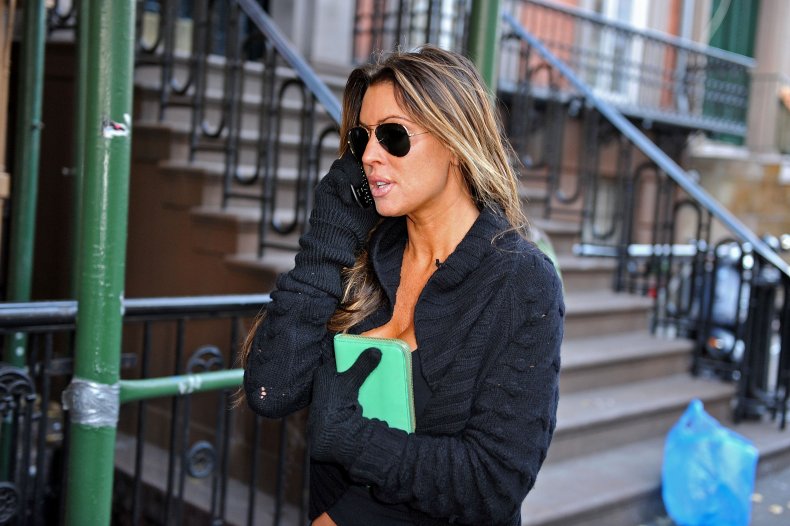 Unable to escape the shadow of her link to Woods, Uchitel found it difficult to move forward in other areas of her life, from finding romantic partners to launching businesses, The Times reported.
She'd attempted to open two children's clothing boutiques in New York in 2013 and 2015 But they folded by 2019 in debt to the landlords of both stores. Uchitel believed she lost customers after they figured out who she was and her connection to Woods, according to The Times.
"I felt the world closing in on me," she told The Times, with bills piling up and with her name "getting dragged through the mud," as she described in the latest HBO documentary.
She filed for Chapter 7 bankruptcy after she did the interview for Tiger and was granted protection from creditors early this year, according to The Times.
After the documentary aired, Uchitel claimed she heard from one of Woods' lawyers, Michael Holtz, who is allegedly seeking to make damage claims for her breaking the NDA, despite the protection from creditors she currently has under bankruptcy, The Times reported.
He allegedly told her: "If you get a job, I'll come after your wages. If you get married, I'll go after your joint bank account. I will come after you for the rest of your life," according to The Times.
Newsweek has contacted Holtz for comment.