Rachel Weisz Says 'Disobedience' Scenes With 'Mischievous' Rachel McAdams Were 'Just Fantastic'
Rachel Weisz gushed over Disobedience co-star Rachel McAdams, saying she was "just fantastic" to work with.
Disobedience takes place in a Jewish Orthodox community in North London. Weisz's character, Ronit, left the country to pursue an art career in Manhattan, but returns when her estranged father dies. Once she's back in London, her attraction to childhood friend Esti (McAdams) reignites, and their lives will never be the same.
Esti, a practicing Orthodox Jew, is haunted by her sexuality. Despite being married to a man, she still craves the intimacy of a woman. In Disobedience, she gets the chance to explore her desires, even if it means going against everything she was taught.
The film was based off the 2006 book of the same name, written by Naomi Alderman. Like Ronit, Alderman left her faith. "She wasn't hating on her religion," Weisz, 48, told Newsweek about the author. "She was saying [the religion] was nourishing, beautiful and spiritual. But what do you do if you're gay? And that's the big question… How can you be free to love who you want to love?"
Weisz loved working with McAdams, 39. Her co-star researched the role of Esti for months, perfecting her English accent and learning about Judaism. "I think this is her first English role," Weisz revealed. "She prepared so intensely that when she turned up on the set, she was Esti. She's a bit of a miraculous actress. She just has great strength, great vulnerability, great openness and great sensitivity."
"She and I like to work in quite a similar way where we don't like to sit and analyze what we do," Weisz said. "It was great because we never talked about it. We just did it. Between action and cut, we were Ronit and Esti.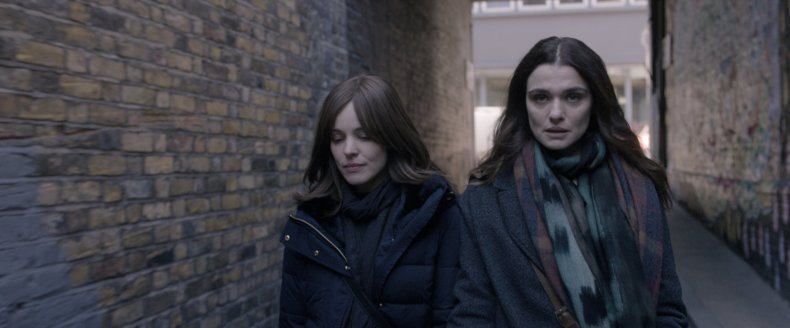 Weisz praised McAdams, saying she was funny, humane, kind and mischievous. "She's great," she said about her co-star. "A lot of fun."
As for Weisz, she wanted to play the role of Ronit because the character was "a tiny bit lost."
"I like that Ronit is a character who is living the free life," Weisz said. "She's emancipated and sleeping with who she wants, but there's a part of her that isn't quite free and I think that part of it is that she's running from where she's from."
Ronit returns to North London when she finds out about her father's death. "There's something beautiful to me about making peace with where you're from," the actress, who is pregnant with her first child, said. "Even though she never gets to see her father again, she somehow makes peace with her father and the community. I think her life will be fuller."
Disobedience debuts in theaters nationwide Friday.