Rachel Weisz on Filming 'Vulnerable' Sex Scene With Rachel McAdams in 'Disobedience'
Rachel Weisz experienced something new when she took on the role of Ronit in Disobedience. It was the first time she filmed a sex scene with a woman, but gender wasn't what made the onscreen moment different.
Weisz and Rachel McAdams star in the romance about Ronit, a woman shunned from her community over her attraction to her best friend, Esti (McAdams). When Ronit returns to her home in North London after her father dies, her desire to be with Esti reignites.
Homosexuality is still taboo in most religions—and especially in the Jewish Orthodox religion. Disobedience takes place under this lens, with Ronit being chased out of the place she grew up because of her identity. Showing Ronit and Esti having sex—engaging in an act that was frowned upon by practically everyone they know—was about the audience experiencing the full expression of their passion.
Weisz admitted she and McAdams felt "vulnerable" while filming that moment, but it was essential to the plot of the movie.
"The whole story is leading up to Esti's emancipation, particularly. It's about freedom: Freedom to love who you want to love," Weisz, 48, told Newsweek. "They've been so repressed. They can't even touch each other in public where they are, so they escape away from the community" and into each other.
In the film, the women haven't seen each other since they were children. When Ronit returns, Esti married Dovid (Alessandro Nivola), one of their best friends. Acting on their desire is fulfilling a fantasy they've had about each other for years. Since Ronit escaped to Manhattan she has had sexual encounters with other people, but Esti is finally able to explore her sexuality in a way she never could before.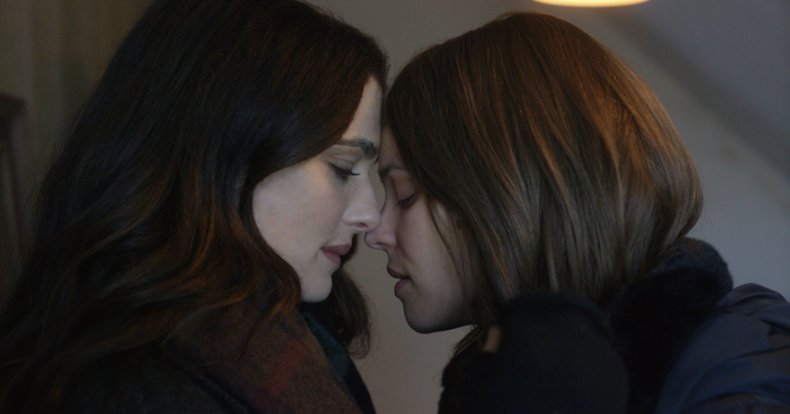 "They had been waiting a long time for this to happen. It was different than other sex scenes I'd done in that it had much more meaning. It was full of intention, longing, craving, desire and release in spirit. The difference wasn't so much in the gender. The difference was that it was meaningful sex," Weisz said. "They love each other."
Disobedience debuts in theaters nationwide Friday.
Rachel Weisz on Filming 'Vulnerable' Sex Scene With Rachel McAdams in 'Disobedience' | Culture