Racial Gap in U.S. Jails Narrows as White Incarceration Rates Rise and Black Imprisonment Declines, Study Says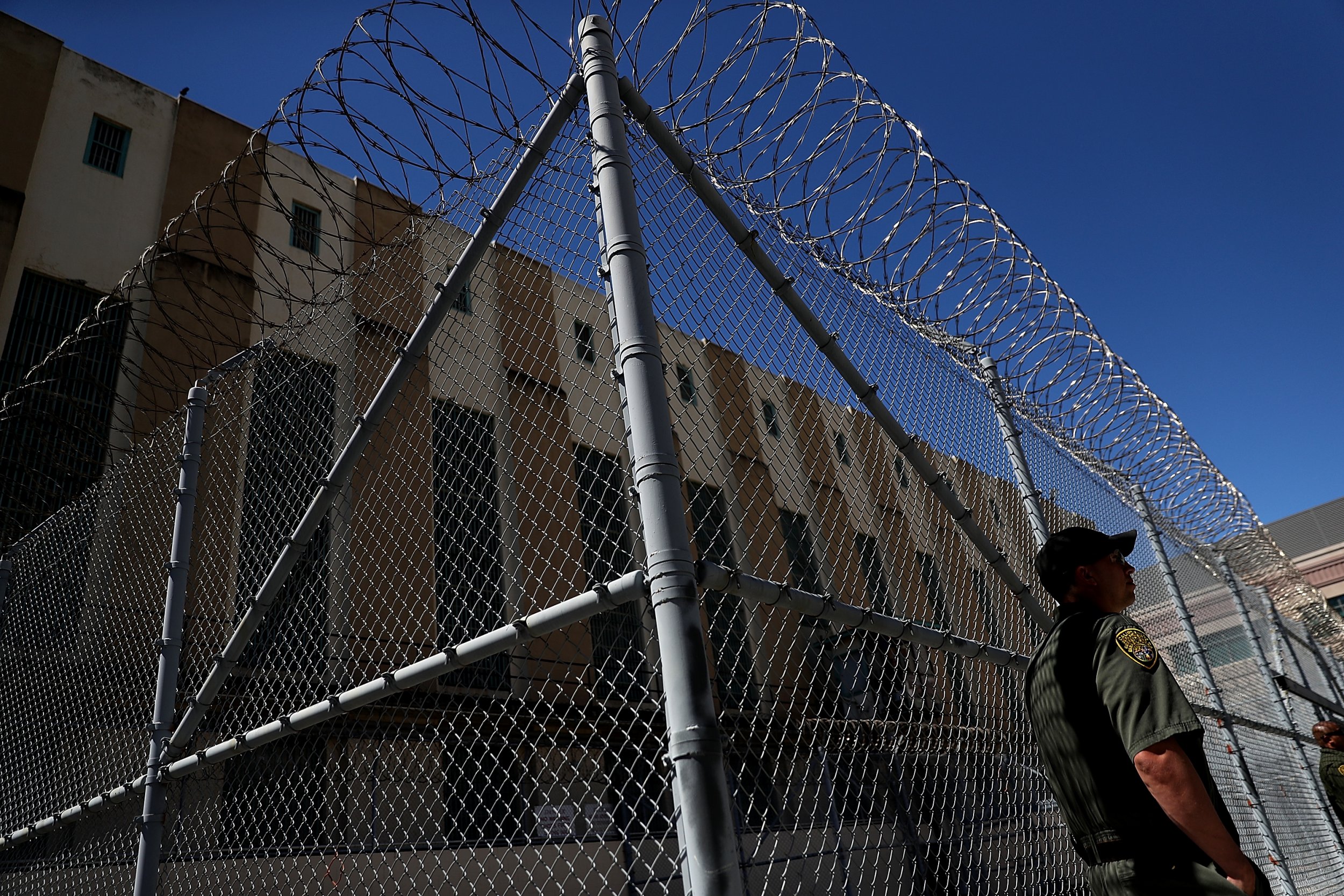 An increase in incarceration rates for white Americans has significantly narrowed the racial gap in U.S. jails, according to a new study by the Vera Institute of Justice.
The "Divided Justice" study found that black Americans are still "over-represented" in the country's 3,000 local jails. However, rates of white people jailed doubled between 1990 and 2013.
During the same time frame, the black incarceration rate declined by 20 percent.
As a result, researchers said the disparity between black and white jailed populations shrunk by nearly half, bringing the gap in 2013 back to where it had been in 1990.
"In 2013, the black jail incarceration rate was relatively the same as it was almost 25 years ago—with 904 black people in jail per 100,000 black people in the community in 1990 compared to 915 per 100,000 in 2013," the report stated.
Despite the narrowing racial gap, black people are still 3.6 times more likely to be incarcerated than white Americans, researchers said.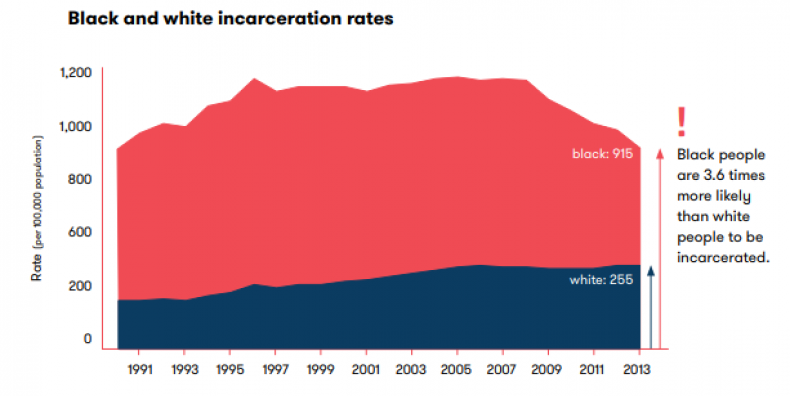 Researchers added that the trend toward higher incarceration rates of white people should be "alarming," given "recent efforts across the nation to downsize the overall footprint of local jail incarceration."
The United States has the highest incarcerated population in the world. More than 2.1 million people are incarcerated, including pretrial detainees and remand prisoners, according to the World Prison Brief, an online database hosted by the Institute for Criminal Policy Research at Birbeck, University of London. China has the closest number of people incarcerated, at 1.6 million.
No 'Obvious Explanations'
Researchers behind the Vera report said there "aren't obvious explanations" for why black and white incarcerated populations "experienced such differing trajectories" in 2005 and 2013.
They said it was difficult to pinpoint trends behind incarceration at the national level "because jail incarceration is the product of a complex web of highly discretionary decisions made within a connected, but not always synchronized, local justice system."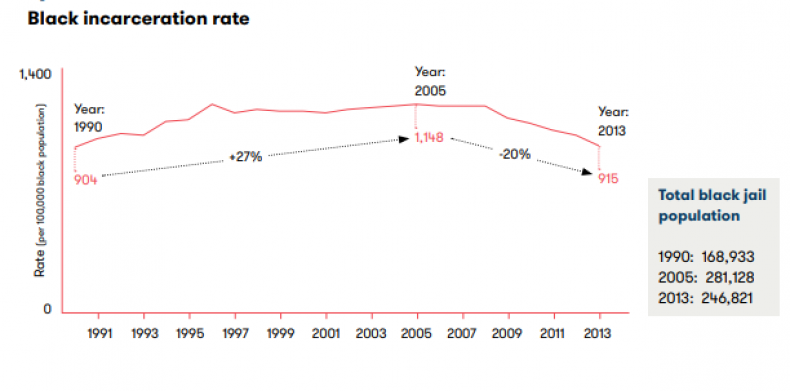 "For example, in a jurisdiction with a known pattern of over-arresting black residents on spurious charges, prosecutors may undertake corrective action by declining to accept such cases or dismissing them early in the process," researchers said.
The study said broad-based criminal justice reform efforts enacted over the past decade could have played a role in narrowing the racial gap in incarceration.
"New policies specifically dialing back practices that have historically impacted black Americans in a disproportionate way may be leading to larger reductions in black jail incarceration rates," researchers wrote, pointing to the decline of controversial "stop-and-frisk" programs, which allow police to stop, question and physically search people while on patrol.
Role of Opioid Abuse Epidemic
Researcher's said the present opioid abuse epidemic in the U.S. could explain some part of the boost in white incarcerations.
"An estimated one third of all individuals addicted to opioids—over 200,000 people—pass through America's corrections system each year," the report noted.
The crisis, which has led the White House to declare a national public health emergency, has largely affected white people, who accounted for nearly 90 percent of new opioid users between 2000 and 2010 and suffered 82 percent of all opioid-related overdoses in 2015, according to researchers.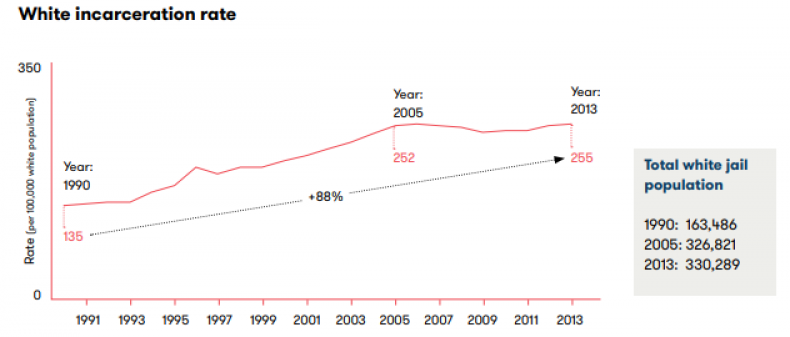 They also suggested that issues with demographic data collection on Latino and Hispanic people could be "skewing analyses of white incarceration rates," with some jurisdictions not recording people as Hispanic or Latino at all when collecting criminal justice data.
While Latinos and Hispanics constitute the third largest demographic in U.S. prisons and jails after white and black people, researchers said "inconsistent" classification skews the quality of data on incarceration rates.
The Vera Institute of Justice said there is still much work to be done to end "still very significant" disparities in incarceration between white and black people. Future research on local incarceration should continue to examine "the relationship between race, crime and structural disadvantage—such as lack of economic opportunity," the study concluded.