As Racial Hatred Rises, Unity Is the Best Way Forward | Opinion
We are an ambassador and an NBA player. A Jew and a Muslim. A grandson of Holocaust survivors and a person taught to despise Jews. We've had wildly different upbringings—in countries often at odds with one another. Despite this, we have reached the same conclusion: The way to defeat anti-Semitism and, by default, all racism, is to join forces in the fight against ignorance and hatred.
Anti-Semitism is one of the oldest forms of prejudice. It remains to be seen if we can ever stamp out religious- or race-based hate completely, but that does not deter us from trying. From our influential public positions, we have observed worrying trends and witnessed baseless animus permeating every pocket of the planet.
On Yom HaShoah, Israel's Holocaust and Heroism Remembrance Day, which takes place today, we are calling on many more people to join us in this holy struggle before it is too late—before history repeats itself. As a sportsman and a sports fan, we both know that unity and teamwork make for the only way to win. Together, we have the power to change this equation. Together, we can make the haters feel hated, unwanted and outcast.
In our respective fields, we are both working hard to establish essential mechanisms we hope will spark real change.
Israel's Mission to the United Nations has already begun laying the groundwork to tackle Holocaust denial and other dangerous lies that are spread unabated. We are also pushing the world's foremost international body to adopt a working definition of anti-Semitism because we believe that the first steps to combating a problem is to first properly define it.
The Enes Kanter Basketball Academy is already bringing together young Muslims, Jews and people from all walks of life in the shared language of sports—and we are in the process of exporting this groundbreaking initiative to Israel. We are also about to launch the Holocaust Education Project for Muslim Students, which aims to turn the tide on misconceptions and stereotypes.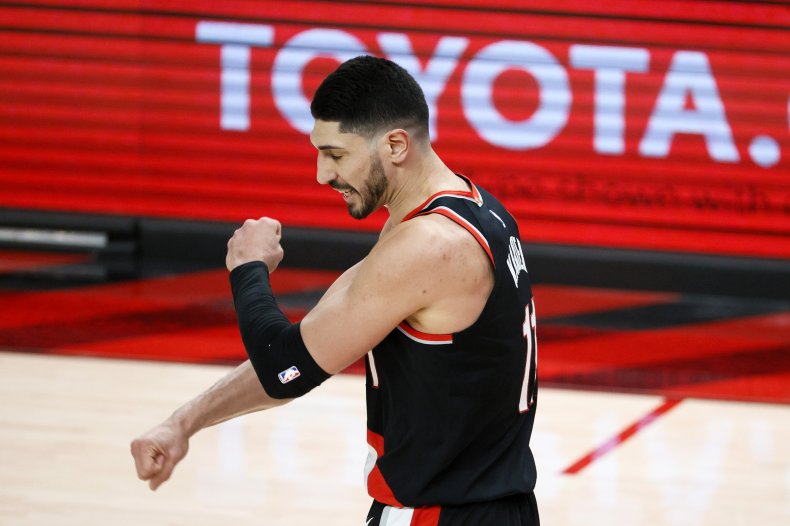 We both believe that education, and getting to know and accept one another, are essential tools in this difficult fight. Over the past year, we have seen a shocking rise in the number of anti-Semitic and racially motivated attacks. Some of it has been prompted by the confusion and uncertainty of the pandemic. But some of it is always there—cheered on by certain nations and their leaders—and ultimately allowed to flourish unchallenged and unchecked by most of the world.
This bigotry—old and new—has been spurred along by globalization, communication and technology. The old adage that "a lie can travel around the world and back again while the truth is still lacing up its boots" has never been more accurate than it is today. Social media platforms are used by individuals, groups and countries to disseminate lies and misinformation about Jews and other ethnic groups. These despicable fabrications reach the furthest corners of the globe with dizzying speed. Sadly, words are then often translated into violence.
In the U.S., official statistics show that in just the first eight months of 2020, 1.7 million anti-Semitic posts appeared on Twitter and YouTube alone. The American Jewish Committee's recent State of Anti-Semitism report noted that one in three American Jews felt they were victims of anti-Semitism over the course of the last five years. This hatred comes from the extreme Right and the extreme Left. Singling out Israel, the world's only Jewish state, has become an extension of that anti-Semitism.
Of course, this hatred does not stop with Israel and the Jews. Anti-Semitism that is allowed to fester eventually transcends into other forms of racial and religious hatred. It "normalizes" behavior that should never be deemed normal. In just the last few weeks, we have witnessed appalling attacks against Asian Americans and other ethnic groups.
Meanwhile, countries such as Iran freely spew anti-Semitic disinformation and vitriol that reaches far beyond its borders. The country's leaders cling to anti-Jewish libels, describing events such as 9/11 as a Jewish conspiracy or even holding twisted competitions with political cartoons that refute or poke fun at the Holocaust.
We believe it is time for the world to ramp up the fight against such ignorance and bigotry. World leaders that project hatred must be held accountable. And we must demand that powerful social media companies—Facebook, Twitter, TikTok and more—do much more to clamp down on all forms of hate speech. There should be no excuses.
We call on you to join us in this battle. We believe the best way forward is unity. Together, our mission is formidable, but ultimately achievable.
Gilad Erdan is Israel's ambassador to the United States and to the United Nations. He previously served in the Israeli government, holding various ministerial positions, and in Israel's Knesset for more than a decade.
Enes Kanter (@EnesKanter) is a center for the Portland Trail Blazers of the National Basketball Association and a human rights activist.
The views expressed in this article are the writers' own.