The New Racial Makeup of U.S. Police Departments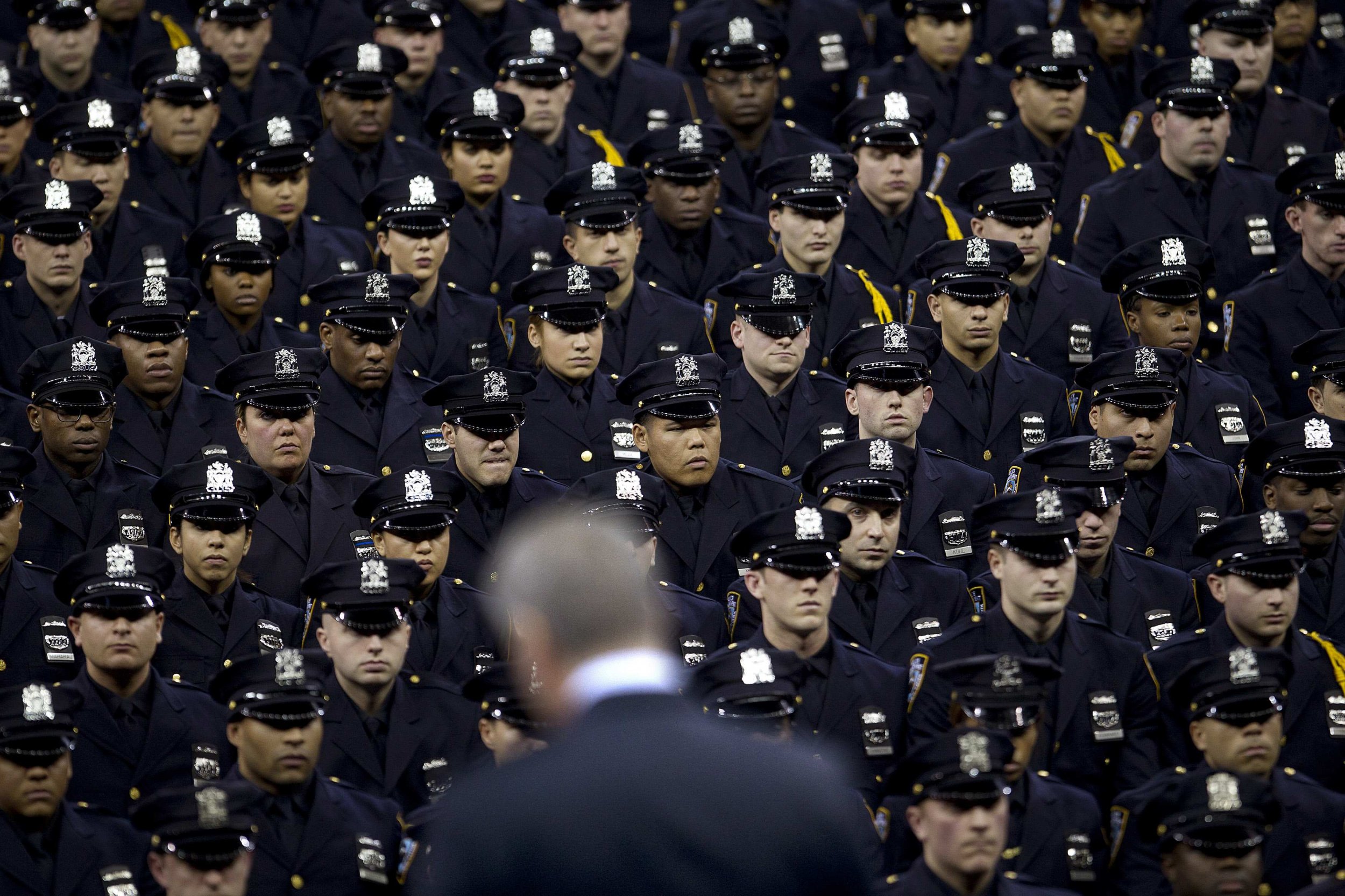 First, the good news: The percentage of minority police officers in U.S. local law enforcement agencies almost doubled between 1987 and 2013, according to new U.S. government data.
The not-so-good news? Research unrelated to this study indicates that diverse departments don't equate to improved relations between cops and communities of color, an issue that hit a breaking point in recent months due to a series of police killings of unarmed black men.
But back to the demographics: In 2013, racial or ethnic minorities comprised 27 percent of local police officers, the Bureau of Justice Statistics(BJS) reported Thursday morning. That's up from 15 percent in 1987, the first year the periodic study was conducted, and 25 percent in 2007, the last year it was conducted. In terms of raw numbers, there were 130,000 minority local police officers in 2013. That's an increase of 78,000 officers from 1987 and 13,000 from 2007.
The Bureau of Justice Statistics said in the report there are more than 12,000 local police departments in the U.S. These agencies employ some 605,000 full-time staffers, approximately 477,000 of which are sworn officers ("those with general arrest powers," per the BJS). The non-sworn staffers comprise some 128,000 of these employees.
What groups account for the increase in minority police officers? Sixty percent of the increase between 2007 and 2013 stems from Hispanics and Latinos, and the estimated 12 percent of officers who were Hispanic or Latino in 2013 is more than twice the some 5 percent in 1987. Twelve percent of local police officers were black in 2013, up from 9 percent in 1987. Asian, Native Hawaiian, Pacific Islander, American Indian or Alaska Native persons comprised 3 percent of local police officers in 2013 and 2007, but that's "about four times higher than in 1987," according to the BJS. As far as trends go, "in general, departments in larger jurisdictions were more diverse than those in smaller ones," a summary of the study states.
There are also more females on the force across the U.S. In 2013, approximately 58,000 females worked as local police officers, whereas only 27,000 did so in 1987.
Several experts interviewed by Newsweek said the increased diversity doesn't necessarily mean relations between police and communities of color are more amicable.
Alex S. Vitale, associate professor of sociology at Brooklyn College, told Newsweek that black and white officers "aren't really different" in terms of reports of excessive use of force and arrests. Some research even suggests "black officers are more likely to make arrests of black suspects than their white counterparts are in the same circumstances."
"The overarching reality is that these officers are part of an institution that has very clear expectations and demands and they respond to the demands in the way that white officers do," he says. "Black communities often express a desire to have police officers that match the demographics of the community, but when communities are surveyed about their satisfaction with the police, communities with more diverse police forces don't report higher satisfaction."
"This is, in my opinion, a total canard," he adds. "It's maybe important from an employment standpoint, but it's not going to make any difference in terms of the profound problems of over-policing and excessive use of force."
The Washington Post has written on several studies detailing the link between police diversity and community relations. Lydia DePillis noted that a 2004 analysis of data from St. Petersburg, Florida and Indianapolis, Indiana concluded "black officers are more likely to conduct coercive actions" than their white colleagues when resolving conflicts. DePillis also references a 2006 analysis of Cincinnati Police Department records; in her words, the study found "white officers were more likely to arrest suspects than black officers overall—but it also found that black officers were significantly more likely to make an arrest when the suspect was black."
Moreover, she writes that a 2011 Washington Post poll found that black residents rated the police department at a "relatively low 60 percent" even though "the force is highly integrated." She also notes: "The New York Police Department's demographics are close to those of the rest of the city, but a Quinnipiac poll from 2014 found that only 54 percent of black residents approved of its performance. The Detroit police department is so dominated by African Americans that it's been sued for discrimination against whites, and yet only 18 percent of black Wayne County residents approved of its work in 2009."
Delores Jones-Brown, professor in the Department of Law, Police Science and Criminal Justice Administration at John Jay College of Criminal Justice, City University of New York, and founder of the school's Center on Race, Crime and Justice, says the effects of more diversity on police rosters are unclear.
"The research is divided on the issue of whether or not diversifying police departments has any specific impacts," she explains. "There's one set of research that says that regardless of the identity of the police officer, they become part of a police culture and in that police culture there is an 'us-versus-them' personality."
"The police put themselves and their own safety ahead of that of the general public and they believe they have a right to go home at the end of the shift," regardless of what that means for other people, Jones-Brown says.
This doesn't mean that diversifying police departments can't improve relations with communities of color. Institutional culture--and officer education--could make diversity more meaningful in a policing context.
"The idea is that the diversity can be a good thing but it should not be looked at as a panacea," Jones-Brown says. "A combination of diversity and better training should lead to better results."