Racism in America: New Orleans Confederate Monuments Are Part Of City's Long White Power History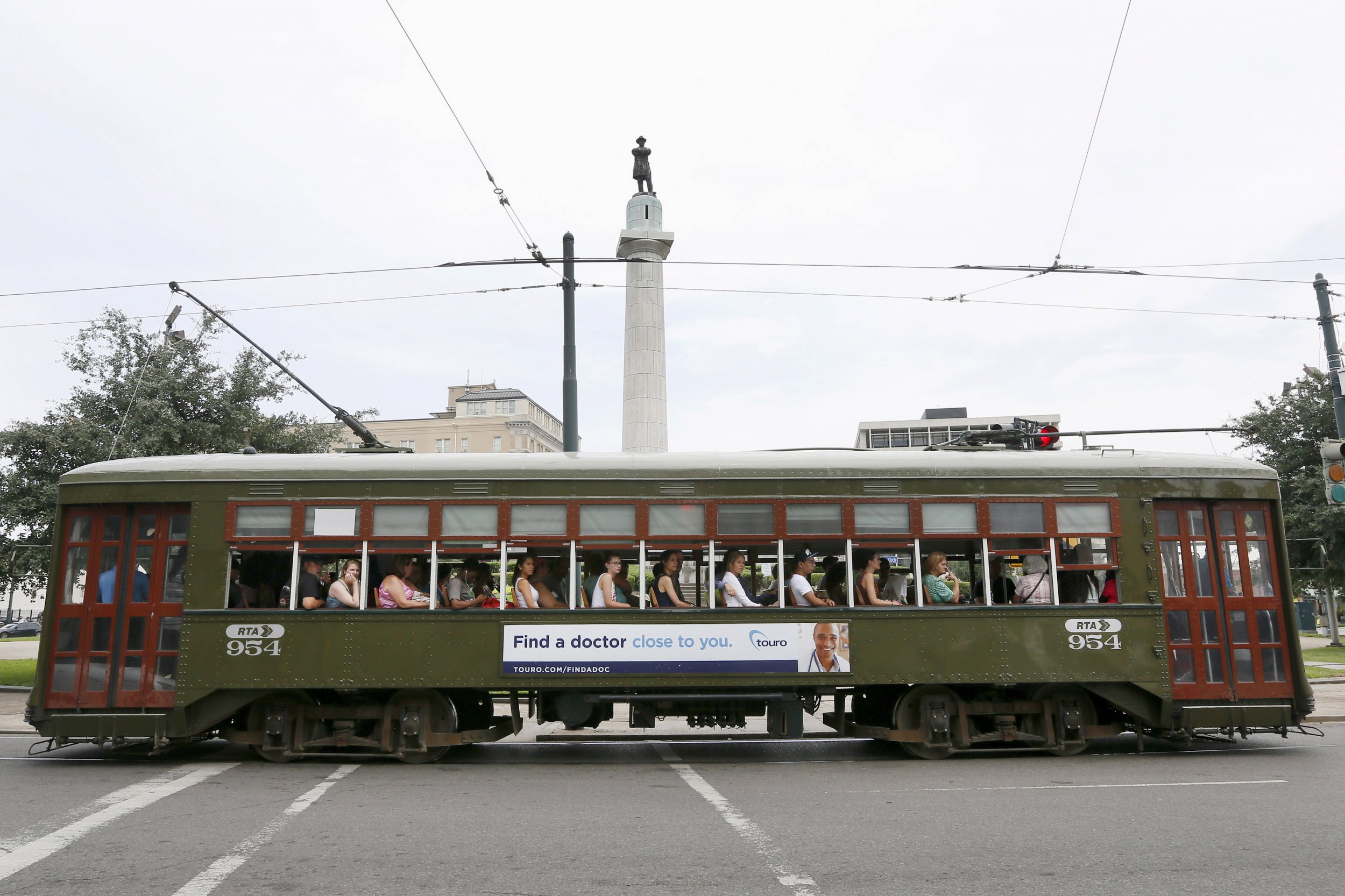 One of four prominent Confederate monuments scattered across New Orleans was taken down Monday as part of the city's ongoing efforts to examine its long history of racism and white supremacist leanings. The removal of the Liberty Monument, an 1891 obelisk honoring efforts to unseat the city's biracial post-Civil War government, was seen by civil rights advocates as an important step toward healing wounds inflicted by generations of segregation and discrimination. Critics said the city was attempting to erase its former heroes, however heinous they might be regarded in modern mainstream culture.
Workers clad in flak jackets and helmets removed the statue celebrating the Crescent City White League shortly after 1 a.m., largely to avoid controversy or any potential disruption from protesters who wanted the monument to stay erect in downtown New Orleans, near popular tourist attractions such as Canal Street and an aquarium. At a nearby statue honoring Jefferson Davis—the president of the Confederacy who died in New Orleans—demonstrators held a vigil to remember the city's sacrifices during the Civil War.
Robert Bonner, 63, a Civil War re-enactor, was among those gathered Monday to protest the monument's eviction. "I think it's a terrible thing," he told the Associated Press. "When you start removing the history of the city, you start losing money. You start losing where you came from and where you've been."
New Orleans was the Confederacy's largest city, and it also has monuments honoring Confederate Generals Robert E. Lee and P.G.T. Beauregard. All of the monuments are slated to be removed this year. Defenders of the monuments in recent months had taken to chanting "All history matters," an indirect response to the nationwide Black Lives Matter social justice campaign. Stickers and signs reading "All monuments matter" also mushroomed across the city at one point. A lawsuit brought by a chapter of the Sons of Confederate Veterans failed to stop the removal of the monuments.
City officials said they had received death threats over their decision to take down the monuments and eventually relocate them to a still undetermined "appropriate" place. New Orleans Mayor Mitch Landrieu said of the city's Civil War monuments that the Liberty Monument was "the most offensive of the four," because it was built to "revere white supremacy." "If there was ever a statue that needed to be taken down, it's that one," he said in an interview Sunday with The Associated Press.
Critics of the monuments argue that their vision of a racially divided South continues to oppress minorities working and living in New Orleans today. The city is about 67 percent black and 31 percent white. Roughly half of working-age African-American men in New Orleans don't have jobs, according to a 2015 analysis by the Data Center, while roughly half of all black children in New Orleans are poor, according to research by the National Urban League. Many of the city's black residents fled after the devastation of Hurricane Katrina in 2005.
"These monuments are of people that reigned down over not just New Orleans but also the South and kept people enslaved," Latoya Lewis, a community organizer at the New Orleans Workers' Center for Racial Justice, said after a public hearing in 2015 to discuss plans to take down the monuments. "We are worshiping those same ideologies. And if you look at the system in New Orleans, the system hasn't changed much."
New Orleans, which turns 300 in 2018, has a long, troubled history of racism and white power leanings. Half of the state's population of 708,002 people were enslaved in 1860, a year before the Civil War began. Only free white men could vote.
"This is the historical context in which these monuments to white supremacy were erected and are maintained," the Southern Poverty Law Center wrote in 2016 in a legal document supporting the removal of the city's Confederate monuments. "By enshrining a patently false version of history, the monuments have helped keep these myths and the oppression they justify alive."
The Liberty Monument recognizes the Crescent City White League, a group connected to the Ku Klux Klan and known for killing its white and black opponents. Its coup against the biracial Reconstruction government in New Orleans after the Civil War failed, but its supporters went on to help white supremacist Democrats eventually seize control of the state.
An inscription on the monument added in 1932 said the Yankees withdrew federal troops and "recognized white supremacy in the South" because of the group's efforts. When the city briefly took down the statue in 1993 for street construction work, David Duke, a former state representative and former grand wizard of the Ku Klux Klan, led a campaign to have it reinstalled. A new version of history won out that year, and the inscription was changed to read that the obelisk honored "Americans on both sides" of the coup attempt and that the conflict "should teach us lessons for the future."
There are other signs of New Orleans's love affair with its segregated past. The city's Confederate Memorial Hall Museum, opened in 1891, is the state's oldest museum and represents one of the nation's largest collections of Confederate memorabilia, including 140 flags from Louisiana regiments.
New Orleans's majority black City Council voted 6-1 in 2015 to remove its Confederate monuments after a white man killed black parishioners at the historically black Emmanuel African Methodist Episcopal church in South Carolina only a few months earlier.
The removals are "about showing the whole world that we as a city and as a people are able to acknowledge, understand, reconcile—and most importantly—choose a better future," Landrieu said in a statement. "We can remember these divisive chapters in our history in a museum or other facility where they can be put in context—and that's where these statues belong."