Boxer Anthony Joshua Hits Back at Critics Who Accused Him of Racism Over Black Lives Matter Speech
Boxing world champion Anthony Joshua has hit back at critics who accused him of racism after he attended a Black Lives Matter protest in his hometown of Watford, outside London.
Joshua attended the peaceful protest on Saturday, in which he read out a speech on behalf of someone who could not attend the demonstration themselves, a point he made clear at the time.
However, edited videos later shared on social media of Joshua speaking, made it appear as though the comments about avoiding businesses owned by white people were his own remarks.
During the speech, Joshua says: "Show them where it hurts.
"Abstain from spending your money in their shops and economies, and invest in black-owned businesses."
The IBF, WBA and WBO heavyweight world champion took to Twitter to hit back at his critics.
He said: "If you think I'm a racist, go f*** yourself!
"If you watch the full video, the speech was passed around for someone to read and I took the lead.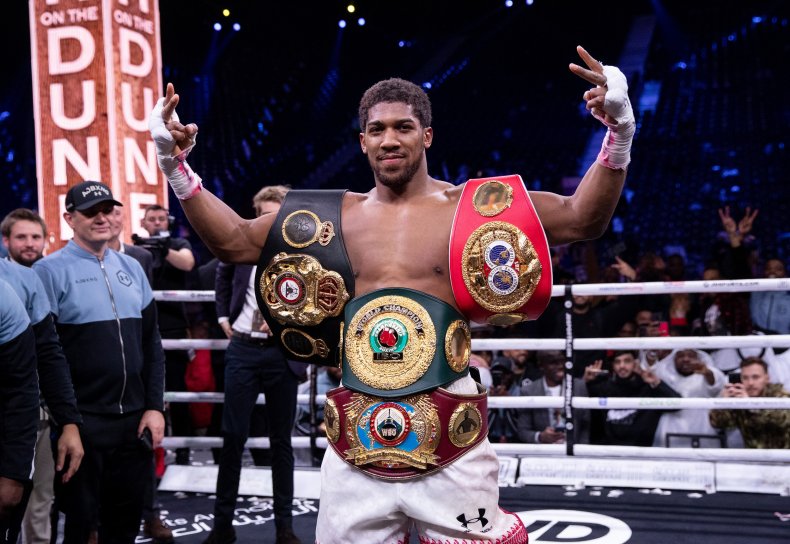 "I personally spoke from the heart about the Watford community, ideas of us personally investing seven figures to create unity and opportunities and adding change to the African/Caribbean community.
"Shops aren't the issue here. Before you talk s***, you better boycott racism."
The 30-year-old also went on to address criticisms about the lack of social distancing at the event.
He said: "I understand the concerns in regards to social distancing.
"However I hope those who are complaining about social distancing have the same energy about those gathering for a day at the beach [and] those going to the park for a picnic."
Joshua's attendance at the protest came at a time when thousands in the U.K. marched in protest at the death of George Floyd and systemic racism in the U.S. and around the world.
Protests took place in cities including London, Manchester, Leicester, Cardiff and Sheffield from around 1 p.m. BST (8 a.m. EDT) on Saturday.
In Parliament Square in Central London, a minute's silence was held for George Floyd, Mark Duggan, Belly Mujinga, Derek Bennett and other black people who died in questionable circumstances.
Protesters could be seen kneeling and raising one arm--before beginning a march that took some towards the Home Office and past the Queen's Buckingham Palace residence.
Meanwhile, In Bristol, protesters tore down the statue of slave trader Edward Colston, who died in 1721.
Colston was a member of the Royal African Company, which is estimated to have transported about 80,000 Africans to the Americas as slaves.
After the Bristol statue was torn down, it was dragged through the city's streets and thrown into the harbor's waters.
Boxer Anthony Joshua Hits Back at Critics Who Accused Him of Racism Over Black Lives Matter Speech | World