Muslim Man Compared to 'Bomber' by Woman on Bus in U.K.
A man who was compared to a bomber by another passenger on a bus and victim of an alleged hate crime says he is saddened that no one came to his defense and appalled that the driver threatened to throw him off after he spoke out to defend himself.
Ali Imdad, a former contestant on the Great British Bake Off program, was on his way home on Sunday evening in Birmingham when a woman told him that Asians were "everywhere" and blamed "people like him" for "all these bombings."
Imdad uploaded footage of the incident to social media. During the exchange, the woman can be heard telling Imdad: "50 years ago - there was no Asians. Now it's everywhere.
Imdad: "So?"
Unidentified woman: "What have you done to the country?
Imdad: "What have I done to the country? What have you done to the country?"
Unidentified woman: "All these bombings."
Imdad: "Oh so I have done the bombings?"
Unidentified woman: "Yeah you have."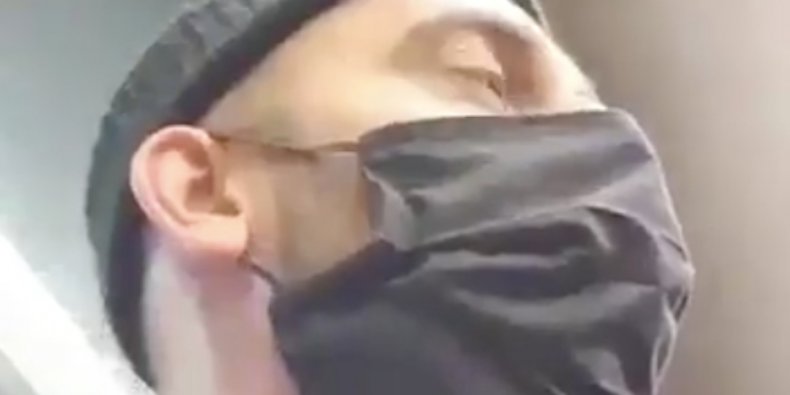 Imdad told Newsweek that he felt disappointed nobody came to his aid and that the only other passenger to speak out at the time of the incident, was another man who told him off for the way he spoke to the woman.
He also questioned the behavior of the driver on the National Express West Midlands bus and says the company has been in touch but didn't focus on the conduct of the driver.
He said: "The person kept focusing on what the racist lady said, the bus company can't do anything about that, they can't be held responsible for what passengers say or do, I was more concerned about how the driver reacted. The fact that he told me to get off the bus because I was speaking loudly.
"Fair enough, if the policy is that drivers can't get involved but the fact that he got involved to throw me to off the bus and yet not get involved to threaten to throw the woman off the bus, that is concerning to me."
Imdad also feels that people of color are stereotyped as troublemakers.
*The video contains strong langauge*
He said: "She had her voice raised, she was saying something but because it's always the same narrative that people of color no matter what we do, even if we are victims, it's always us who are aggressors and I just find that infuriating. The fact that I was made to feel like the aggressor when I was the victim."
Imdad said other passengers only spoke out against the lady after she had left the passage. He also feels that the normalization of Islamophobia means anti-Muslim prejudice is seen as more acceptable.
He said: "It's almost verging on being an acceptable form of racism. I'm not here to silence freedom of speech, if you want to critique and criticize Islam and what you believe it stands for, by all means do. Criticism and critique is a fundamental part of freedom of speech but there's a difference between critiquing something and attacking somebody.
"Sitting there calling me a bomber, isn't critiquing theological points of the religion, it's essentially holding me responsible for what an absolutely tiny fraction of Muslims have done. Over the last few years, Islamophobia has become more and more acceptable."
He says police have been in contact with him since the incident and are looking at camera footage on the bus to trace the lady. Imdad wonders if society will take anti-Muslim prejudice and Islamophobia seriously.
"Do I just accept that this is the status quo now?," he said. "Do I just accept that it's OK to masquerade Islamophobia as criticism of the religion? It's just infuriating because I feel like there's nothing I can do. I'm one person. As the bus incident shows, I don't think anyone wants to listen."
West Midlands Police say they are investigating the incident. A spokesperson said: "We're investigating an alleged hate crime after a man was racially and verbally abused by another passenger while onboard the 94 bus on Corporation Street, Birmingham at around 6.15pm yesterday (Sunday 20 December)."
National Express West Midlands said they have a zero-tolerance approach towards racism. A spokesperson said: "National Express West Midlands takes strong action on racial abuse. We encourage anyone experiencing hate crime on public transport to report it to West Midlands Safer Travel police. We have crystal clear CCTV on all National Express buses and we will make the footage available to the police to help with any investigation. National Express West Midlands will also investigate this incident and take any action necessary in line with our staff disciplinary procedures."