Security Guard Asks Student to Stop Calling Him N-word, Gets Fired for Saying It
A black former employee at a high school in Wisconsin is arguing that context is everything after he was fired for using the N-word to stop an unruly student from calling him the racist epithet.
Marlon Anderson had worked for three years as a security guard at West High School in Madison, and in the school district for 11 years. Tempers frayed during a confrontation with a student whom he was trying to calm and get to leave the school.
Anderson said that the student started to curse at him and used the N-word repeatedly. To emphasize how unacceptable this was, Anderson used the word in response.
He said "Don't call me that, don't call me the n-word, and don't call me n*****," using the word.
Anderson told the Wisconsin State Journal that he had been set up by the assistant principal who held up her radio to his face during the altercation for other staff to hear.
The Madison Metropolitan School District [MMSD] fired Anderson, citing a zero-tolerance policy of staff using the word, following a number of recent incidents in which racial slurs had been said.
West High Principal Karen Boran informed parents by email that "regardless of context or circumstance, racial slurs are not acceptable in our schools."
But in an interview with TV station Channel 3000, Anderson said he had been unfairly targeted and was trying to make a point to the student.
"I want the zero-tolerance policy to be looked at. It's lazy," he said. "My mother was called this word. My father was called this word, my grandmother, my grandfather and keep going down the family line.
"We were all called this word, and not one of them could say, 'Don't call me that.' I can. And I shouldn't be punished, because I have the right to tell somebody not to call me this word," he said.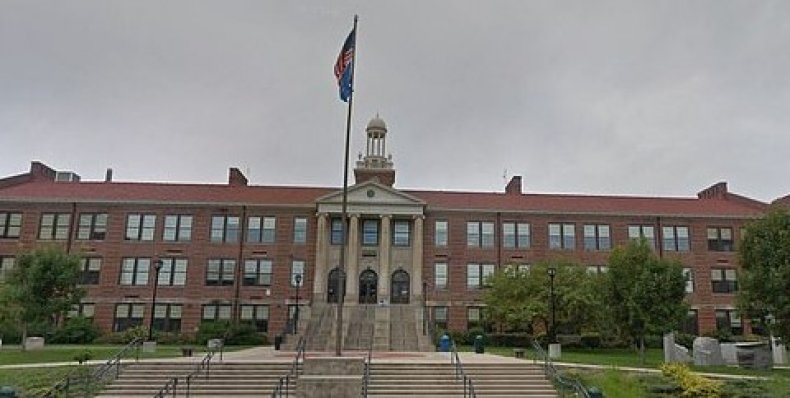 "I made a conscious decision to address the word because it is an epidemic, our kids use it every day."
"You have no tolerance for a word, but yet you let students call me that word 15 times without correcting that behavior," he added.
The union Madison Teachers Inc. is fighting the dismissal. In a statement, the union said: "We hope the school board will modify their action earlier and get him back to work," according to WKOW.
Meanwhile a petition on Change.org has been launched calling for Anderson to get his job back.
"Marlon made West a better place and most importantly made it bearable and we aren't gonna let them falsely fire him like this," the petition read.
Anderson has also received a lot of support on social media.
One posted on his Facebook page: "Your brothers and sisters from all walks of life are marching to show our love. It's the least we can do for all you've done for us."
Another wrote: "You made a decision a 100% right decision that should have never had you termination of employment as the result."
It appears that the growing controversy has sparked a reassessment of the case. The state's board of education president Gloria Reyes said in a statement that she acknowledged "the emotion, harm and complexity involved.
"We have also heard from the community about the complexity involved – and our duty to examine it. As a board, we plan to review our approach, the underlying policies, and examine them with a racial equity lens understanding that universal policies can often deepen inequities," the statement said, according to WKOW.