Black Lives Matter Activist's Truck Vandalized With Racial Slurs, 'Wite Pride' and Swastikas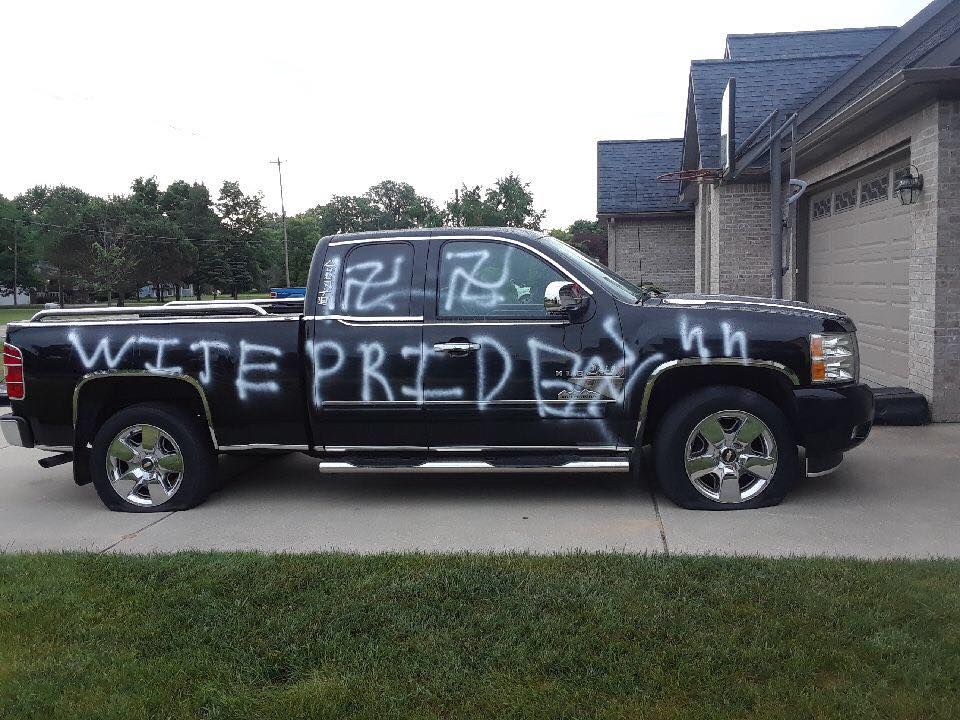 A Black Lives Matter activist from Michigan woke up to find his truck had been vandalized with racial slurs and swastikas in white spray paint, he claims.
Hubert Roberts, 62, from Clio, Michigan, told The Detroit Free Press that he woke up early Tuesday morning to find racial slurs, multiple swastikas and the words "Wite Pride" painted on his 2011 Chevrolet Silverado, which was parked in his driveway. He also told the publication he found red shoelaces hung on the side of the truck's rearview mirrors, a sign of intimidation used by the Ku Klux Klan.
Roberts told MLive that he had been working on his motorcycle until 2 a.m. He was woken up by his neighbor around 7 a.m. and called the police. The 62-year-old said he has been living in Genesee County in northern Michigan for 15 years and has never experienced something like this before.
"I'm black," he told MLive. "I'm in a predominantly white community. I'm very angry. I'm disappointed with us as a community."
Roberts told The Detroit Free Press he did not know what could have prompted the vandalism, other than his usual protesting. The Genesee County Police told MLive they are investigating the incident.
His stepdaughter, Jiquanda Johnson, posted photos and a live stream of the truck on Facebook. She said her stepfather does a lot of work for children in the community and for the Black Lives Matter organization. In the video, she also noted that Roberts had BLM activist symbols on his truck, which could have led to the vandalism of his vehicle.
"Now I get it. People get upset about other people's views and how they feel," Johnson said in a Facebook Live video on Tuesday. "But that gives no one the right to damage someone else's property or come on anyone's property."
Newsweek has reached out to Black Lives Matter for comment on the incident but did not hear back in time for publication.
The Council on American-Islamic Relations (CAIR) has offered a $1,000 reward for any information that could lead to an arrest.
"We call on anyone who has knowledge of this heinous act of intimidation to immediately contact Genesee County Sheriff office or the FBI," said CAIR-MI Executive Director Dawud Walid in a statement. "This racist incident is especially troubling given that it took place on Juneteenth, a day in which African Americans celebrate emancipation from chattel slavery."
A Gofundme page has been launched by Johnson to help raise money to fix Roberts's truck. The fundraising page has already raised over $1,800 of its $2,500 goal.