Racist, Anti-Immigrant Flyer Turns Up at Texas University a Month Before Democratic Debate Comes to Town
A month before the third Democratic 2020 presidential debates come to one university in Houston, a flyer that appeared both racist and anti-immigrant showed up at another school.
Cordero Lopez, a student at Rice University, posted a photo of the flyer on Twitter. The flyer shows a cartoon image of the four freshman Democratic congresswoman of color known as "The Squad"—reps. Alexandria Ocasio-Cortez (N.Y.), Ilhan Omar (Minn.), Ayanna Pressley (Mass.) and Rashida Tlaib (Mich.).
Above the drawing, the flyer states "Send them back." And underneath the photo of the women, it reads, "deport the commie brown infestation."
Along with the tweet of the photo on Thursday afternoon, Lopez said he was disgusted.
"I'm utterly disgusted, and i'm heartbroken," Lopez wrote. "I can't believe someone thought this was funny. this kind of talk comes from a place of evil, and those who propagate it have absolutely no soul whatsoever. i'm proud my friends called it out; now, it's up to uni officials to respond."
Rice University president David Leebron responded to Lopez's concerns via tweet, even though he was out of town.
"This is indeed disgusting. It would be so at any time and any place, but especially offensive just before our new students arrive," Leebron wrote. "We're investigating and here's what we know so far. One person did observe a person tacking the flyer to entrance 20 and reported it to RUPD."
Leebron furthermore stated what the university was doing in response to the flyer, and what the next step would be for the campus police.
"So far as we know, two additional such flyers have been posted on the campus and removed. RUPD officers will be canvassing the campus to see if any others have been posted," Leebron continued. "If you see someone posting such an offensive item on Rice property, please call RUPD. The flyer posted appears to be the same as one posted at several Seattle synagogues & churches a few days ago. These particular posters appear to originate with a neo-Nazi org. It is, as you say, heartbreaking that such people feel empowered to commit such despicable acts."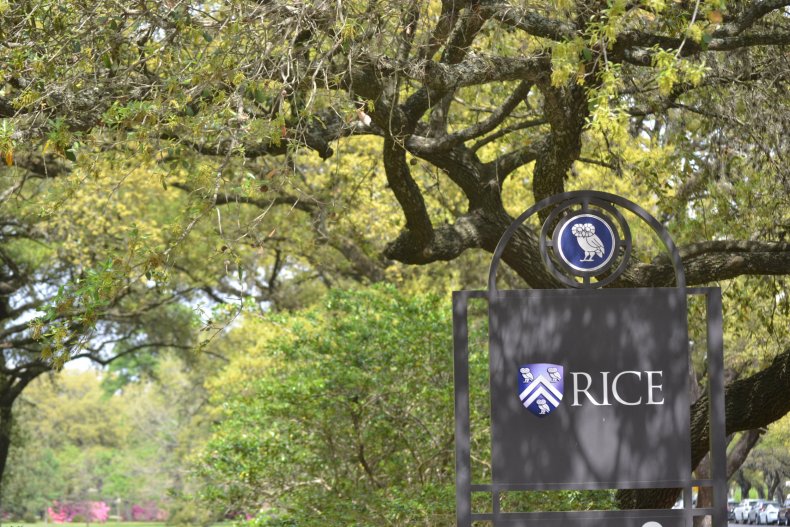 The third round of debates for 2020 Democratic presidential candidates is scheduled for September 15 and 16 at nearby Texas Southern University, a public, historically black university that is about three miles from Rice.
Captain Clemente Rodriguez of the Rice University Police Department said the incident is unnerving because of what it could lead to next.
"But bigger than the incident is just what it could cause down the road," Rodriguez said. "We try to deal with it in a professional manner. We have a very diverse department, ourselves. I'm very proud of that and I'm very proud of our diverse community."
Harris County Sheriff Ed Gonzalez said on Twitter there is "no place for hate."
"The Squad" this summer became a target of President Donald Trump when he said they should "go back and help fix the totally broken and crime infested places from which they came. Then come back and show us how it is done"
Three of "The Squad" were actually born in the United States. Omar fled to the United States as a Somalian refugee.
During one recent Trump rally when referencing "The Squad," the crowd erupted into a "Send her back" chant.