The Racist Attacks Against Kristen Clarke End Now. The Senate Must Confirm Her | Opinion
It has been 64 years since a woman was confirmed as Assistant Attorney General for the Civil Rights Division of the United States Department of Justice. A Black woman has never been confirmed for this post. Change is long overdue, especially with this country's long history of failing to ensure equal rights to all Americans and particularly to people of color. But the sad fact is, over the years, whenever a woman or a person of color has been nominated to head the Civil Rights Division, they have been singled out for insidious, race-baiting attacks—which have been successful in scuttling their appointment.
This is now happening to Kristen Clarke, President Biden's nominee to head the Civil Rights Division. A dangerous smear campaign has been launched in an effort to spread misinformation about Ms. Clarke, her values, and her record. It cannot be allowed to succeed.
The attack on Ms. Clarke trots out the old and worn trope that she is an anti-Semite, a scurrilous charge totally lacking in merit that has nonetheless been spreading in certain circles. The accusation is based on something that happened 27 years ago, when Ms. Clarke was 19 years old. At the time, she was the head of the Black Students Association at Harvard, and she hosted Wellesley College Professor Tony Martin to speak about racism. But he devoted much of his talk to an anti-Semitic conspiracy theory about Jewish racism, which Ms. Clarke defended amid criticism.
It was a mistake she easily acknowledges now. "Giving someone like him a platform, it's not something I would do again," Clarke told the Forward recently, reiterating that she "100%... unequivocally denounce[s] anti-Semitism."
Of course she does; she has spent her life fighting bigotry and fighting for equal protections for all.
Her first job after graduating from Harvard College and Columbia Law School was at the Department of Justice in the Civil Rights Division that she now has been nominated to lead. She then joined the NAACP Legal Defense Fund, followed by a stint at the Office of the New York State Attorney General as head of the Civil Rights Bureau. Most recently, she served as the President and Executive Director of the Lawyers' Committee for Civil Rights Under Law, an organization founded in 1963 at the behest of President John F. Kennedy, who believed that the legal community had a special obligation to fight for equal rights for African-Americans and other marginalized groups.
In each of these positions, she led efforts to guarantee voting rights, educational opportunities, religious freedoms and accommodations, and to ensure a fair and just criminal justice system for all Americans. She has fought to ensure equal opportunities for all marginalized communities, including immigrants, sexual assault victims, LGBTQ+ citizens, and low-income Americans.
She has also prosecuted hate crimes on behalf of all victims. She has worked closely with business leaders throughout the country to lead important conversations about civil rights and antiracism in our communities and workplaces.
As the Co-Chair of the Board of the Lawyers' Committee, I speak from deeply personal knowledge of Ms. Clarke's leadership and the work she has achieved during her tenure. I have watched as she has found common ground amongst people and communities who often disagree with each other. She is a leader who listens, and her good judgement and genuine empathy make people want to listen to her.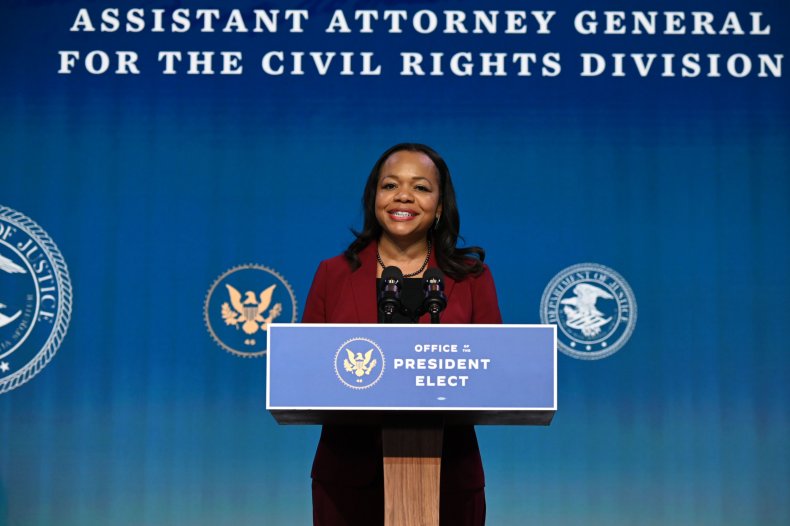 The allegations against her are nonsense. The charge of anti-Semitism is as fabricated as the piece of satire she wrote mocking racism that's being circulated as if it were not satire but rather her own sincere opinion.
The charges must be soundly rejected by all United States senators. But make no mistake: These accusations aren't just false; they represent racism and sexism in its rawest form, just like the racially driven attacks that were brought against other civil rights leaders of color nominated for this very position.
Look no further than Lani Guinier, a stellar Black woman civil rights attorney nominated by President Clinton for this same position, who was attacked as a "quota queen." Bill Lan Lee, another civil rights leader, was attacked for his views on affirmative action. Debo Adegbile, a Black male, was attacked as a defender of cop killers.
It is long since time to break this cycle of scurrilous, unwarranted and clearly racist attacks. Civil rights leaders of color must not be subjected to these attacks; they deserve better and so do we. These leaders are attacked precisely because the more effective they are as champions of civil rights, the more they threaten those who oppose equal rights for all.
Having served for 22 years as a United States District Judge, I have heard countless cases involving systemic racism and the ensuing harm it has caused to minority communities. Most well-known was my decision to end the stop and frisk tactics employed for many years by the New York City Police Department that unconstitutionally targeted Black and Hispanic youth, resulting in hundreds of thousands of intrusive and unnecessary police encounters. I know first-hand that Ms. Clarke's broad experience working to protect the civil rights of all Americans is exactly what is needed for leading the Civil Rights Division of the Department of Justice.
Shira A. Scheindlin served as a United States District Judge in the Southern District of New York from 1994-2016 and now serves as the Co-Chair of the Board of the Lawyers' Committee for Civil Rights Under Law.
The views in this article are the writer's own.