White Woman Arrested After Racist Bus Rant Using N-Word, 'Illegal Immigrant' Deportation Threats
A New York woman was arrested after she went on a racist rant and called other passengers the n-word and "illegal immigrants" before attacking one of several riders who was recording her tirade.
Update| The woman in the video was identified by the Rockland County Sheriff's Office as Anne Marie Messiano, 57, of Pearl River, New York. On Thursday she was hit with additional charges after initially being arrested for disorderly conduct.
Chief William Barbera told the Orangetown Daily Voice that after conducting further investigation, Messiano will also face charges of aggravated harassment and criminal obstruction of breathing. The latter being a Class A misdemeanor under New York penal law defined as having "intent to impede the normal breathing or circulation of the blood of another person, he or she: a. applies pressure on the throat or neck of such person; or b. blocks the nose or mouth of such person." Messiano is set to to face the charges in court on July 19.
A National Alliance on Mental Illness newsletter shows Messiano posing at an NAMI-Rockland County event in August 2017.
Rockland County Executive Ed Day confirmed to the Mount Pleasant Daily Voice that a Saturday incident onboard Bus #235 along Route 92 led to a local woman's arrest related to a racist tirade. Videos recorded by several passengers and posted to social media show the woman screaming racial epithets and threats against "illegal immigrants." The woman repeatedly uses the n-word and tells several riders to "go back to your f***ing country."
"I hope you all have got your f***ing papers. You got papers to be in this country?" the angry white woman can be seen telling riders in a video posted to Facebook by Zoe Mac. "You think it's a f***ing joke. He's videotaping me. 'Hi, how are you doing sweetheart? I love you,'" she says sarcastically, blowing kisses at Mac. "I love all you illegal immigrants. You do wonders for our country."
"F*** you and your [n-word] f***ing people!" the woman screams at several passengers. Mac described the event on Facebook: "Ignorance at its finest, saw this nonsense today coming home from work today on the bus, one of the reasons why I don't like public transportation but then again it also motivates me, racism never died and this is what people like me and who can relate go thru...Just for getting on the bus I'm an illegal immigrant again ignorance at its finest, like I said yesterday I use my skin color as a key and not a weapon."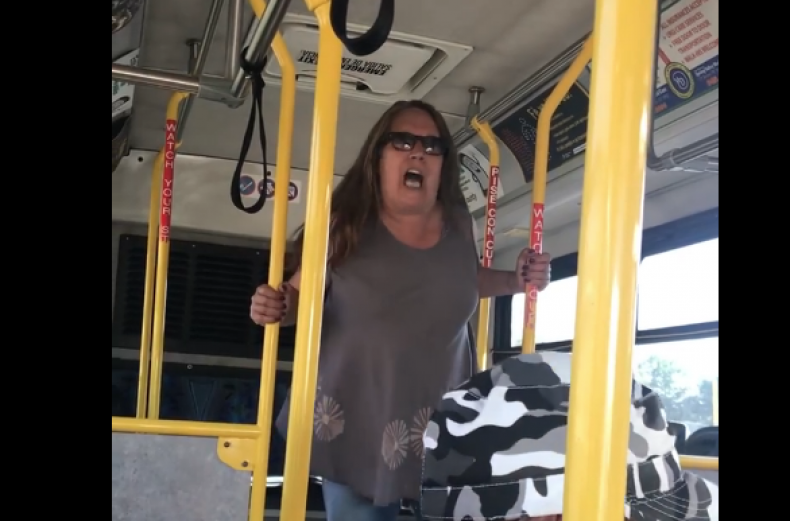 The woman at one point screams at the bus that "in this country" she has First Amendment rights to continue insulting every passenger. "Which means that I can say whatever the f*** I want."
Another bus passenger who filmed the incident, Vladimir Philidore, told Westchester News 12 the woman started railing against immigrants and people of color with no provocation. "I just kept recording her. She's just going at the mouth, with the racial slurs. The N words...Some people were scared, especially the elderly people."
Orangetown Town Supervisor Chris Day responded to the incident on Facebook: "Though her name is not being released due to her being charged with violations, as opposed to misdemeanors or above, her behavior is forever enshrined on the internet among the great idiots of our time, and I hope she learns a lesson in appropriate behavior and tolerance from the experience as she is recognized on the street as 'crazy racist lady from the bus' for the next several years of her life," Day wrote Tuesday.
The bus driver eventually called police, and the woman was arrested by the Orangetown Police Department, the Mount Pleasant Daily Voice reported. Police did not release the woman's name because she was only charged with violations and had been involved with a previous incident earlier Saturday. Both the Rockland County Sheriff's Department and Orangetown Police Department responded to the Saturday incident.
The end of several videos shows the woman attacking one of the people recording her racist rant. Footage shows the woman attempting to grab the phone out of one passenger's hand as several people begin screaming at her to go back and sit down. Speaking with the Mount Pleasant Daily Voice, Ed Day said the Orangetown incident was "inexcusable" and he commended the bus driver for reporting it to the proper authorities in a timely fashion.