Racist Chants and Nazi Salutes Nearly Derail Bulgaria-England Euro 2020 Tournament Qualification Soccer Game
Racist chats twice shut down a Union of European Football Associations (UEFA) Euro 2020 qualifier soccer game between England and Bulgaria Monday.
The match held at Vasil Levski National Stadium in Sofia, Bulgaria was temporarily halted on two separate occasions when a number of Bulgarian fans could be heard making racist chants towards black England players during the first half of the game.
A significant amount of abuse appears to have been focused on three black England players, including star midfielder Raheem Sterling. Sterling was apparently subjected to a "monkey" chant by a section of the crowd. The offending Bulgarians were said to have been dressed in all black, and in addition to the racist chants, some were seen to be making Nazi salutes.
In the 28th minute of the match, the referee halted the game due to the ongoing racist abuse. About five minutes later the game resumed, but had to be paused again for a short time beginning in the 44th minute. At that point, it was not clear whether the match would continue. An announcement was made on the stadium's loudspeaker warning the crowd that the game could be cancelled if abuse continued, which was met with loud booing.
Bulgaria team captain Ivelin Popov could be seen pleading with Bulgarian fans to stop the behavior as game's first half came to a close. While the "monkey" chants seem to have stopped by the second half, fans could be heard booing England players throughout the rest of the game, seemingly focused on the team's black players.
Regardless of the hostile atmosphere, England ended up winning the game 6-0. Sterling scored two of the goals.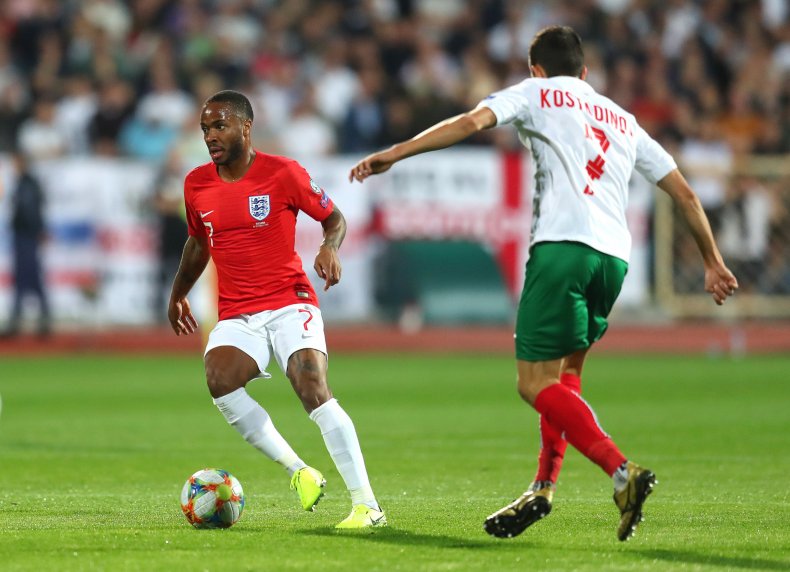 The stadium was operating at a reduced capacity, with 5,000 seats left intentionally empty, in response to previous racist behavior by Bulgaria fans. In June, fans of the team were accused of racist behavior during two games against Czech Republic and Kosovo.
Far-right nationalism and overt racism have been present in European football for many decades. Bulgaria is certainly not the only country affected by the phenomena, and England has also been home to many incidents involving racist abuse. Earlier this year, world soccer governing body FIFA updated their disciplinary code in response to problem.
While the tournament held once every four years typically takes place in a single European country, the Euro 2020 championship is being held in 12 different countries to celebrate the tournament's 60-year anniversary. The qualifying phase of the tournament consists of 55 national teams being whittled down to 24 teams that will participate in the final event. England is currently in the top position of their qualification group. Bulgaria has already been eliminated from the competition.