EMS Director Posts Picture of Decapitated Dark-Skinned Men, Touts Trump Border Wall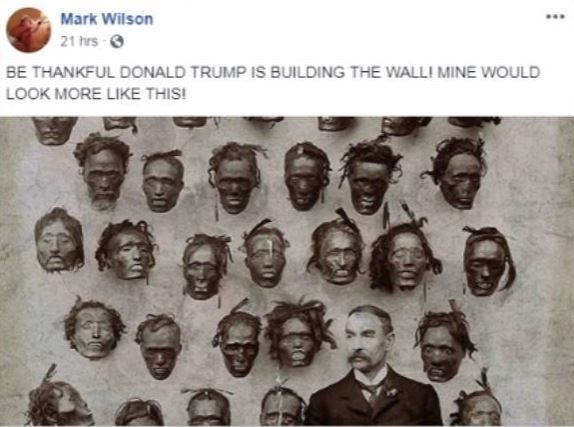 A West Virginia emergency services administrator was suspended after posting a picture on social media showing a white man posing next to dark-skinned, decapitated heads and referencing the border wall.
Mark Wilson, the Assistant Director of the Raleigh County Emergency Operations Services, posted the picture Saturday of a white man in a suit standing next to the severed heads of multiple dark-skinned men with the caption, "Be thankful Donald Trump is building the wall! Mine would look more like this!" The Beckley, West Virginia, EMS administrator's post immediately sparked backlash from people in the community. A second administrator who commented on Wilson's post, Jamie Bennett, is no longer employed with the Raleigh County agency, although officials would not confirm the reason for Bennett's departure.
Update: The man in the photographs is Horatio Gordon Robley, 1840-1930, a British soldier and collector of New Zealand Māori​ native tribesmen's dried tattooed heads, or Mokomokai.
WOWK-TV reports that a separate administrator, Deputy Director of Fayette County Emergency Management, Jamie Bennett, is no longer employed, according to Larry Harrah, Fayette County's prosecuting attorney. Officials would not clarify why Bennett was no longer employed, calling it a "personnel matter." But Bennett had commented under Wilson's post, writing, "What like your office wall." Wilson responded, writing, "shhh."
Wilson's Facebook post shows the post-decapitation picture in the background of the smiling white man, Robley.
An EMS director in Raleigh County, John Zilinski, told WVNS-TV the post, which has since been taken down, will be disciplined through the agency's standard rules.
"Right now Raleigh County Emergency Services Authority is following their guidelines for disciplinary procedures in this matter. We are following it as far as the investigation and any disciplinary action that might follow," Zilinski said in a statement Sunday. "As said in our press release, this agency has a mission. We have a mission to uphold, to protect the lives and the property of all the residents in Raleigh County and all of its visitors."
Zilinski confirmed to several local news outlets Wilson has been placed on administrative leave.
The racist Facebook post responds to President Donald Trump's request for $5.7 billion to fund more barriers along the southern border the U.S. shares with Mexico. Trump is seeking about 235 miles of additional physical barriers to be placed along the border.
The Raleigh County Deputy 911 Director's post infringed upon the agency's social media policy, and a five-panel board is aware of the incident and is investigating Wilson, WVNS-TV first reported.