Representative Justin Amash, who this month announced his decision to leave the Republican party, and numerous other members of Congress took aim at Donald Trump's Sunday morning tweet suggesting that progressive congresswomen should go back to their countries, blasting the president's remarks as "racist."
"To tell these American citizens (most of whom were born here) to 'go back' to the 'crime infested places from which they came' is racist and disgusting," Amash wrote on Twitter, sharing Trump's controversial tweet. Amash, whose parents immigrated to the U.S., was the lone GOP member of Congress calling for Trump's impeachment before leaving the party this month, declaring himself an independent.
The president wrote: "Why don't they go back and help fix the totally broken and crime infested places from which they came," after lashing out at the "'Progressive' Democrat Congresswomen" for "telling the people of the United States, the greatest and most powerful Nation on earth, how our government is to be run." He added: "you can't leave fast enough."
Although Trump did not mention specific names, his comments were seen as a clear reference to Democratic Representative Alexandria Ocasio-Cortez of New York, Rashida Tlaib of Michigan, Ilhan Omar of Minnesota and Ayanna Pressley of Massachusetts. As Amash and others pointed out, Tlaib, Ocasio-Cortez and Pressley were all born in the U.S. Omar immigrated to the U.S. in 1992 as a refugee originally from war-torn Somalia and has been a naturalized citizen since 2000, nearly two decades ago.
Ocasio-Cortez is ethnically Puerto Rican, which is not an independent country and is part of the U.S. All Puerto Ricans are American citizens by birth. Pressley is a black American, and was born in Ohio then raised in Illinois. Tlaib's parents, like Amash's father, immigrated to the U.S. from the Palestinian Territories, which the U.S. does not officially recognize as a sovereign state. She was born and raised in Michigan.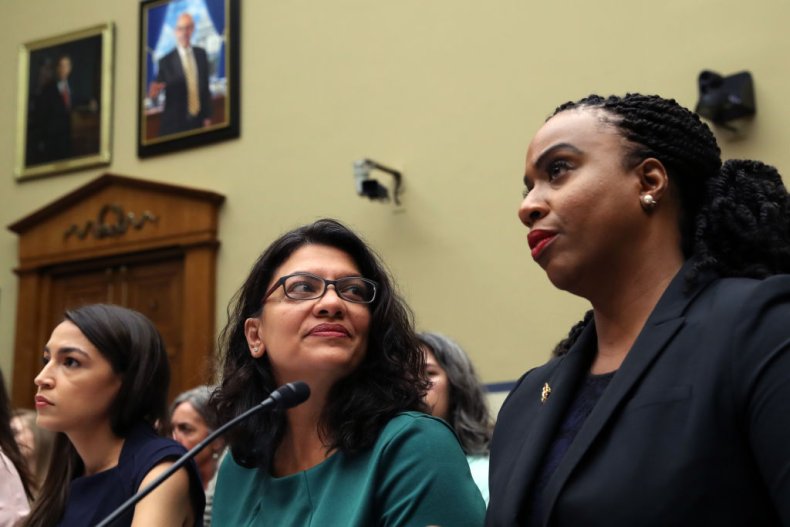 Democratic Speaker of the House Nancy Pelosi strongly condemned Trump's "xenophobic comments" in a series of Twitter posts.
"When @realDonaldTrump tells four American Congresswomen to go back to their countries, he reaffirms his plan to 'Make America Great Again' has always been about making America white again," she wrote. "Our diversity is our strength and our unity is our power."
Other Democratic members of Congress reacted to the president's tweet as well.
"It's incredibly racist, I think we're a nation of immigrants," Congresswoman Nanette Barragán, who represents California, said on CNN's State of the Union. "I'm proud to be the daughter of immigrants," she added.
Representative Ben Ray Luján, a Democrat from New Mexico, told Fox News Sunday plainly: "That's a racist tweet."
Independent Senator Bernie Sanders of Vermont, who is seeking the Democratic party's 2020 presidential nomination and has repeatedly called Trump a "racist" in the past, took aim at the president once again.
"When I call the president a racist, this is what I'm talking about," Sanders posted to Twitter, sharing Trump's tweet. "We must stand together for justice and dignity towards all."
Ocasio-Cortez responded to Trump with a string of tweets as well, arguing that the president did not believe in the part of America that elected her, Omar, Tlaib and Pressley. "Mr. President, the country I 'come from,' & the country we all swear to, is the United States," the congresswoman asserted. "You are angry because you can't conceive of an America that includes us," she added in a follow-up tweet.