Racist Emails Rock Embattled Los Angeles Sheriff's Department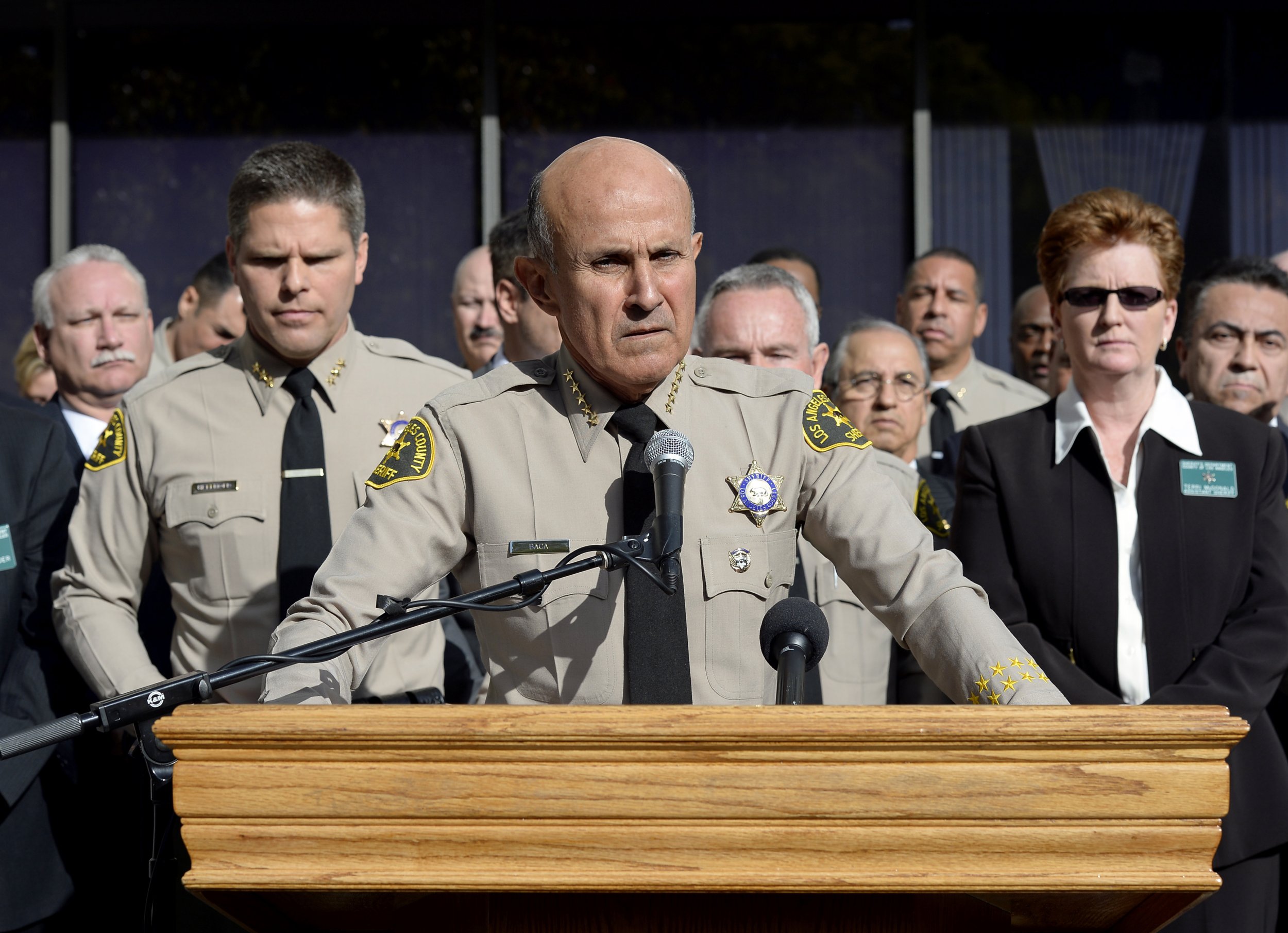 Updated | As its two formerly most powerful figures await prison sentences for lying to and hindering federal investigators, the troubled Los Angeles Sheriff's Department (LASD) faces a fresh scandal, the latest in a seemingly endless cavalcade of missteps from members of the fourth-largest law enforcement department in the nation.
According to a report in the Los Angeles Times, Sheriff Jim McDonnell's chief of staff, Tom Angel, "forwarded emails with jokes containing derogatory stereotypes of Muslims, blacks, Latinos, women and others." The emails in question were forwarded in 2012 and 2013, while Angel was at the police department in Burbank, California. He came to the LASD after a 2014 election in which McDonnell, then the head of the Long Beach Police Department, ran successfully as a reformist.
The 15 pages of emails have Angel passing along jokes or listicles that broadly depict Muslims as terrorists. A forwarded email from May 24, 2013, which bears the subject line "ROYALLY POLITICALLY INCORRECT," makes fun of overweight women, the Catholic Church, Muslims, African-Americans and Latinos. Another suggests that "Muslim Terrorists are so quick to commit suicide" because Islamic culture lacks "nude women," beer" and "pork chops," in place of which the faith features "constant wailing from some idiot in a tower," an apparent reference to the muezzin's call to prayer.
"I apologize if I offended anybody," Angel told the Times, "but the intent was not for the public to have seen these jokes." That public, in Los Angeles County, is about 48 percent Hispanic and 9 percent African-American. It also includes a sizable population of immigrants from Islamic nations.
You could call this a black eye, except the LASD has no eyes left to blacken. As I reported in a recent feature for Newsweek, under Sheriff Lee Baca, who served from 1998 until 2014, the LASD became a clannish organization that coddled celebrities like Paris Hilton while harassing low-income residents of the Antelope Valley, abusing inmates of the city's enormous jail system and, according to some, tolerating a culture in which graft, drugs and a general sense of lawlessness became the norm. Baca and his undersheriff, Paul Tanaka, tried to impede a federal investigation into jailhouse abuses. For this, both will almost certainly head soon to prison.
But as the Angel case demonstrates, plenty of work remains. Among the harshest critics of the department is Bob Olmsted, who ran unsuccessfully for sheriff in the 2014 election. He told me that McDonnell is hobbled because Baca still has "mini-me's running all over the place. I see the organization as still in trouble."
Angel's emails are now several years old. McDonnell has come to his defense, explaining that "everybody's got their own take on humor."
My request to the LASD for a comment on Angel's future as McDonnell's chief of staff received no response. He appears to be facing no further discipline from the department. That will surely be disheartening to Angelenos who had hoped that McDonnell's call for change was genuine. Perhaps, as with so much in Los Angeles, it has all been purely cosmetic.
UPDATE: Tom Angel has resigned from his position in the Los Angeles County Sheriff's Department, according to an article in the Los Angeles Times, which first reported on the racist and xenophobic emails Angel forwarded. Sheriff Jim McDonnell said that "this incident reminds us that we and other law enforcement agencies still have work to do."