Racist 'Feel Better Doll' That Was Meant to Be Abused is Pulled from Stores after Complaints
Controversial "Feel Better Dolls" have some New Jersey residents seeing red.
The toys, which are shaped like a child with a black body and red, black, yellow and green yarn for hair, are intended to be abused by people who purchase them, and have led many shoppers to wonder how they found their way onto the shelves at a regional discount chain.
"Just grab it firmly by the legs and find a wall to slam the doll" reads a label on the doll's stomach.
Over 1,000 dolls were up for sale at One Dollar Zone stores in Bayonne and other towns in New Jersey until local lawmakers stepped in, according to Associated Press reports.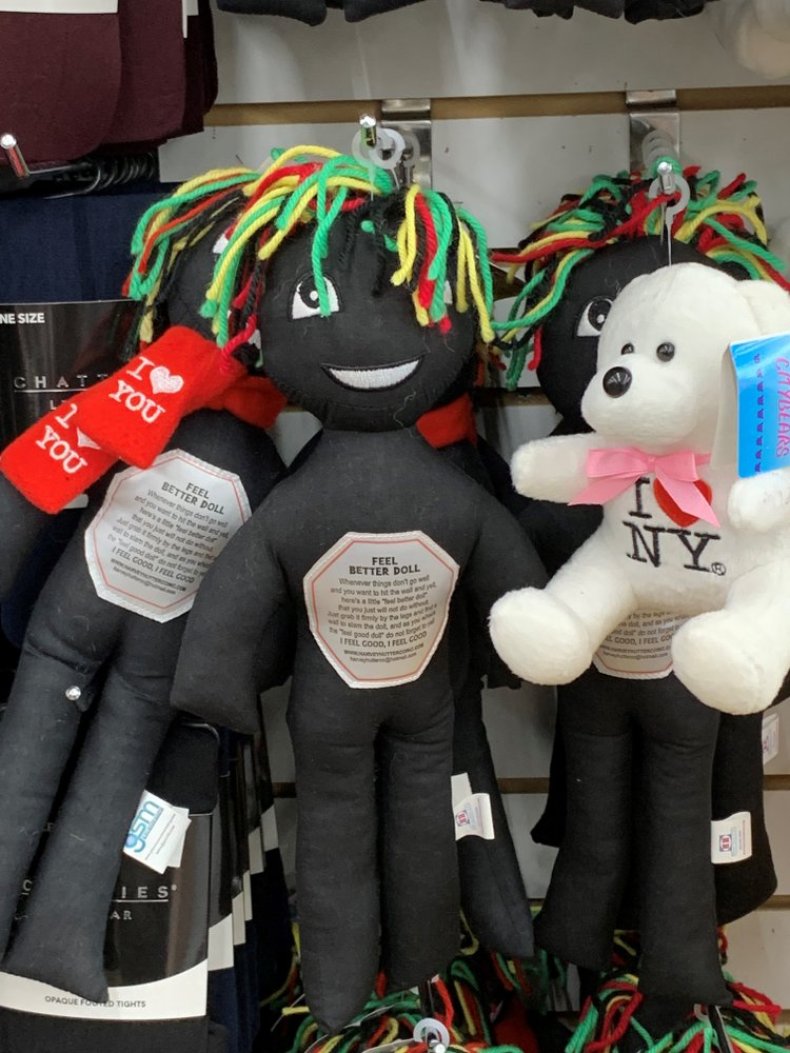 State Assemblywoman Angela McKnight, a representative of Bayonne, visited the store on July 22 to demand the doll's removal. She also alerted Bayonne Mayor Jimmy Davis.
Davis contacted the store manager who he called "very apologetic" in a Facebook post after the incident, adding that the employee "quickly took down the dolls without hesitation."
Replying to a well-wisher following the incident, McKnight replied that such incidents are "wrong and will not be tolerated."
The dolls were produced by Harvey Hutter & Company, Inc. Phone numbers listed to the company address in Verplanck, NY, were disconnected and the company's website has been taken down.
Harvey Hutter & Co. items listed for sale on eBay include tourist mugs, model police cars, and stuffed animals, including a variety of monkey toys.
One Dollar Zone President Ricky Shah told the Associated Press that the dolls were part of a closeout purchase the company made through a supplier called Global Souvenir Marketing.
The supplier reportedly informed Shah that Harvey Hutter & Co. has closed down.
In a conversation on social media following the scandal, Twitter user @KoominCider shared an image of a feminized, Caucasian version of the Feel Better Doll, saying "These dolls aren't racist, they're just dumb."
No white versions of the doll have been reported for sale.
The consensus on social media is that the dolls are clearly racist — with its black complexion and yarn dreadlocks in colors associated with Rastafarianism — with many users expressing sadness, anger, and disgust.
As Rob Nelson, an anchor for New York and New Jersey local news channel ABC 7 pointed out, the dolls are not only problematic for their racist appearance, but also for encouraging violence.
This article has been updated to correct the name of Verplanck, New York.