Racist Flyers Calling African-Americans 'Stupid Monkeys' Found at South Carolina College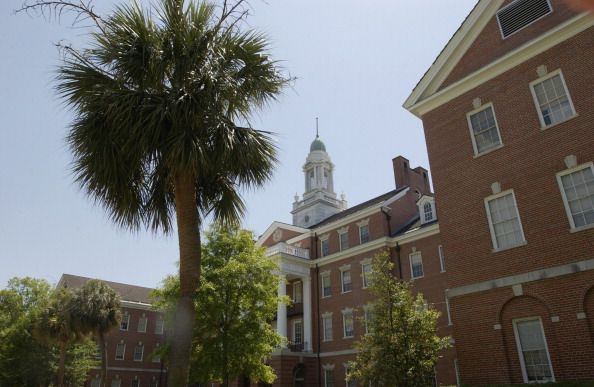 University of South Carolina students on Tuesday found racist flyers plastered outside of the African-American Studies department, a discovery that sparked student backlash and an internal university investigation.
The flyers, posted in front of a display of photos of historic black South Carolinians in a campus liberal arts building, included the phrases "DUMB BLACK ASSES" and "You stupid monkeys," and made references to political players such as President Donald Trump and 2016 presidential candidate Hillary Clinton.
"You stupid monkeys handed Trump the White House the minute you handed Hillary the nomination!" one of the flyers read.
Students discovered the flyers at about 9 a.m. on Tuesday, which marked the first day of spring semester. The university condemned the flyers that afternoon on Twitter, stating they "do not reflect our values as Carolinians." The tweet links to an additional statement promising that university officials were continuing to investigate the matter and identify the responsible party. Eyewitnesses "observed a white male that appeared to be in his mid-40s in the area at the time the flyers were discovered," according to the statement.
The Twitterverse responded to the racist flyers with disgust. Those who spoke out included the university's student body president Dani Goodreau, who called the flyers "an attack on our colleagues, our friends."
The university underwent a separate investigation in November after racist flyers touting the message "it's okay to be white" popped up in campus buildings.
Racist flyers have been spotted at a swath of other universities in the past year amid what the Anti-Defamation League has described as "an unprecedented outreach effort" from white supremacist and far-right groups to "attract and recruit students on American college campuses." Such flyers overwhelmingly target minority communities.
In October, flyers posted on Boston College's campus featured a picture of Uncle Sam and the words, "Don't apologize for being white."
In December, three posters on Temple University's campus called African-American students "stupid" and employed the "n-word," followed by, "Bernie [Sanders] would have won if it wasn't for you."
Also in December, two types of flyers emerged at Princeton University, one titled "The Truth about 'White Privilege' and Jewish Supremacy" and another serving as an advertisement for a fake course called "Introduction to White Studies: White Guilt and Reparations."