'Racist' Gorilla Statue to Return to Texas Playground After Outrage From Local Residents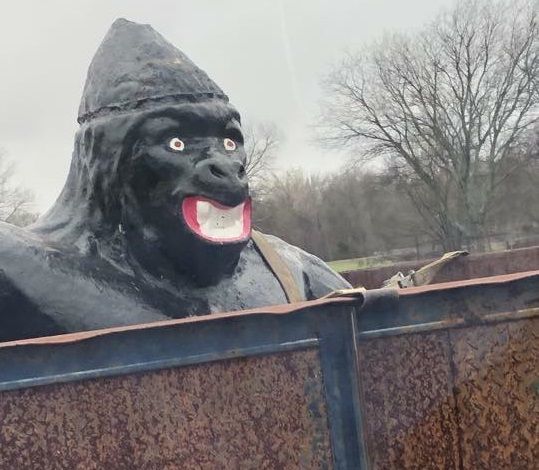 A much-loved gorilla statue that had been removed from a playground in Corsicana, Texas, following complaints it was racist is set to return following outrage and protests from local residents.
The gorilla, nicknamed Dobby, was taken from the Community Park following concerns from some citizens that it was potentially racially insensitive.
The freestanding statue was placed inside a cage at the park over fears it could topple over and hurt children if they climbed on it. However, after Corsicana Mayor Don Denbow received 45 complaints that the gorilla was offensive, the decision was made to remove it entirely.
In a statement, Denbow said: "The City of Corsicana recently made the decision to remove a display in Community Park. The reason for the decision was two-fold: Recognizing that the display was offensive to some of our citizens and a concern regarding the safety of the exhibits.
"It is the City's goal to depict all the animals in Community Park in a free environment that is safe for children. Other animals will be added to the display including a free-standing gorilla and a tiger. As budget permits, additional recreational options will be added."
In a second statement the following day explaining what was offensive about the statue, Denbow explained it was "potentially racially insensitive."
"This was brought to our attention by a few citizens. The circumstances were evaluated and determined to be valid," he added.
The decision was met with outcry from the town's residents. Online petitions demanding Dobby returned gained thousands of signatures, a Facebook group page In Memory of Dobby got more than 1,000 likes in one day and a candlelit vigil was held in memoriam of the statue where it once stood.
One man, Steve Lord, even staged a sit-in protest inside Dobby's cage demanding the statue be returned. He told CBS DFW: "In a situation like this where it's a toy for children, it's only racist if you make it racist."
In a letter to the Corsicana Daily, long-time resident Betty Lambert said she understood the concerns. She wrote: "The gorilla is a black ape confined in a unbreakable cage. I am sympathetic to the idea that it could be thought of as a metaphor for the institution of slavery.
"I support the removal of the gorilla on the grounds that it could offend members of our community. At no time did I ever think of it as anything other than King Kong."
Later, Jeff Smith, of the Corsicana City Council, had some good news for all the Dobby fans. He announced on Facebook: "Update on the Gorilla—He will be placed back in the park as soon as weather permits."