'Racist' Juneteenth Sign Leads to Allstate, Progressive Cutting Partnership
Allstate and Progressive severed their partnerships with an insurance company in Millinocket, Maine, after the company posted a racist sign in its window on Juneteenth, causing outrage in the local community.
Juneteenth, which is celebrated on June 19 of every year, is a commemoration of the end of slavery in the U.S. It was made a federal holiday only last year by President Joe Biden.
The Harry E. Reed Insurance Agency didn't seem happy to take the day off in honor of the holiday, however. A sign posted on the window of the agency in Maine was quickly condemned for being racist, as it read: "Juneteenth. It's whatever...We're closed. Enjoy your fried chicken and collard greens."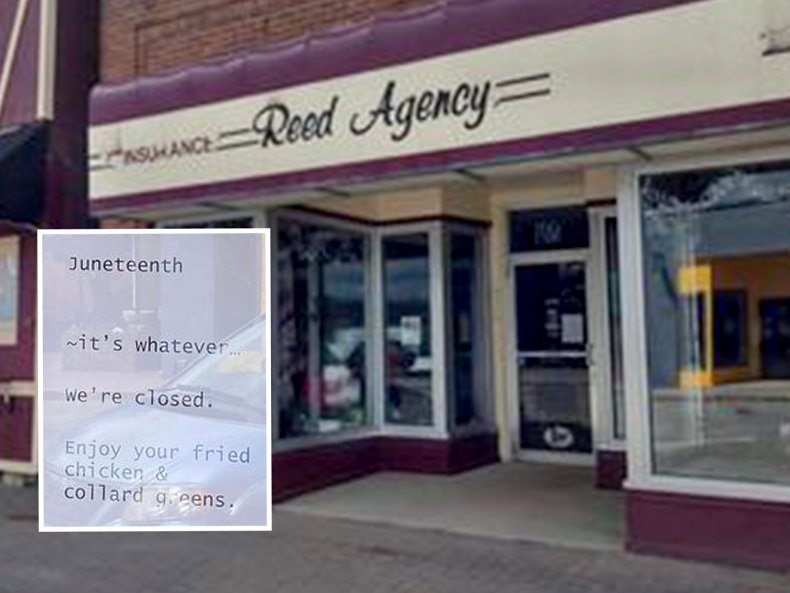 Pictures of the sign were shared on social media, including by a user who goes by the name Geo1976rge, who also called out both Allstate and Progressive for their partnerships with Harry E Reed Insurance.
"And, is that an @Allstate logo on the bottom right? Bet they also do @Progressive. Is this the type of hatred you want posted right next to your company logo?" the user wrote.
According to WGME, both Allstate and Progressive have cut ties with the insurance agency, terminating all partnerships.
Progressive spokesperson Jeff Sibel wrote in an email to NPR, "At Progressive, Diversity, Equity and Inclusion (DEI) are fundamental to our Core Values. We're committed to creating an environment where our people feel welcomed, valued and respected and expect that anyone representing Progressive to take part in this commitment. The sign is in direct violation of that commitment and doesn't align with our company's Core Values and Code of Conduct."
In a statement to Newsweek, Allstate said, "We are terminating our contract with this independent agent. Our commitment to Inclusive Diversity and Equity is non-negotiable and we take action when individuals violate our code of conduct."
Steve Golieb, chair of the Millinocket Town Council, released a statement on Tuesday, saying that the incident was "deeply saddening, disgraceful and unacceptable for any person, business, or organization to attempt to make light of Juneteenth and what it represents for millions of slaves and their living descendants. There is no place in the Town of Millinocket for such a blatant disregard of human decency."
A statement posted on Facebook by the company, which Newsweek could not confirm, was shared by WGME. The person who posted the sign issued an apology, writing, "I am so sorry for any pain I have caused and the negative attention it has brought to our beautiful community."
Newsweek reached out to Progressive and the Harry E. Reed Insurance Agency for comment.
Updated 6/24/2022, 10 a.m. ET: This story was updated to include a new photo.