Stacey Abrams and Oprah Winfrey Targeted in Neo-Nazi Funded Racist Robocall
A neo-Nazi group is funding racist robocalls aimed at Oprah Winfrey and Georgia's Democratic gubernatorial candidate Stacey Abrams.
The call begins with an automated voice referring to themselves as the "magical negro" Oprah Winfrey, according to a report by The Daily Beast. The voice then goes on to call Abrams a "poor man's Aunt Jemima" and a candidate that "white women can be tricked into voting for, especially the fat ones."
Winfrey has been campaigning on behalf of Abrams and was seen this week knocking on voters' doors in Georgia. Abrams is running against Republican Brian Kemp, who has the strong endorsement of Donald Trump. But if Abrams wins this November she will become the state's first African-American governor.
"Every single one of us has something that, if done in numbers too big to tamper with, cannot be suppressed and cannot be denied," Winfrey said during an impassioned speech while stumping for Abrams on Friday.
The legendary talk-show host was referring to the accusations that Kemp, Georgia's secretary of state, has suppressed the votes of minorities in the state. The Associated Press reported that 53,000 voter registration applications were placed on hold. Seventy percent of the stalled applications are from black residents.
"The one place where we're all equal — where is it?" Winfrey asked. "It's at the polls."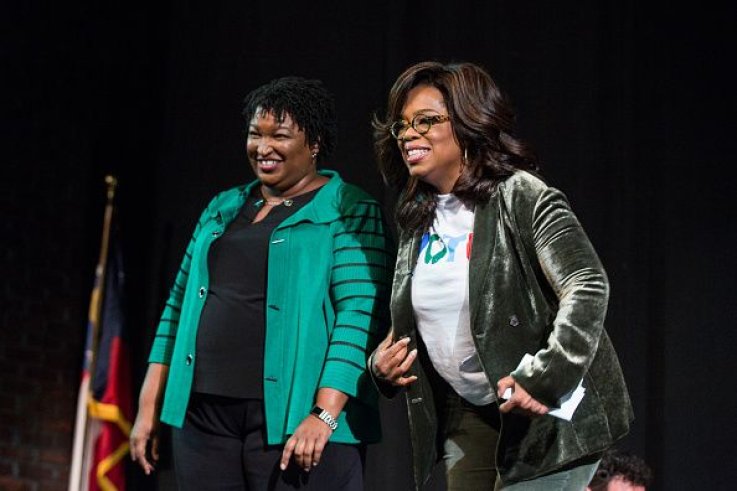 The call made against Abrams and Winfrey claims it was paid for by TheRoadToPower.com, which is an Idaho-based website and podcast with pro-Republican, white supremacist and anti-Semitic content. 
The website has also funded racist robocalls against Democrat Andrew Gillum, a candidate in Florida's governor's race. Gillum is running against Republican Ron DeSantis, who has made several racist comments against his Democratic challenger, including telling Florida voters not to "monkey this up."
The audio of the robocall depicts a man pretending to be Gillum talking in an exaggerated accent of a minstrel performer. "Well hello there, I is Andrew Gillum," the call begins. The voice goes on to discuss "mud huts" and unfair policing practices while in the background drums and monkeys can be heard.
Geoff Burgan, Gillum's spokesman, said that multiple people reported the robocall to the campaign. Burgan said that the message was "reprehensible" and said it "could only have come from someone with intentions to fuel hatred and seek publicity."
In response to the racist robocall made against Abrams and Winfrey, Georgia's Forsyth County Democratic Party posted on Facebook: "Your county chair got this phone call today too. This is not merely right vs left this is morally bankrupt. Text everyone in your phone and make sure they have voted or are voting. Call that cousin you haven't spoken to in a while, talk to your neighbor. We need everybody you know to hit the polls Tuesday if they haven't already. Let's send a clear message that we won't stand by for this."