Andrew Gillum Targeted With Racist Robocall Featuring Monkey Noises, Minstrel Dialect Ahead of Florida Governor Election
A new racist robocall was made to Florida residents on Tuesday pretending to be Andrew Gillum, the African-American Democratic candidate running for governor, prompting the campaign to label the calls as "disgusting" and "abhorrent."
The approximately one-minute-long recording, of which was first obtained by The Huffington Post and NBC News, features a man using a racist dialect and claiming to be Gillum.
"Well hello there, I is the n**ro Andrew Gillum and I'll be askin' you to make me governor of this here state of Florida," the phone call starts out saying.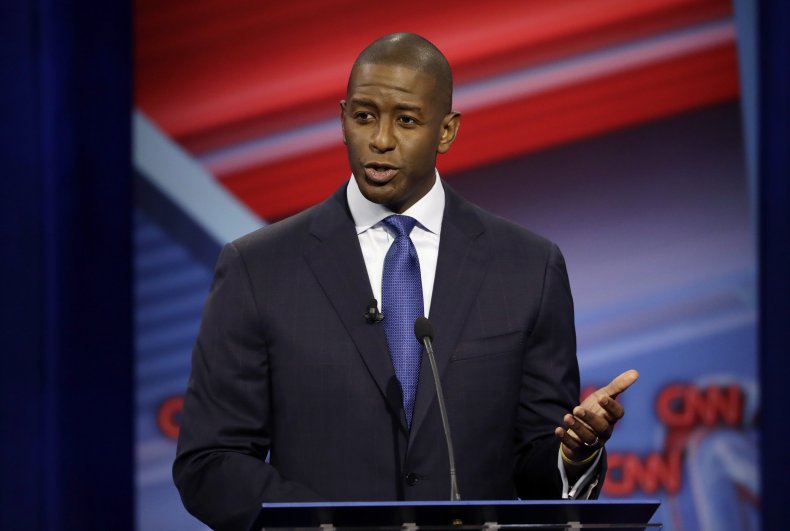 At the end of the recording, a disclaimer says the robocall is paid for by The Road to Power, a website featuring podcasts by Scott Rhodes. The Anti-Defamation League describes Rhodes as a white supremacist who's responsible for other racist robocalls in California, Idaho, Iowa and Pennsylvania. Rhodes was also behind another racist call made to Florida residents in August after Gillum secured his party's nomination.
"These disgusting, abhorrent robocalls represent a continuation of the ugliest, most divisive campaign in Florida's history," Gillum campaign spokesperson Geoff Burgan said in a statement. "We would hope that these calls, and the dangerous people who are behind them, are not given anymore attention than they already have been."
The DeSantis campaign could not immediately be reached by Newsweek on Tuesday for comment. After the first round of racist robocalls against his black opponent, the DeSantis campaign in a statement called them "absolutely appalling and disgusting."
In August, DeSantis received backlash after he said in a Fox News interview that he hoped Floridians would not "monkey this up" by electing Gillum. If elected over DeSantis, Gillum would become the state's first black governor in history.
Tuesday's robocalls made reference to DeSantis's monkey comment.
"My state 'pponent, who done call me monkey, is doin' a lot of hollerin' about how 'spensive my plans for health care be," the phone recording said. "But he be thinkin' of the white man's medicine, which is very 'spensive cause it uses science and what not. But the medicine of my African race be very 'ffordable."
As the man in the recording talks, music is played in the background to mimic a black spiritual song.
"As to the claims by my 'pponent that I don't like the Jews, nothin' be further from the truth," the recording continues. "It was the Jews who owned the slave trade and done brought us n**ros to America to begin with. They the ones that been puttin n**ros in charge over the white folks just like they done after the Civil War. All the Jews gonna vote me, Andrew Gillum, governor of this here state of Florida."