Racial Slur Written on Interracial Couple's 'For Sale' Sign: 'I've Never Seen Anything Like This'
A married realtor couple was shocked Wednesday morning upon discovering someone had spray-painted a racial slur on one of their company's signs.
A client informed Jefferson County, Alabama couple Jeremy and Gina Miller that a "For Sale" sign outside their Trussville house had been defaced with the words: "NO N******," AL.com reported.
Their friend and client Marian Anderson had written on social media: "Gina I'm sorry our house and sign were used for hate towards you and your family. They should be ashamed of themselves!"
Jeremy said his wife was in tears when she told him about the sign. "I will laugh in the face of adversity but when it comes to protecting my wife and children, that's different," he said.
The interracial couple own a real estate business called Local Realty. They have been married for 13 years and have five children.
The couple said they hadn't experienced this kind of racism before. Jeremy, who is white, told AL.com he had overheard unpleasant comments, but typically brushed them off. "I've never seen anything like this. This has never happened," he added.
Gina, who is black, told the outlet: "You get looks sometimes, but this is bold,'' she said. "This is something I'm not used to experiencing."
She added felt sorry for whoever defaced the sign. "It's extremely disappointing that in this day and age, this is all you have the time to do," she said.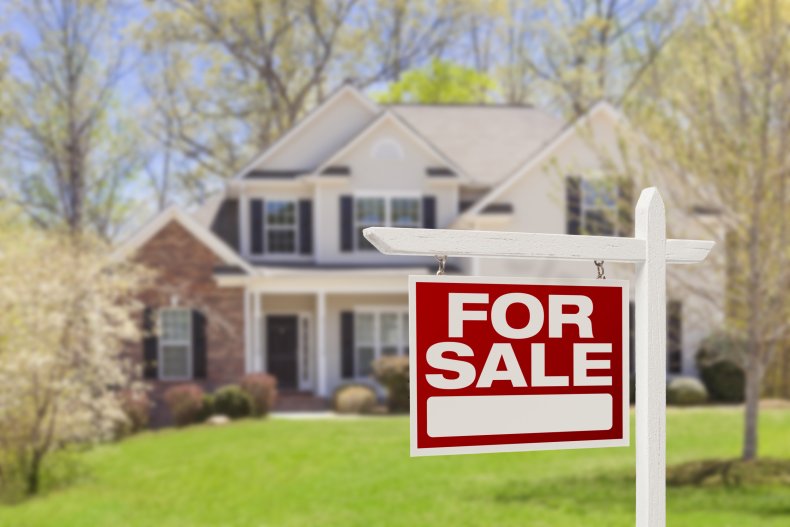 But the couple, which AL.com described as "deeply religious," said they felt compassion for whoever defaced the sign. Jeremy said: "I would want them to know we were merciful to them, when they were not merciful to us."
The couple do not know exactly why their company's sign was defaced, but they suspect someone is either envious of their success, doesn't like the fact they are interracial, or doesn't want black people to move into the area.
Jeremy said he wants to know who spray-painted the sign, but doesn't know if he wants to press charges. The couple plan on reporting the incident to police.
Local Realty did not immediately respond to Newsweek's request for comment.
Elsewhere in Alabama, a group of high school students from Hoover recently came under fire over a video of them using racial slurs was published on social media.
The widely-shared clip showed white students from Spain Park High School making racist remarks about black people and Jewish people.
The local mayor condemned the comments, and school officials said they would investigate the students' "disturbing" behavior.
Racial Slur Written on Interracial Couple's 'For Sale' Sign: 'I've Never Seen Anything Like This' | News